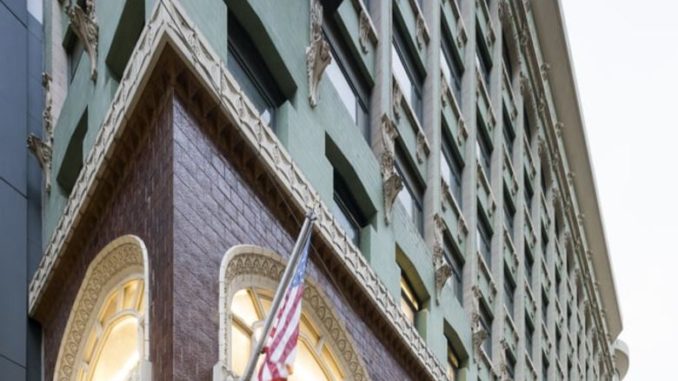 Hotel Zelos, located in San Francisco's historic Pacific Building in the SOMA district, and a Viceroy Hotel, has reportedly selected ALICE's suite of hotel technologies to streamline staff operations and enhance the guest experience. Hotel Zelos, which joins sister properties Hotel Zetta and Hotel Zeppelin on the ALICE platform, is using ALICE's concierge software, ALICE Concierge, ALICE's housekeeping and maintenance software, ALICE Staff, and the company's guest text messaging solution, ALICE Guest.
ALICE is being used to create a record of all guest requests and internal work orders (which can be easily analyzed by time of day and day of week). As a result, management is better able to align staff availability with guest demand, and thus make more data-driven decisions when it comes to scheduling.
ALICE is also being used to improve communication between departments and providing staff with greater efficiencies in their work. Tyler Gard, Hotel Zelos' Director of Rooms, says the housekeeping and maintenance teams have really taken to ALICE's photo-taking functionality, which lets users snap a photo of a broken lamp or scuffed carpet, for example, and attach it to a ticket, letting their colleagues know immediately where to look and what tools to bring (obviating a lot of cross-communication and trips back and forth). Photo attachments also come in handy when it comes to cataloging guest lost and found items.
Now, when guests call the hotel to ask about a lost item, the front desk agent can satisfy the guest right away. Instead of putting the guest on hold, relaying the inquiry to housekeeping, and hoping for a timely response, the front desk can immediately tell the guest whether or not the item has been found.
ALICE is also helping Hotel Zelos better manage the many guest packages the hotel receives daily. Like many city-center hotels, Hotel Zelos can't rely on a loading dock area to process and store packages, and so the sooner the front desk staff can log packages and remove them from the lobby, the better. ALICE's package management tool helps Hotel Zelos record, maintain, and easily access a log of incoming and outgoing packages, saving the front desk team time they can now spend with their guests.
Disclosure: The solution provider featured in this article is a current or past client of Starfleet Media, which is the publisher of Hotel Technology News.