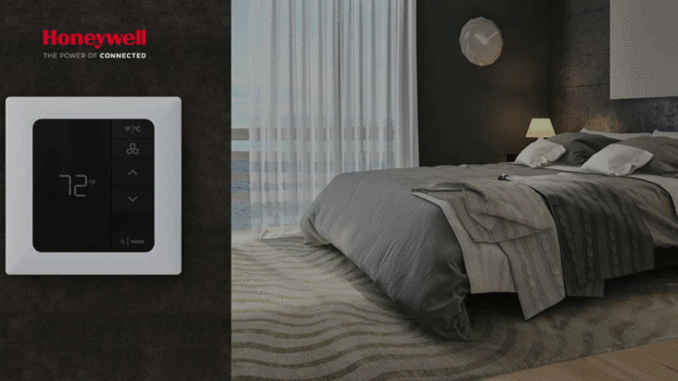 "Alexa, turn up the heat."
"Alexa, turn off the lights."
"Alexa, close the drapes."
The first enterprise grade environmental control and energy management solution that incorporates Amazon Alexa voice control for an effortless guest experience that includes room temperature, lighting, drapery and amenities services has arrived. Today Honeywell announced the launch of its next-generation thermostat for the hospitality industry.
Honeywell's INNCOM e7 Thermostat (e7) is now available for installation. The e7 Thermostat's user interface gives guests controls for guest room comfort and other functions. It is designed for hospitality and compatible with Amazon Alexa voice control for temperature, lighting, drapery and amenity functions.
The e7 also integrates with technologies from other companies including Crave and Intelity to control the entire guestroom environment from a designated tablet. These integrations and controls can even be expanded to any other in-room user interfaces such as smart TVs or video-on-demand boxes.
Honeywell's INNCOM hospitality solutions are already used in more than 1.5 million guestrooms around the world. Honeywell integrated the newest voice-ready technology with an attractive flat panel to create a modern thermostat. The e7's guest-centric user interaction detects a guest's proximity and displays appropriate information for guest interaction.
The guestroom voice functionality of the e7 can also be deployed in conjunction with partner companies like Volara, the leading fully integrated voice-hub for hotel technologies.
The networked e7 Thermostat integrates with all major property management systems (PMS) to create a seamless solution for energy savings and guest comfort. When rooms are unrented, the e7 automatically sets back the room temperature until the PMS signals a guest has checked in. While rented, the thermostat provides guests with functionality that delivers personalized comfort control.
The e7 is designed to help reduce the total cost of ownership by minimizing room downtime and automatically capturing the thermostat configuration. Its wired or wireless flexibility enables simplified installation in new-build or retrofit properties. For maximum flexibility the e7 also provides standalone HVAC control and occupancy-based sensing that customarily requires a door switch monitor and motion sensor.
This comprehensive property system monitors and displays room status, energy management efficiency analysis, and equipment malfunction alert reporting. This combined system enables the property team to proactively manage each guestroom's environment to deliver guest comfort and efficient maintenance staff scheduling. Aside from the integrations inside the guestroom, the e7 can even provide the backhaul network communication for applications such as Central Electronic Lock Systems (Saflok, Timlox, Salto), guest amenities (Axxess), and even minibars (Bartech), making the e7 an intelligent choice as the Hotel Guestroom Gateway device.