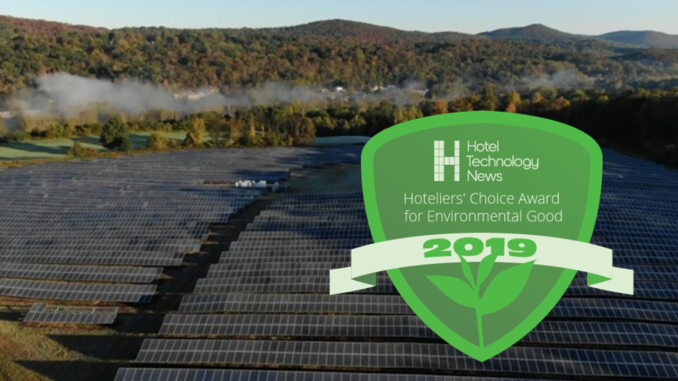 Hotel Technology News, the hospitality industry's premier source of information and insights related to technology innovation at the world's leading hotels and resorts, has announced the winners of its "Hoteliers' Choice Award for Environmental Good" achievement awards competition.
This annual event was established to recognize excellence and innovation in providing and/or utilizing next-generation technologies to achieve sustainability and eco-friendly practices in hotel operations. Meanwhile, the winners of the "Restaurateurs' Choice Awards for Environmental Good" have been announced by sister publication Restaurant Technology News.
Hotel owners and operators, technology solution providers, public relations firms and others were encouraged to enter this achievement awards competition by nominating themselves or others. HTN readers and staff then voted to select the winning entries. Focus areas for 2019 were in the areas of excellence in utilizing technology to reduce hotel energy consumption and reduce hotel waste as well as excellence in utilizing eco-friendly hotel materials enabled by technology.
Following are the seven winners, which includes both hotels and solution providers:
Crystal Springs Resorts. One of the largest four-season golf and spa resorts in the United States, the property began commercial operations of its solar farm in 2019. Developed in partnership with New Jersey-based Marina Energy, the 25 acre solar field has over 19,000 solar panels and the annual capacity to generate 3.5 Megawatts of electricity. The solar farm is set to provides clean, renewable energy on an annual basis, which more than offsets electricity consumption at the resort's 280 room Grand Cascades Lodge and 175 room Minerals Hotel combined.
The Gyle Premier Inn. In 2019, this hotel at Edinburgh Park in Scotland installed a five-ton battery to power all operations, including the hotel restaurant. The property has the distinction of being the first hotel in the UK to become fully battery-powered. It joins the ranks of only a few other hotel brands which have made the switch to battery power within the last year. The battery storage technology, which was installed by E.ON, the regional electricity provider, should play a play a key role in helping Whitbread, Premier Inn's parent company, meet its commitment to reducing its environmental footprint, which includes the goal of cutting its carbon emissions by 50% by 2025.
Honeywell / INNCOM. In 2019, the company officially launched its INNCOM INNcontrol 5 energy management and guestroom automation control system. The cloud-based and on-premise system monitors real-time guestroom data from intelligent devices, such as its e7 smart thermostat, to improve a hotel's energy savings.
Interstate Hotels & Resorts. In 2019, the company, with a global portfolio representing 605 properties in 15 countries, taking the lead on embracing plant-based living. In 2019, it launched high-profile vegan culinary promotions for its managed hotels, creating 27 new plant-based menu items. By most estimates, livestock production is responsible for more than 50% of global greenhouse gas emissions, not to mention massive water consumption and contamination.
Made by Oomph. The company is tackling the challenge of plastic hotel key cards with the launch of a plastic-free hotel key card alternative. The key cards are made entirely from wood fibre and fully biodegradable. The no-lamination construction is chlorine free and tested to be recyclable. Waterproof and with similar performance to plastic, the FSC-approved paper key card works with major door lock manufacturers using contactless RFID and magnetic stripe technology.
Radisson Hotel Group. In 2019, the company, which operates 1,100 hotels worldwide, including such hotel brands as Radisson Blu, Radisson, Radisson RED, Park Plaza, Park Inn by Radisson and Country Inn & Suites by Radisson, announced the launch of its new technology platform, called Radisson Meetings. With Radisson Meetings, the company automatically offsets the carbon footprint of every event taking place at its hotels worldwide, at no cost to attendees or organizers. To do this, it has teamed up with FirstClimate, one of the largest carbon offsetting organizations in the world. For each meeting, the carbon footprint is calculated and then offset by supporting projects that combat climate change and have a positive sustainable development contribution. Radisson is also focused on minimizing food waste and eliminating single-use plastics.
Verdant. In 2019, the energy management solution provider introduced its new ZX energy-management thermostat. The device leverages Verdant's powerful energy-saving features in a sleek and trendy design.
Winners are provided with a licensed image of the "Hoteliers' Choice Award for Environmental Good" badge and granted the right to display it on their own websites.
Hotel Technology News is the hospitality industry's premier source of information and insights related to technology innovation at the world's leading hotels and resorts. Our reporting, research and opinion pieces reveal how forward-thinking hoteliers are upgrading their technology capabilities to improve operational performance and the quality of the guest experience, as well as to reduce waste and improve environmental sustainability, and how top solution providers are advancing the frontier on next-generation hospitality technologies.
Does your company have news it would like to share with our readers? If so, we invite you to review our editorial guidelines and submit your press release for publishing consideration.