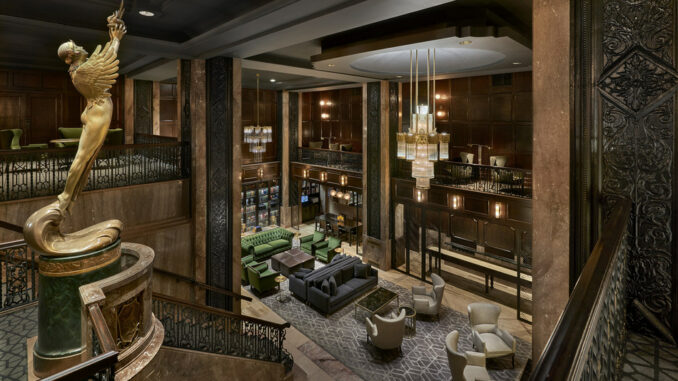 Hotel Phillips of Kansas City has selected Velociti, a Kansas City-based global technology services firm, to bring the restored treasure into the 21st century. Hotel Phillips recently unveiled an impressive $20 million dollar renovation, and as part of that the hotel plans to continue the transformation with a focus on technology.
Hotel Phillips, which is listed on the National Registry of Historic Places, consistently tops the list of must-stay places in Kansas City, combining quaint Art Deco details with sleek modern amenities. While the building's architecture is an elegant mix of old and new, Mark Krtek, the hotel's general manager, felt the hotel should invest in the future and bring cutting edge technology to the "Most Beautiful Hotel in Missouri" according to Architectural Digest.
"When Hotel Phillips was built in 1931, it was the tallest building in Kansas City and the only commercial structure with a radio receiver in every room," Krtek explained. "Hotel Phillips has always been on the cutting edge of technology and we want to ensure that identity continues as we move into a new chapter of its history. Our partnership with Velociti is an important step in a longstanding tradition of excellence and focus on stellar guest experiences."
Velociti will deploy a number of upgrades and wireless technology solutions, which promise to better serve guests throughout the hotel's 216 rooms and 7,000-square-feet of meeting and event space.  The technology company has served the area for over 25 years, earning a reputation as an industry leader in technology deployment services with clients in a number of Fortune 500 companies across a diverse set of industries.
"This building represents an important piece of history in Kansas City and we are honored to be outfitting Hotel Phillips with a range of technology upgrades and services," adds Velociti president, Deryk Powell. "It's a final touch that will finish off an impressive renovation of this historic hotel."
Does your company have news it would like to share with our readers? If so, we invite you to review our editorial guidelines and submit your press release for publishing consideration.