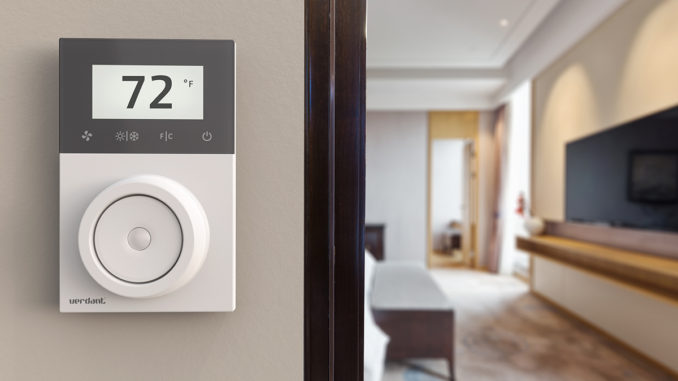 Next week at HITEC Minneapolis, Verdant will display its newest guestroom energy-management thermostat. Smart, simple and intuitive, the new ZX energy-management thermostat leverages Verdant's powerful energy-saving features in a sleek and trendy design.
Verdant ZX will be on display in Booth 1234, June 17 to 20, at the Minneapolis Convention Center.
"This is the first time that HITEC attendees in North America will have the opportunity to see, touch and try our newest guestroom thermostat," said Michael Serour, Verdant VP of sales. "The ZX thermostat combines all of our best energy-saving features in a sleek new design. It's easy to use, fits any décor, delivers concrete energy savings and can be managed and monitored online, 24/7."
When rooms are unoccupied, owners unnecessarily pay to heat or cool the empty space. Verdant's energy-management system combines passive infrared (PIR) occupancy-based thermostats and intelligent cloud software to set back temperature while guests are away. Patented features like Night Occupancy Mode and Dynamic Intelligent Recovery ensure maximum energy savings without compromising guest comfort.
In addition to unveiling ZX at HITEC Minneapolis, attendees can also see Verdant's popular VX thermostat. Field proven, robust and reliable, the VX offers unparalleled value for property owners. Trusted by thousands of hospitality property owners throughout North America, VX comes with all the great features that made Verdant a leader in guestroom energy management technology.
HITEC attendees will also experience how to maximize energy savings with EI™, Verdant's energy-management service. EI's energy management experts remotely manage the entire Verdant system to ensure everything is continuously optimized, maximizing energy savings without involving on-site property staff. Using the EI app, hoteliers can view energy savings in real-time, view room status and control room settings, and access real-time occupancy information to facilitate housekeeping and maintenance tasks.
To pre-schedule an appointment and demo Verdant's new ZX thermostat at HITEC Minneapolis in Booth 1234, call John Attala, Verdant marketing director, at 888.440.0991 x237 or email [email protected]. To learn more about Verdant solutions, visit www.verdant.co.
About Verdant
Verdant provides state-of-the-art energy management solutions for hospitality, education and other commercial properties. For over 40 years, Verdant has helped customers save on energy and become more ecofriendly without compromising comfort. Verdant is an approved Vendor of all major hotel chains. To learn more, please visit www.verdant.co.             
Does your company have news it would like to share with our readers? If so, we invite you to review our editorial guidelines and submit your press release for publishing consideration.