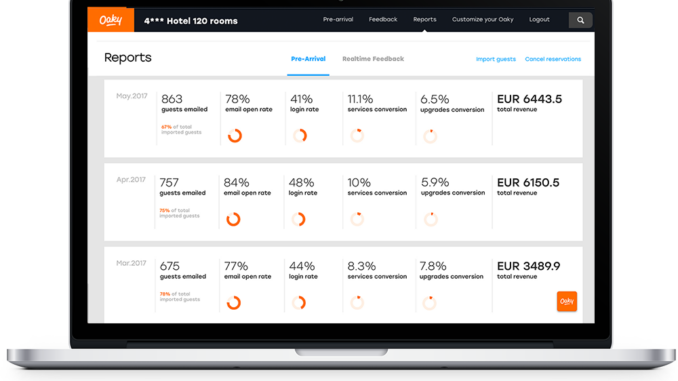 Oaky, the leading commission-free, pre-stay upselling platform for hotels, was named Best Upsell Software 2020 at the recent HotelTechAwards hosted by Hotel Tech Report, making this the third time in a row that the Amsterdam-based company took home this prize.
Being recognized as the top solution in one's category at the HotelTechAwards is a special honor since this is the only hotel technology accolade where winners are determined solely based on customer ratings and a transparent set of ranking factors. To select this year's winners, thousands of hoteliers from over 100 countries representing major chains as well as independent properties cast their votes.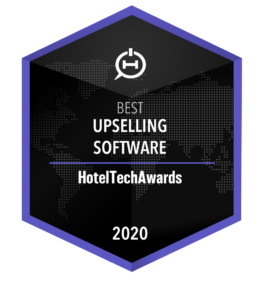 Key areas hotel technology products are evaluated on include ease of use, customer support, value for money and how likely current customers are to recommend the product. Positive company culture, integration options and a company's global reach also play a role. After another year of steady growth and the launch of Oaky's Singapore office in May 2019, receiving this award for the third time is well-deserved proof that Oaky stands out from the crowd and is moving in the right direction.
"With so many different tools available, choosing a technology partner comes down to hoteliers feeling confident that not only are they going to get a great product with a clear ROI, but it's just as important that they will get a true partner they will enjoy working with for years to come. The fact that Oaky continues to garner rave reviews from clients and partners and has now taken the top spot in the Upselling Software category in the HotelTechAwards for the 3rd consecutive year is a true testament to the product, brand, community and team Oaky has built," says Adam Hollander, Co-Founder and Chief Product Officer at Hotel Tech Report.
Gaby Maaswinkel, Commercial Development Manager at the Radisson Blu Hotel Amsterdam, summarises her experience with Oaky like this: "Enhance the guest experience and create extra revenue at the same time. The feedback we get from guests is always very positive."
On top of excellent customer reviews, Oaky is also praised by other hotel tech providers. "The range of options a hotel can offer sets Oaky apart. While there is a focus on room-specific upgrades, Oaky also allows guests to advance purchase local tours and activities. The hotel can personalise all content and timing and can manage and track their activity on dashboards and reports," states Tom Kirkham, Program Lead at SiteMinder, this year's winner of the award for best channel manager.
Oaky's co-founder, Erik Tengen, says, "We are thrilled to be recognised as the industry's best upselling software for the third time in a row. Our biggest thanks go to our wonderful customers and we're very proud of our amazing team who made this all possible with their hard work and dedication. Super excited to kick off 2020!"