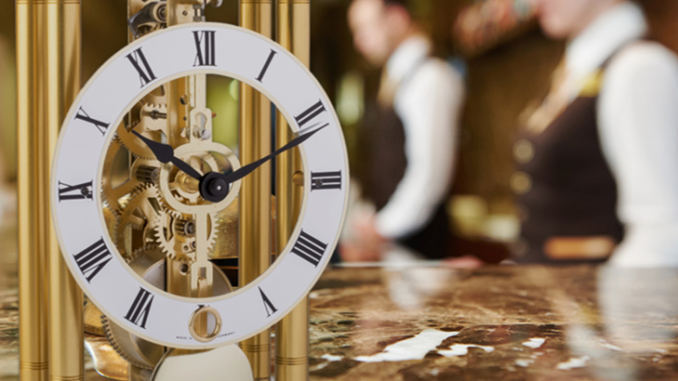 HotelClocks.com, the leading distributor of exquisite clocks to luxury hotels and resorts, today announced holiday discounts with price savings of up to 65 percent on select timepieces, including grandfather clocks (such as the Hermle Gabriella and Anstead),modern floor clocks (such as the Hermle Essex, Nantes and Trinity), wall clocks (such as the Rosslyn regulator), table and mantel clocks (such as the Hermle Lyon and Alexa) even astronomical clocks (such as the Tellurium V), which are crowd pleasers when showcased in any hotel lobby or corridor.
Nothing enhances the look and feel of a luxury hotel, resort or country club like an exquisite clock. The right timepieces accentuate the architecture, complement the other furnishings, and improve the overall quality of the guest experience. Whether traditional or modern indesign, exquisite clocks radiate warmth, beauty and sophisticated elegance across all parts of the property, from the lobby, corridors and function spaces to the restaurants and guest rooms.
Exquisite clocks have always been a central feature of upscale hotels. In fact, the original grandfather clock referred to a floor clock in the lobby of London's George Hotel. It might be said that no hotel technology is older or more venerated than a mechanical clock. While traditional grandfather clocks remain popular, hotel lobbies today are just as apt to showcase a modern floor clock, a regulator wall clock or even a museum-quality astronomical clock.
Handmade in Germany of the highest quality materials, and backed by the reputation of century-old companies considered to be the best in the business (all clocks come with a 3-year warranty), floor, table and wall clocks by Hermle and Kieninger adorn the interiors of thousands of luxury hotels, resorts and country clubs around the world. Holiday discounts on select clocks in the Timely & Timeless Hotel Collection are available until December 31.  Supplies are extremely limited on many models; please ask for the latest price and availability updates. 
About HotelClocks.com (a Division of Timely & Timeless Exquisite Clocks Emporium)
As an authorized business-to-business dealer of Hermle and Kieninger clocks with expertise in the hospitality sector, we specialize in serving luxury hotels and resorts, including some of the world's largest and most preeminent brands, with exquisite clocks for their properties. Our customers also include casino, cruise ship, country club and restaurant brands. Whether you are in the market for one exquisite clock to adorn the lobby of a single property or a hundred exquisite clocks to enhance the corridor or guest room décor across multiple properties, we are committed to meeting your buying needs with outstanding personal service and guaranteed lowest prices. To learn more, please visit hotelclocks.com or browse our catalog at Timely& Timeless Hotel Collection.