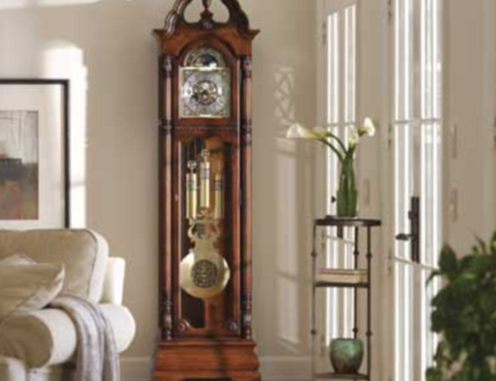 Needing to know the time is the worst possible reason one might have for buying a grandfather clock. A grandfather clock has almost nothing to do with telling time (even though these key-wound mechanical clocks are highly accurate even by today's standards) and almost everything to do with the desire to own (and/or give) an objet d'art of incredible craftsmanship, unparalleled beauty and enduring value.
Let's face it: Nothing compares to the ornately carved rings of Roman numerals or the unhurried cadence of the pendulums that are hallmarks of the traditional grandfather clock.
The grandfather clock (an American term, coined in the early 1800s) describes a tall case, floor standing clock that, traditionally, was passed down from one generation to the next as a family treasure. The tradition is still alive. Indeed, today's buyers of exquisite floor clocks oftentimes want to create an heirloom for their own family. 
The market for beautiful mechanical clocks remains strong. Given the fine craftsmanship of the woodwork and the intricate German engineering of mechanical clocks, it stands to reason that high-end floor clocks such as those manufactured by Hermle and Kieninger, which are among the world's oldest and most prestigious manufacturers of grandfather and grandmother clocks, will always maintain their universal appeal — and their value, as well. In recent years, the pendulum has swung back toward grandfather clocks (pun included) as a new generation of consumers comes to appreciate these masterworks and their place in history.
The average lifespan of new smart phone, a computer or virtually any other technological marvel is generally only a few years before it breaks or becomes obsolete. Some prized possessions, on the other hand, can be cherished, enjoyed and shared for many decades and even for many generations. A Steinway grand piano is a good example. A Hermle floor clock is another good example.
Home and lodging décor fads come and go. But grandfather clocks stand the test of time and are bound to always have a place in the homes of not only the rich and famous, but also the not-so-rich-and-famous. While the red oak, mahogany or maple wood casings for Hermle grandfather clocks are now cut by computer-guided machines, the clocks are still hand assembled, requiring 20 to 30 hours of work.
The classic grandfather clock consists of a split pediment, Doric columns and a finial at the center of the top. Traditionally, the most obvious difference between one grandfather clock and another was size, parquetry, and inlay. While classic styles will never look out of date, floor clocks are also fashion statements and can even be viewed as a status symbol. This perception continues to give rise to contemporary floor clocks with new shapes, finishes, and sizes. Some of these clocks are incredible museum quality pieces that would impress in any hotel, home or office. 
While grandfather clocks remain a category staple, consumers as well as companies, including upscale hotels, restaurants and country clubs, often gravitate toward more modern variations on the theme. Contemporary floor clocks offer clean simple lines to coordinate with any modern design scheme. These styles create a unique and striking focal point and make a dramatic statement — one that transcends the passage of time.
This content is sponsored by HotelClocks.com, a division of Timely & Timeless Exquisite Clocks Emporium and an authorized dealer and wholesale distributor of Hermle and Kieninger clocks with expertise in the hospitality sector. This advertising partner paid a fee to be included in Hotel Technology News, which is not responsible for the content of this article. To learn more, please click here.