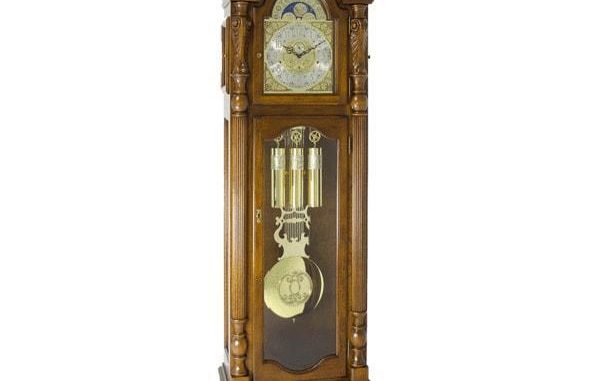 Exquisite clocks have always been a central feature of upscale hotels. In fact, the original grandfather clock referred to a floor clock in the lobby of London's George Hotel. It might be said that no hotel technology is older or more venerated than a mechanical clock. A good example is the Anstead grandfather clock.
An incredible clock for any hotel lobby or corridor, Anstead by Hermle is a magnificent, finely crafted grandfather clock that represents the very best of the tradition. The walnut cabinet (also available in dark oak and cherry), made in Vermont, is complimented by a graceful bonnet pediment. The crown feature raised, hand rubbed burl veneer overlays on top, front and sides of crown and a carved center motif, while the base has a matching hand rubbed burl veneer overlay panel on the front. Deeply hand carved face caps on the hook match the three-tiered base with hand carved face caps and outfitted with a hidden storage area.
The clock has a lockable waist door with beveled glass in the front and side panels, side access doors and floor levelers in the base. The matching set of accessories included a dial with applied brass Arabic numerals, a moving moon disk and understated cast center and corner spandrels. The pendulum bob has a matching cast center disk and the weight shells have a matching band. The Hermle flagship German-made mechanical 8-day cable driven movement plays all three of the most renowned clock melodies: Westminster, St. Michael and Whittington. The clock has a second hand feature and automatic night shut-off so as not to disrupt anyone's slumber.
This exquisite clock is currently marked 50 percent off the list price. Supplies are limited. Mention Hotel Technology News and receive an additional discount, plus free white glove delivery.
This content is sponsored by HotelClocks.com, a division of Timely & Timeless Exquisite Clocks Emporium and an authorized dealer and wholesale distributor of Hermle and Kieninger clocks with expertise in the hospitality sector. This advertising partner paid a fee to be included in Hotel Technology News, which is not responsible for the content of this article. To learn more, please click here.