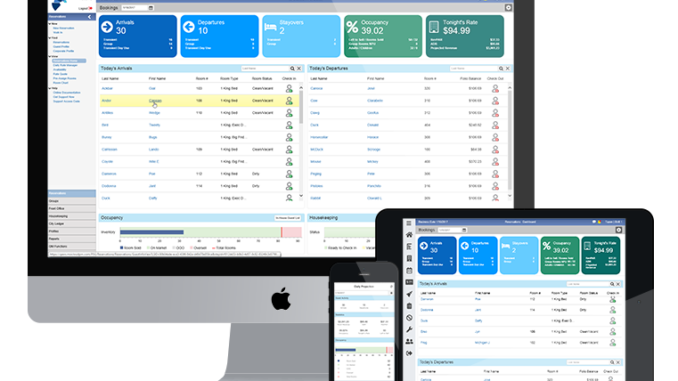 The name Jonas Hospitality may not strike a bell, but the company is comprised of several well-known and well-established hospitality technology brands. The Jonas Hospitality portfolio includes Springer-Miller Systems, for example, which develops hospitality software including PMS, POS and resort activity systems for upscale hotels, resorts and spas. Other major brands include MSI Solutions, Bookassist, and Leonardo.
Now Jonas Hospitality is entering the broader PMS competitive arena with the official launch of Jonas Chorum, a suite of next-generation property management solutions designed to provide hotels with everything they need to operate more efficiently and effectively.
Jonas Chorum is built on Jonas Hospitality's technology platform Jonas ARC, an open integration platform that connects all Jonas Hospitality products, as well as third-party systems. Like other cloud PMS platforms, the solution allows users to manage single or multiple properties from any location, eliminating the need for on-site IT resources and servers.
The following are the company's brief description of each of the key components:
Chorum PMS
A true cloud, all-in-one solution designed for optimal functionality on any device including PCs, Macs, tablets, and smartphones, Chorum PMS will empower businesses and improve hotel management. Developed to manage all aspects of a hotel business, Chorum PMS allows guests to check-in, check-out and request services through their mobile device. With a reliable network and industry-leading uptime, businesses can leverage a truly scalable and reliable cloud property management system.
Chorum CRS
With the ability to better manage the reservations process, Chorum CRS was designed to ensure hotels are able to maximize occupancy levels and increase revenue. Chorum CRS provides the ability to easily manage rates, inventory, and availability within a distribution portfolio in real-time, which can be accessed directly through the cloud. With a sleek and responsive design, Chorum CRS is fully adaptable and can be used on any desktop computer, laptop, tablet, or smartphone.
Chorum Sync

Keeping hotel operations up and running at all times, Chorum Sync ensures the property management system will remain functional if internet service is lost. With Chorum Sync, users are able to access the system for uninterrupted access, even if the internet is down. With automatic data syncing and no interruptions, hotels can rest assured that all data will be backed up, safe, and secure.