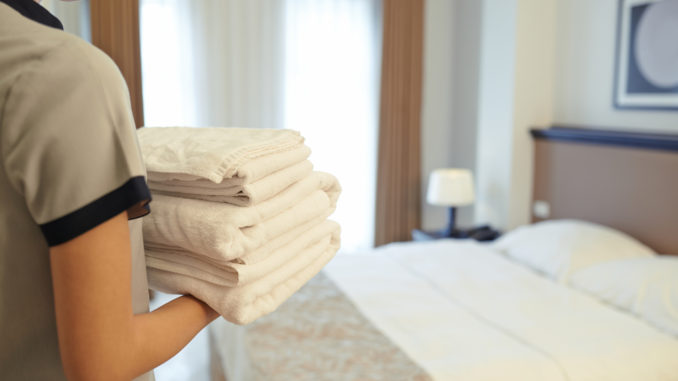 Location-based business solution provider AiRISTA Flow has announced the launch of an end-to-end SaaS solution for the hospitality industry that addresses employee safety and panic button needs amid changing state and city regulations.
AiRISTA Flow Housekeeper Safety™ is a safety SaaS platform that utilizes Real-Time Location System (RTLS) technology to help hotels and other hospitality facilities satisfy modern panic button requirements. The platform combines real-time insights with two-way communication tools to provide full visibility of buildings, creating a system for companies that must address or improve their employee safety programs. Deployed on-premises or via cloud portal, AiRISTA Flow Housekeeper Safety will remain a flexible and up-to-date solution that allows users to stay compliant with emerging legislation.
"AiRISTA Flow is committed to our mission of offering solutions that change outcomes in business processes," said AiRISTA Flow CEO Sy Sajjad. "Our SaaS housekeeper safety offering is the most innovative and complete staff safety solution available, providing the industry with a much-needed affordable and scalable option."
AiRISTA Flow's location-based business solutions have been used by organizations in hospitality, manufacturing, government, healthcare, and education to protect employees, optimize internal processes, and fuel accelerated decision-making. The company funneled its expertise in RTLS and personnel safety and its experience with partners the American Hotel and Lodging Association (AHLA) and the Illinois Hotel and Lodging Association (IHLA) into its comprehensive hospitality software, which offers a real-time view of personnel locations during panic events, responses, and everyday activities to keep housekeepers and other staff safe.
"AiRISTA Flow provided solutions when previous providers failed to get the task completed on time. The creativity and partnership all within the identified budget proved to be a resounding success with our RTLS system at the property," said client Mark Sanders, Managing Director of Crowne Plaza Times Square Manhattan. "The work provided by AiRISTA Flow and its partners was second to none: timely, collaborative, and professional at all times. If you need a solution for real-time location services and panic buttons, AiRISTA Flow is your provider of choice."
AiRISTA Flow has become a key player in the hospitality safety market with scalable, out-of-the-box solutions available through monthly subscription models for software and hardware. The 2019 Gartner Magic Quadrant for Indoor Location Services places AiRISTA Flow ahead of all other competitors in the Challengers quadrant, which houses vendors that Gartner says have "demonstrated sustained execution in the marketplace" and maintain "clear and long-term viability in the market."
The company's panic buttons, which are also the world's most widely deployed RTLS personnel tags for push-button panic alerts, were featured in the 2018 ABC News segment Hidden America, an investigation into workplace sexual harassment and prevention strategies led by Diane Sawyer.
"We recognize the difficulty of keeping employees safe in these environments and the urgency of meeting new state and city regulations, which is why we wanted to create an easy option for those looking to implement a solution fast," said AiRISTA Flow Vice President of Marketing, Vince Grove. "But we also wanted to provide an advanced platform that offers enterprises the opportunity to expand their safety programs to service larger, more complex areas and obtain greater process improvement results through next-generation RTLS technology. The AiRISTA Flow Housekeeper Safety platform accomplishes both of these goals, and we're excited to share it with hospitality facilities of all sizes."