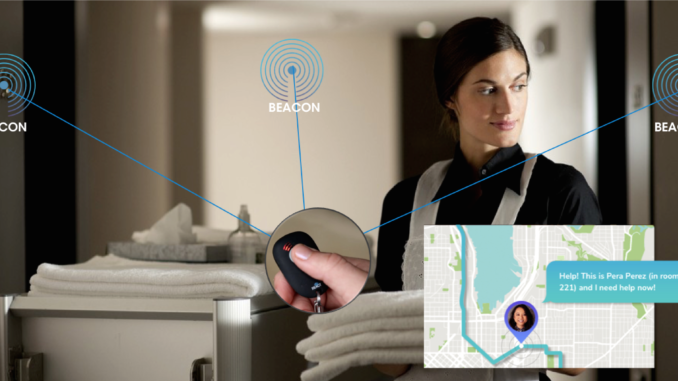 One year has now passed since the American Hotel & Lodging Association (AHLA), along with more than 25 hotel brands representing more than 18,000 properties, pledged to to make hotel employee safety a priority by providing hotel employees across the U.S. with employee safety devices. This was part of a groundbreaking initiative called the 5-Star Promise.
The program requires that participating hotels deploy new standards to help enhance the safety and security of hotel workers, including the implementation of electronic safety buttons, by the end of next year. The program has also served to shine a light on the need for government organizations to put legislative measures in place.
The effort to support and motivate legislative action has already had some early successes. This June, for example, Governor Pritzker of Illinois signed the Hotel and Casino Employee Safety Act as part of the state's Workforce Transparency Act. The new law requires that employee safety devices be provided to all hotel employees in the state.
Cities are also passing their own laws. Last July, for example, the city of Miami passed its own panic button law requiring that hotels provide a "safety button or notification device" to all housekeepers, room service servers, and room attendants. Each guest room is required to have a sign notifying guests that employees are armed with panic buttons. The law defines the panic button as a "portable emergency contact device" that can be "quickly and easily" activated to "effectively summon prompt assistance to the employee's location."
Selecting and Implementing a Safety Device System
The new laws and ordinances do not specify which devices hotels are required to implement, leaving it to them to vet and select a solution that best fits their needs. Now that a year has passed, and with the AHLA compliance deadline fast-approaching (in some places, as in Miami, the deadline imposed by city legislation has already passed), many hotels are shifting into high gear on implementation. Meanwhile, many of the related solution providers are experiencing a spike in demand for their security products, most notably, the panic buttons and wearable safety devices that typically make a loud noise and alert security to an exact location.
Not all hotels, especially those with limited IT personnel and budgets, are happy about the cost of installing and maintaining a panic button system. With some systems, outfitting a 75-room hotel with a basic system that provides regulatory compliance costs approximately $6,000 for the location beacons and a dozen panic buttons. In addition, the software subscription fee runs approximately $250/month, bring the total cost to approximately $9,000 for the first year and $3,000 for each subsequent year.
Nor are some hotels happy about the time required to vet the different solution providers. Not surprisingly, the heightened demand has spurred competition among the solution providers already operating in this arena. It has also inspired some new solution providers to get into the game.
AT&T Launches Its Staff Alert Service
AT&T is the most notable solution provider to jump on the bandwagon, announcing this week the launch of an integrated, wearable device designed to help hotel employees summon assistance in certain threatening situations. Dubbed AT&T Staff Alert Service, the device activates an alert when an employee presses the button. The employee's exact location is then transmitted to hotel security for immediate assistance.
The AT&T Staff Alert Service operates through a combination of Bluetooth, ultrasound and 4G LTE connectivity to provide micro-location data. This reduces the risk of a congested Wi-Fi network and enables for alerts in near real time. The service can be customized and is also interoperable with other IoT applications in the hotel such as building management and asset tracking.

"Employee safety solutions play a critical role in helping to prevent and respond to threatening situations," said Chris Penrose, President of AT&T's Advanced Mobility and Enterprise Solutions organization in a statement. "We're pleased to work with the hospitality industry to apply IoT technology to help keep their workers safe."
AiRISTA Flow Launches Its Housekeeper Safety Platform
Last month, following the passage of legislation in Illinois, AiRISTA Flow announced the launch of its own end-to-end SaaS solution for the hospitality industry that addresses employee safety.
The AiRISTA Flow Housekeeper Safety™ platform utilizes Real-Time Location System (RTLS) technology to help hotels satisfy modern panic button requirements. The platform combines real-time insights with two-way communication tools to provide full visibility of buildings, creating a system for companies that must address or improve their employee safety programs.
AiRISTA Flow's panic buttons, which reportedly rank as the world's most widely deployed RTLS personnel tags for push-button panic alerts, were featured in the 2018 ABC News segment Hidden America, an investigation into workplace sexual harassment and prevention strategies led by Diane Sawyer.
React Mobile and Nuvola Announce Partnership
Also this week, Nuvola, developers of service optimization and guest engagement software, announced a partnership with React Mobile, a global leader in providing panic button solutions for the hospitality industry. The partnership will provide hotel staff with employee safety device and alert management platform developed specifically to provide immediate assistance in an emergency situation.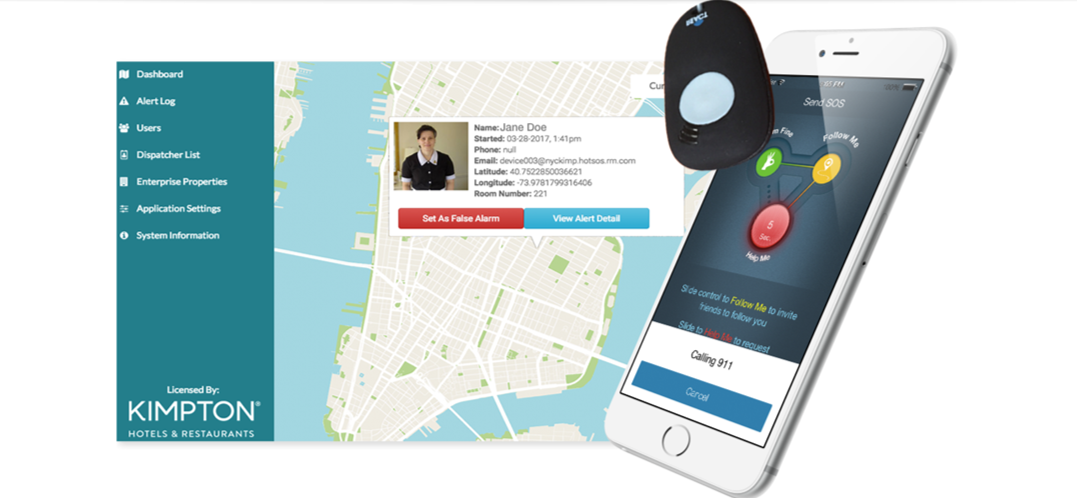 In conjunction with Nuvola's recently released Housekeeping Productivity platform, React Mobile's safety device creates a more secure working environment for all employees who manage tasks alone while on the job. The device's one-click activation does not require any unlocking or handling of a separate device or phone, providing an immediate alert to assistance and allowing help to react faster. The long-range GPS tracking and Bluetooth beacons send an immediate alert to front desk and security teams with real time location coordinates to ensure a prompt response.
React Mobile's employee safety technology is a battery powered device that runs in the background throughout each workday to consistently provide a means to summon help to the employee's exact location. The joint solution is customizable and scalable to accommodate specific property needs ranging from small boutique hotels to large-scale resorts.
In the end, technology solution providers offer a wide range of options for employee safety devices that should meet most hotels' needs and IT budgets, typically require only a few days to implement, and satisfy AHLA requirements as well as state employee safety regulations and city ordinances. For their part, hotel owners and operators need only stay calm and order panic buttons.