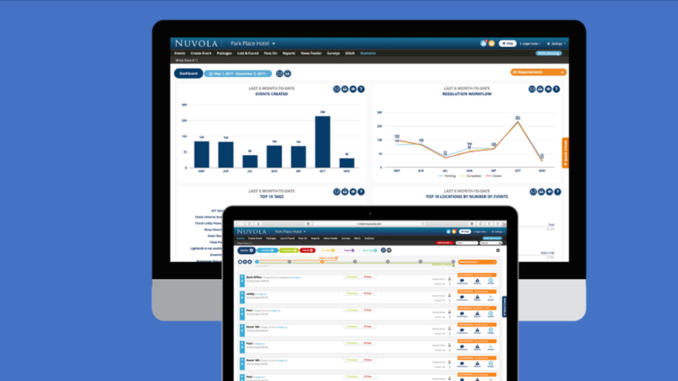 Hotel optimization and guest engagement software Nuvola announced today their partnership with industry leading mobile hotel property management system StayNTouch, A Shiji Group Brand, to introduce a two-way interfaced solution specifically designed to ease and strengthen operational processes for the hospitality industry.
The new solution allows Nuvola's platform and StayNTouch's PMS to work cohesively as a digital assistant for staff to manage daily tasks and provide guests with better overall service.
The new integration allows hotels to seamlessly migrate reservation data from StayNTouch to Nuvola and vice-versa, leading to benefits that stem from staff task management to the guest experience. When both dynamic cloud-based systems work together, it decreases tedious, manual work and increases staff productivity, enhancing information sharing across both hotel departments and with their guests. The technology developed by Nuvola and StayNTouch is customizable to fit specific property needs – ensuring resorts and hotels of all sizes can benefit from this new offering.
"For a two-way operating system to be successful, it is imperative that both partners perfectly align in robust solutions and development processes," said Nicole Dehler, VP of Product at StayNTouch, A Shiji Group Brand. "Nuvola's intuitive and innovative software complements the PMS system we have created for hoteliers and has made them an ideal company to partner with to offer a dynamic and complete hotel-focused solution. We look forward to now being able to offer our clients the Nuvola platform working cohesively with StayNTouch."
Recognizing that equipping staff with a mobile and consistently easy to use software is the key to elevating the guest experience, and the integrated solution focuses on mobility for staff members. Employees within a hotel can access and edit, in real-time, either system from the convenience of their phone or mobile device – and all information is stored and visible on traditional desktop devices too. Staff can complete and track tasks instantly, providing hoteliers something they can usually never get back—time.
"The synergy in terms of product development and goals for the solution align in a way that makes StayNTouch the ideal partner," said Juan Carlos Abello, CEO and Founder of Nuvola. "The PMS technology created by StayNTouch works perfectly with Nuvola's mobile-friendly platform in such a way that we will effectively simplify hotel optimization while simultaneously creating a more efficient way to manage daily tasks for hotel properties worldwide. The notion of consolidation in hospitality from a technology standpoint is a trend that is picking up momentum in this industry, so we are thrilled to partner with StayNTouch and bring to market a fully comprehensive two-way hospitality-focused operating system."
Simple in design and easy to use, the partnership and combined solution between Nuvola + StayNTouch is intuitive and can be up and running across a hotel's various departments and team members in as little as a few days.
Does your company have news it would like to share with our readers? If so, we invite you to review our editorial guidelines and submit your press release for publishing consideration.