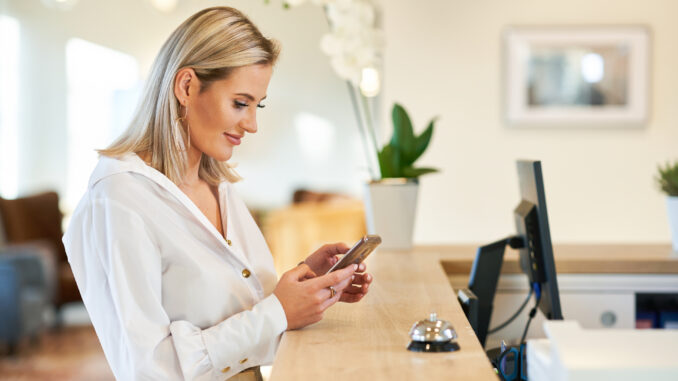 Every great trip is comprised of great moments. A breathtaking view, a cherished memory, a feeling of deeper connection, or maybe even the opportunity to 'disconnect' from everyday life — each microcosm of a vacation plays a unique and vital role in a traveler's journey.
Each of these numerous touchpoints — from pre-stay, to arrival, to post-stay — create countless opportunities to connect with or enhance the experience of guests.  With the help of new technology, making the most of each primary touch-point seems easier than ever before. From mobile check-in, to better front of house management, enhanced convenience, data-backed personalization and more, connecting with each guest feels more accessible than it did in the past, while confined within limiting legacy infrastructure.
With these technological advancements in mind, many hoteliers as how they can best capitalize on each touchpoint, to create a truly exceptional guest experience.
But what if we told you the answer lies in breaking down those moments to something smaller, but even more impactful?
With the steady rise of mobile, we come to understand the importance of 'micro-moments' in the guest journey. These occur when guests reflexively turn to a device (often, their smartphone) to learn something, do something, discover something, watch something, or buy something. These are intent-rich moments when guests will share their preferences, and make decisions. And as you might imagine, these micro-moments can influence almost every stage of the new guest journey.
Imagine the guest journey as it existed before the mobile revolution: When considering a trip, a prospective guest would likely flip through travel magazines, and make an appointment with their local travel agent to discuss options. Once flights and hotels were decided, the agent would confirm their reservation details. When they arrived at the hotel, the guest would make their way to the front desk, wait in line, (eventually) retrieve their room key, and make their way to their room. If the guest needed anything during their stay, they would have to either phone the front desk, or physically flag down a nearby staff member. At the end of their trip, they would bring their belongings downstairs and manually check-out with the front desk, returning their room key and settling any outstanding charges on their profile.
If you notice a pattern, it's that the guest's decisions can only be implemented through a limited number of macro-actions — flagging down a staff member, calling the front desk, etc. The entire wealth of the guest's options, preferences and impressions are lost to the hotel. As you might imagine, the rise of mobile has allowed hoteliers to access the full range of micro-moments, allowing them to change the guest journey dramatically.
Mobile Technologies Influence Every Stage
From the 'research' stage to guest bookings, check-in, digital keys, mobile concierge and more, hoteliers now have an abundance of opportunity to better engage with guests, while guests can interact with the hotel in the manner of their choosing.
To better capitalize on this rich new hospitality environment, hoteliers should ask the following questions:
Are you offering compelling imagery and helpful information on your social media and booking channels to captivate prospective guests during their inspiration and research stage?
From a booking and check-in/out perspective, is your mobile app user-friendly and intuitive? Does it offer the same functionality to mobile guests, as it does to guests booking through a desktop?
Are you pro-actively engaging with, managing, and promoting the conversation surrounding your brand on multiple platforms?
Do you offer your guests keyless entry, and/or 24/7 support via a mobile concierge in the palm of their hand? Do you offer your guests a variety of ways to communicate with the hotel, including mobile SMS and chatbots?
Is your staff empowered by mobile technology to better serve and respond to guest requests and communicate across departments?
Ultimately, the question comes down to: Are you present in every step of the journey —and are you useful?
A recent study conducted by Google and Phocuswright revealed that customers are using mobile devices to research products across all types of markets — from clothing shopping to international travel. This is especially true in hospitality, where over 70% of U.S. travelers agree that they 'always' use their smartphones when traveling. Often, guests use their mobile device to gain inspiration for future trips (think glamorous vacation shots on Instagram), or to research activities, attractions and hotel reviews (think searches to Google Maps, or the review section of Tripadvisor).
When 76% of travelers say their smartphone is the most important travel companion, hotels had better take note: over one-third of smartphone users regardless of market will view a brand negatively if their mobile experience is slow, and even a "short," 5-minute wait at check-in can lower a hotel guest's satisfaction by 50%. Fortunately, implementing a mobile check-in/out system can decrease front desk wait times by 20%.
In the world of hospitality, mobility is undeniably powerful.
Never Underestimate the Power of Mobility
Mobile platforms are allowing hoteliers to reimagine the guest journey, and connect with their guests on a deeper, more responsive and personalized level.  To win guests' business, hoteliers have to 'be there, and be useful' across the entire guest journey. During the pre-stay, ask yourself: Is your brand showing up in common searches? Who is your competition, and what are they doing differently? When your brand does show up, what does that content look like? Is it a strong representation of your hotel, and what your property offers? Does it effectively elevate your service offering from a prospective guests' perspective? Does it provide guests with all the information they need to make an informed decision? Is all of the information and functionality available on your desktop webpage, also available on the mobile version with the same user-friendly ease?
Once a guest makes the decision to book with your hotel, it's crucial to provide them with a variety of mobile options for check-in, check-out, payment and in-house messaging. Is your app easy to navigate, does it offer guests push notifications and customizable settings? Does it streamline communications, along with the check-in, key retrieval, and check-out process? Does it offer targeted advertisements for room upgrades and amenities? Does it offer guests self-service options to ensure they are in complete control of their journey? Does it inform continued guest personalization for a more relevant and intuitive on-property experience? If a guest encounters a problem, are they able to text a staff member or concierge for quick resolution?
As a hotelier, these are some of the questions that should be driving your selection of mobile solutions. The guest experience is made up of many integral, intricate micro-moments, none of which should be neglected or dismissed. Ultimately, the key to reimagining the guest journey, is to develop a technological infrastructure that is proactive, responsive, and personalized to each individual guest's needs.
Are you tapping into those micro-moments to enhance revenue, loyalty, and reviews? Are you truly leveraging the power of mobility to enhance the guest's journey? The bottom line is this: If you don't do it, your competitors will.

Nicole Dehler is Vice President of Product Management at StayNTouch, A Shiji Group Brand. Nicole spent more than 12 years in the Regional Divisions of MICROS Systems, divided between Product and Project Management of Property, Sales Force and Central Reservations Systems. She led the Enterprise Team in Asia Pacific as Director of Operations, looking after large scale software implementations as well as managing the regional launch of E-Commerce products and Smartphone applications. Nicole joined StayNTouch in early 2013, spearheading the PMS development, strategy, innovation and growth from the very beginning.