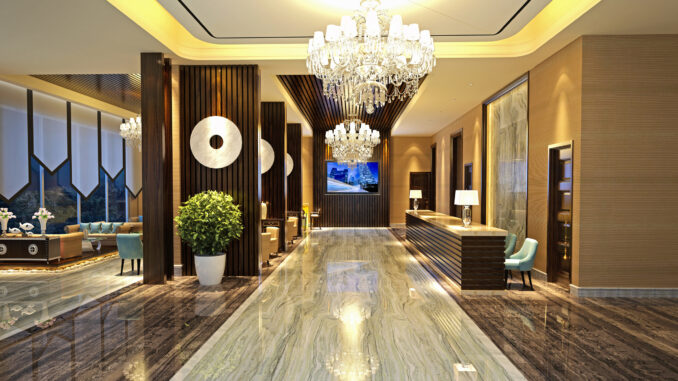 The hospitality industry has entered uncharted territory. As concerns surrounding the continued transmission of COVID-19 continue to mount, we find ourselves isolated in our homes, unsure of when this pandemic will pass. What does the future hold for our communities? Moreover, what will this crisis mean for those businesses who have ceased operations due to recent recommendations and mandates for complete shutdowns?
There is no denying that from a business perspective, travel and hospitality have taken the brunt of the pandemic's economic impact. Hotels and airline companies have suffered unprecedented losses as escalating numbers of cases spark travel bans and social distancing protocols across the globe. This is a frightening and uncertain time for many of us. However, let me remind you: Our industry has pulled its way through many economic and political hardships, most notably including 9/11 and the 2008 Great Recession. While each of these crises presented the travel industry with enormous short-term challenges, we have always emerged stronger on the other side.
That said, we also recognize that the situation which stretches before will likely be a marathon, not a sprint. While we cannot make any concrete assertions about the timelines we face, the insights gathered from other communities around the globe indicate that containing COVID-19 will take time. How much? We can't know for sure. All we can do is prepare for the worst while hoping for the best, and work to protect our businesses and our employees to the best of our ability.
And the long-term trends look rosy: By 2030, 5.3 billion people will join the ranks of the global middle class, with spending growing from $37 trillion in 2017 to $64 trillion in 2030. While coronavirus will certainly depress the travel market in the short term, this expanding middle class will be an unstoppable force for growth in the travel industry. And much of this growth will be in Asia, with China and India representing over 43% of the global middle class by 2030. In fact, China is already in the early stages of an economic rebound, according to some indications. Many Chinese companies have already moved beyond crisis response to recovery and post-recovery planning.
The evolving COVID-19 situation is daunting and complex—but by no means does it spell the end of the travel industry. By developing a considered and well-managed response, hoteliers will have a significant bearing on how well they ride the waves. We have put together seven actions to help hoteliers navigate this challenging and unprecedented situation… before resorting to furloughs:
Temporarily Close Down Unpopulated Areas of Your Hotel
Many hotels that are accustomed to 95% occupancy at this time of year are now grappling with the reality of 45% occupancy (or, in some cases, far less). While this is an inevitable byproduct of travel restrictions and the fear associated with the virus, it's integral for hoteliers to identify those low-traffic areas of their hotel. Whether it be entire floors or, in this case, public spaces that can no longer be utilized, hotels can proactively close certain sections of their property to cut costs. This contingency plan includes the closing of F&B outlets and the reduction of staff based on current infrastructure demand. The use of mobile ordering technology can also help in converting traditional dine-in F&B outlets, to takeout and delivery outlets, to comply with social distancing ordinances.
Alternatively, in some cases, under-utilized space in your hotel that is serving no purpose can also be repurposed for other revenue purposes. Many hotels are partnering with local governments to convert their unused rooms into makeshift hospitals or social isolation spaces. Hotels in Chicago, for example, are offering over 2,000 rooms to the city to serve as a place to safely quarantine first responders, health care workers, the homeless, and victims of human trafficking and domestic violence. While these partnerships will prove invaluable to slowing the spread of the virus, they are also good for business: It's estimated that the plan will cost the city approximately $1 million per hotel for a 30-day burn rate.
Review Investment Plans
Amidst this crisis, it's recommended that hoteliers carefully review their investment spending plans to identify opportunities for deferral. Can you proactively pause, reduce, and/or eliminate nonessential investments this year? Is there an opportunity to make the transition from costly inefficient technologies to more cost efficient technologies that provide total cost of ownership?
Identify Opportunities for Improved Energy Efficiency
If possible, take this time to do a utility audit, taking into account on-property lighting, HVAC, insulation, and more. The use of energy-efficient light bulbs, 'smart-room' energy-saving automation, timers on lighting, and occupancy sensors can go a long way in reducing utility-related costs at a hotel.
Updated Pricing and Cancellation Policies
Hotels around the globe are also encouraged to reconsider their cancellation policies, shifting away from penalties and fees to embrace a more inviting structure that allows travelers to book future travel without the fear of cancellation fees. Allowing prospective guests to rebook at the same property for a future stay within one year of the original booking date, while offering compelling rates and booking incentives, will help to reinforce your hotel's bottom line during trying times.
Seek Out Government Help
While some localities have seen limited success in slowing the spread of coronavirus, the policies they have implemented (e.g. social distancing, travel bans, and shutdowns) have had a profound effect on the economy—specifically the hospitality, tourism, retail and restaurant industries. Fortunately, local and national governments, as well as international institutions and private non-profits are stepping in to aid distressed businesses. Agencies like the US Small Business Administration are already offering low-interest disaster loans to businesses affected by coronavirus, while the US Congress is close to completing a comprehensive $2 trillion stimulus package that will include major assistance towards the travel and hospitality industries, including $50 billion for airlines. The major nations of the European Union have also enacted a variety of policies to mitigate the economic fallout of coronavirus containment. Taking advantage of government programs can provide a much needed stopgap until more normal times return to the hospitality industry.
Cut Salaries or Reduce Hours… But Make Sure You Share in the Pain
 Coronavirus is an unconventional crisis, and businesses will need an unconventional response to avoid massive furloughs.  While it's not an ideal proposition, many hotels will proactively cut costs during this time by making changes to senior executive salaries, while shortening work weeks, and canceling nonessential travel and spending. While this won't always be favored by staff, these changes are ultimately aimed at their protection.Many properties may also feel the need to defer quarterly dividends that were scheduled for the coming months.
A more palatable approach might be to maintain hourly wages, but reduce the length of the workweek or convert some employees to part-time.  While it is ever important to protect your staff and maintain morale, it's also essential to optimize labor scheduling, and forecast staffing needs based on day-to-day variations in business volume.  Even a one-day reduction in the work week could reduce labor costs by 20%, and many employees might agree to part-time hours if they knew it would save their job (and also free up time to look for supplementary employment or tend to family members.) This could also be a good time to cross-train employees to ensure staff makers can lend a hand to other departments or tasks when needed.
Before you go this route, however,  make sure you are willing to lead by example: Getting C-suite members and upper management to agree to pay cuts or forgo salary can go a long way towards maintaining employee morale (and might also save jobs in the process).
Finally, if You Absolutely MUST Reduce Workforce, Try opting for Furloughs with a Backup Plan
Although draconian, reducing workforce will significantly reduce your businesses operating costs. Can you reduce service and staffing costs without sacrificing the quality of service your hotel provides? Are you over-staffing any departments? Are there more streamlined procedures that, if put in place, could optimize daily processes at your hotel both now and, more importantly, in the future, when occupancy rates return to normal? Fortunately, those hotels utilizing digital systems (such as a mobile PMS) to manage their operations, will benefit from a more streamlined and agile infrastructure.
If you do decide to reduce staff, opt for furloughing workers rather than layoffs, and make sure you implement a backup plan for your employees. Hilton, for example, recently launched a program to find temporary work for it's furloughed employees.  While demand for hotel rooms is plummeting, major retail, e-commerce, and grocery brands are experiencing a hiring boom. That's why HIlton partnered with companies like Amazon, CVS, Walgreens and Publix to create an online portal where furloughed Hilton employees could sign up for an expedited hiring process. Of course, when the crisis finally recedes, Hilton will welcome their furloughed employees back with open arms.
Always Remember to "Keep Calm and Carry On"
It is critical to manage finances over both the short- and longer-term–Especially in the midst of a global crisis like coronavirus. Cutting costs today may help short-term survival, but should not be done at the expense of thriving in the longer-term. Coronavirus will force hoteliers to make some hard decisions about investments, activities, and employment. This will require strong leadership, driven by courage and empathy, and guided by the right data and vision. Hoteliers and their partners need to stand together during this time. With the right contingency plans and proactive measures in place, along with the continued collaboration and support across industry leaders and vendors, we will weather this storm.
Nicole Dehler is Vice President of Product Management at StayNTouch. Nicole spent more than 12 years in the Regional Divisions of MICROS Systems, divided between Product and Project Management of Property, Sales Force and Central Reservations Systems. She led the Enterprise Team in Asia Pacific as Director of Operations, looking after large scale software implementations as well as managing the regional launch of E-Commerce products and Smartphone applications. Nicole joined StayNTouch in early 2013, spearheading the PMS development, strategy, innovation and growth from the very beginning.