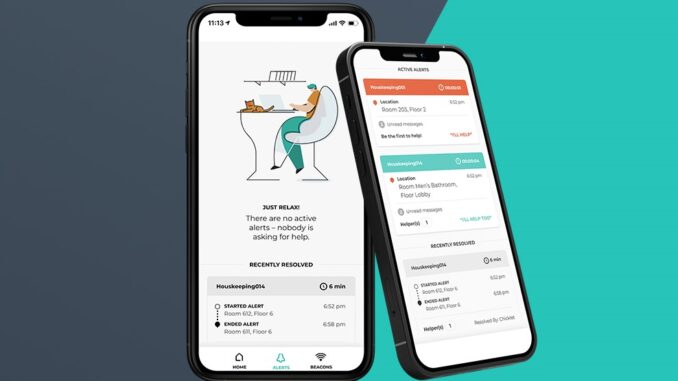 A network outage can be detrimental to hotel operations. No internet service means no reservations, no guest communications, and potentially no employee safety system if the hotel is using a panic button solution other than React Mobile 2.0. The hospitality workforce safety platform is designed to deliver the highest levels of reliability during a network outage, such as the one triggered by Amazon Web Services' US-East-1 region of data centers on Dec. 7th. Hotels relying on React Mobile and operating with an AWS infrastructure experienced no safety platform downtime when the overload occurred.
"We massively over-engineered React Mobile 2.0 to ensure that problems like the AWS outage do not impact our customers," said React Mobile CEO John Stachowiak. "React Mobile 2.0 is the only enterprise-grade software on the hospitality market with this advanced level of redundancy. Each of React Mobile's four backend services has a 99.99% uptime agreement, ensuring that the total expected outage during a year is less than 15 minutes."
React Mobile warns hoteliers not to be misled by claims of "high availability." A safety system that claims 99% uptime or 99.9% uptime may sound impressive, but it is not as reliable as one may think. Statistically speaking, over the course of one year, systems with 99% uptime can expect outages of three days, 15 hours, 39 minutes, and 29.5 seconds. Those with 99.9% uptime can expect to be down for eight hours, 45 minutes, and 57 seconds. By comparison, with 99.99% uptime, React Mobile 2.0 will experience a total annual downtime of only 52 minutes and 35.7 seconds in each of four redundant systems, any one of which can carry the whole load of the system, for an estimated total service delay measuring less than 15 minutes per year.
"The difference between 99.99% and 99.9% uptime may not seem like very much, but it could cost hotels significant time and money," Stachowiak said. "According to Gartner, the average cost of network downtime is estimated around $5,600 per minute. Multiply that by 60, and you're at $350,000 per hour. For a hotel running on a safety platform with 99.9% uptime, that's $2.8 million. As the industry works towards recovery, no hotel can afford internet downtime, no matter how long. Impact on the hotel's reputation from negative online reviews alone could be devastating. React Mobile 2.0 is hands down the most reliable safety solution on the market."
React Mobile 2.0 Key Features Include:
A new responder application that will enable employees to receive safety alert notifications on their mobile devices and dispatch help. Management will receive analytics measuring how long it took for the employee to respond to an active alert.
Support for all third-party iBeacons, such as Aruba, Cisco Meraki, and CommScope/RUCKUS®. With iBeacon functionality already existing in the hotel's WiFi access points, hoteliers will save up to 90% of workforce safety platform install costs.
A new, highly sensitive machine-learning back end to greatly increase location accuracy.
A double-redundant alert pipeline to ensure that alerts are dispatched from panic buttons to responders in the fastest time possible. React Mobile 2.0 delivers 99.99% of alerts in less than a half-second.
Single-press LTE buttons to check battery life and identify coverage problems.
Two-way multi-lingual conversations in English, Spanish, French and Chinese. Any language can be supported on request.
Single sign-on (SSO) authentication from existing employee email and password.
Regional operations whereby housekeepers and responders working at multiple properties can use React Mobile 2.0 across the enterprise.
In addition to its exceptional reliability, React Mobile 2.0 also leads the industry in beacon location accuracy.  The entire solution was re-engineered to be radically simpler for hotel workers to use in the event of an emergency. Existing customers wanting to upgrade to React Mobile 2.0 can do so with no additional hardware required.
Does your company have news it would like to share with our readers? If so, we invite you to review our editorial guidelines and submit your press release for publishing consideration.