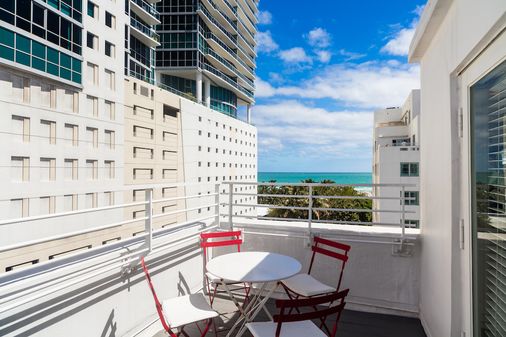 Townhouse Hotel Miami Beach has implemented Aptech Computer Systems' PVNG Enterprise Hotel Accounting System, allowing the hotel to move its back office to the cloud for multi-property accounting.
Townhouse Hotel Miami Beach is minutes from downtown Miami and combines modern design and authentic hospitality that make it an ideal retreat getaway. Aptech is an IBM Premier Solution Provider as well as a Prophix Premier Business Partner offering web-enabled business intelligence, budgeting, and back office systems that are 100% hospitality specific. PVNG, which is Aptech's cloud-based next generation of enterprise accounting, has become the industry standard for hospitality financial systems.
"PVNG is an excellent financial system that does everything we need for our two properties." said Remy Abueg, controller for Townhouse Hotel Miami Beach. "I understand hospitality accounting and back office systems, and PVNG makes my job much easier." Abueg noted the upgrade from Profitvue to PVNG was very easy. "We learned the system quickly and mostly trained ourselves. When we did have questions, Aptech's professional support team explained things. They have the best systems for hospitality because they have the most experience."
Townhouse Hotel Miami Beach's management company recently took over operation of a second hotel. "PVNG made it a simple matter to add our second property to our enterprise back office system," said Abueg. "PVNG lets me toggle between our two properties and instantly upload my separate general ledger entries. All I need is my company code and the entry automatically goes to the correct ledger. My ownership reports print directly to Excel with a tab for each department and actionable variance numbers for business analysis."
"It is a pleasure working with a growing independent operator like Townhouse Hotel Miami Beach," said Sam Costa, Aptech director of customer service and support. "PVNG is a perfect fit for independents that are expanding their portfolio because it lets them easily add or remove properties as they grow. PVNG is Cloud based so no new hardware is needed at a new property, and the chart of accounts and G/L are flexible to make it simple to adapt to financials required from separate entities."
PVNG hotel accounting software uses the most current technology platform and incorporates AP, GL, AR, Statistics, Financials, and a Bank Reconciliation, all with familiar browser navigation. Operators can quickly become 11th Edition-compliant by implementing PVNG's packaged chart of accounts and financial statements. PVNG's hotel accounting software cloud platform lets Aptech monitor and support all aspects of users' system processes for professional hands-on support.
 Aptech provides the Execuvue® business intelligence system that enables large or small hotel companies to dynamically analyze their data with drag and click simplicity.  PVNG is Aptech's browser-based Enterprise Back Office System. Targetvue is a hospitality-driven budgeting and forecasting solution. Aptech's solutions enable hotel companies to be proactive operationally and financially. 
Aptech Computer Systems, Inc., based in Pittsburgh, Pennsylvania, is the only provider of a fully integrated enterprise accounting, business intelligence and planning ecosystem to the hospitality industry.  Clients comprise over 3,500 properties – including large chains, multiple-property management companies and single-site hotels.
Does your company have a success story it would like to share with our readers? If so, we invite you to review our editorial guidelines and submit your case study for publishing consideration.