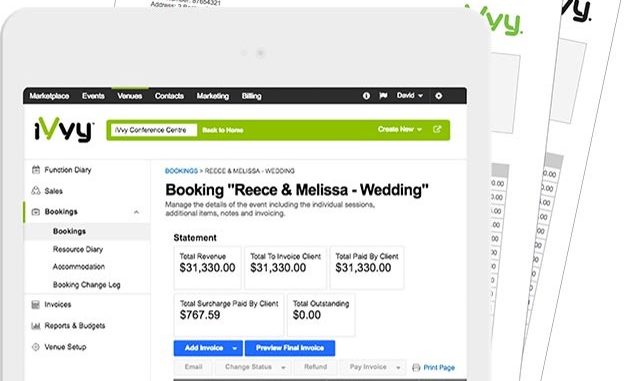 Sales and catering solution provider iVvy Inc has announced the release of its next-generation meeting space booking tool for venues and hotels. Planners can now enjoy enhanced self-serve capabilities, to better plan and manage their events with no delays, RFPs, phone calls or emails. The intuitive solution is designed to improve the whole online booking experience for planners while enabling the venue to maximize its profitability through meetings and events.
With its latest innovation, venues and hotels using iVvy software can now set their own rules and show their meeting space, and food and beverage availability to specific event planners and booker types (such as corporate planners or travel agents) logged into the iVvy system. This streamlines the lower value meeting bookings that may otherwise be a burden to fulfill. This also means more control for the booker, as they can now compare rooms and decide which room to host their meeting from, depending on its availability and price.
Online booking is on the rise for the meetings space and meetings themselves are trending towards smaller, less complicated events,"  explains Lauren Hall, CEO of iVvy. "Venue spaces now recognize that small meetings can make for big business. However, much like larger meetings, planners expect a fast turn around and attentive service regardless of the size of the meeting. We know from client feedback that hoteliers and venue operators are seeking out digital tools to optimize their smaller events and spaces to free up staff to focus on higher-value engagements. Our new meeting booking tool is designed to simplify the meeting booking process while driving conversions and profitability for the venue operator."
iVvy offers meeting planners the ability to search, compare, book and pay for function space, catering and group accommodations online, 24/7. By providing conference centers, hotels, restaurants and cruise lines with an integrated revenue management and distribution platform, iVvy equips Hotel Operators with the tools they need to manage inquiries on any device, anywhere. With enhanced reporting and analytics, Hotels are provided with greater visibility over their business so they can yield their group rooms, meetings & event spaces to maximize revenue.
Does your company have news it would like to share with our readers? If so, we invite you to review our editorial guidelines and submit your press release for publishing consideration.