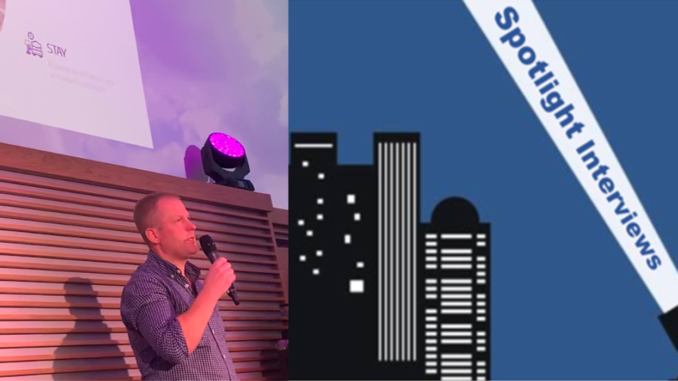 For-Sight is a provider of next-generation hotel marketing, CRM and guest engagement solutions. With a passion for technology, Allan Nelson is part owner, founder and board director of For-Sight's parent, Forth Communication Ltd, and its subsidiary companies. As For-Sight's CEO, Allan focuses on product strategy and leadership, both internally and externally. This often takes the form of business development and key account management, working with clients, prospects and partners, and also working to help shape the company's future direction.
For starters, let's talk about For-Sight Guest Engagement platform capabilities. How does the solution work, what are the benefits, and who are your customers?
With For-Sight Guest Engagement, guest data that the hotel has already gathered becomes actionable data, allowing Marketers to have a personalised digital conversation with guests before, during and after their stay, fuelling loyalty whilst helping to maximise the value of every booking. As a hotel specific Marketing and CRM solution, For-Sight Guest Engagement automates the harvesting of data from the hotel's PMS and other core transactional hotel systems including restaurant bookings, reputation management, spa and WiFi registration, to name a few, to create a central source of truth for each guest and their journey through every hotel touchpoint.
The system enables Marketers to run deep dive queries on guest data using tools such RFM (recency, frequency and monetary) to identify and segment audiences for targeted, relevant and in-context omnichannel (email, SMS, social and app) messaging enhancing their experience and driving upsell opportunities.  We work with independent hotels, resorts, groups and third-party management companies. Names include Dalata Hotel Group, Village Hotels, Jurys, Cameron House, Crieff Hydro and many more.
How does For-Sight Guest Engagement help hotel operators achieve personalization with marketing and customer engagement?
We help cut through the noise. The modern consumer demands a personalized experience and a direct conversation with their guests. We pull a substantial amount of relevant data from the source systems, clean it, match it together using our custom algorithms and give it to the hotel marketer on a plate. They can then deploy their campaigns, measure the response and adjust accordingly.
How does the solution help hotel operators make smarter marketing decisions? What have been the results in terms of ROI? Are hoteliers able to track and measure the financial outcomes?
To ensure investment is maximized, For-Sight Guest Engagement visualises and reports on hotel's campaigns, guest data and performance with our suite of built in reports. This empowers hotel operators to take action on key metrics and make informed decisions based on hard data and results. We act as a central source of truth for our clients' guest engagement and marketing activities so they can be assured of reporting accuracy with centralised attribution reporting. We have invested heavily in data analytics resource and believe in creating clear, simple and relevant visuals to aid the hotel marketer in deploying and measuring campaign effectiveness.
This ROI is measured clearly on new and returning guests from their transactional data in the PMS but also further downstream with integrations into Google Analytics to measure online performance.   By combining both sources we get a fuller picture of ROI.
As an example, Bridgewood Manor Hotel & Spa, which is part of the RBH Management portfolio, was able to accurately report back on the effectiveness of a multichannel campaign to drive direct bookings. They were able to see clearly what worked and attribute a month on month increase of 52% in direct bookings, and an increase of 38% in ABV, to their marketing efforts.

How is the world of data management and analysis changing and evolving in the hotel industry and how is For-Sight playing a role in this evolution?
There is so much data available now, that we have moved on from big data to relevant datfor-a. Clients are working out what is useful for them and it needs to be picked from the often-messy tech stack they have to work from. Alongside that the analytics tools now available on the market have a much lower entry point in terms of functionality and ease of use compared to even three years. We pull from a variety of relevant sources and don't just focus on the PMS unlike some other solutions in the market.
Consumer knowledge and trust in data/companies is key. GDPR was a political reaction to the data collection practices of technology firms Many consumers are much more educated in terms of what their data looks like, how it can be used to benefit but also how it can be abused. Therefore, there needs to be a transparent trust exchange between company and consumer. The latter understands data will be used for great service but also needs reassured it will not be abused beyond that need or left vulnerable to being hacked. As vendors and practitioners, we need to understand the fine line between great personalization and downright creepiness. That line is different for each individual and the technology we develop needs to embrace that.
Our role here is to the bring the right data forward for our clients to use, look after properly and empower the user with the right tools for the task. That could be email tools, clear & concise dashboards in a product like Power BI or data being pushed to the right ad platform or messaging service to suit the guest needs. It's also fantastic being based in Scotland and beside of the pre-eminent seats of data science in Europe. This allows us access to academic expertise but also to talent in the labour market.
Tell us a bit about your career trajectory. What led you to your current role at For-Sight? How long have you been in this position?
In 1998 ago after graduating from Dundee University with a history and politics degree. I joined our parent company, Forth Communication Ltd, a small agency doing financial services direct mail, in an account executive role. I had a background in the industry as my parents were entrepreneurs having established a group of marketing businesses in Northern Ireland in the 80s and 90s.  I duly followed them into the space and also inherited my father's love of technology.
After two years I come up with idea to take data processing for these mailings in-house, which we previously managed but outsourced to 3rd parties. I invested into the business at that stage, along with my father who had exited his previous company, and we set up our facility in Northern Ireland. We gradually scaled that over the subsequent years, establishing a great team with the rights skills, accreditations like ISO27001 and the technology to handle the work we were doing. We became and still are experts in handling customer contact and transactional data.
In 2007 we took a call from a large 5-star Scottish resort. Their marketing team had a data problem.   They knew they had great data in their systems but there was no Single Customer View, this data was difficult to extract, unclean, hard to update and across a number of spreadsheets. They asked if we could come in to clean, match, automate updates and provide them with an online, secure query tool. It took us a few months, but we were able to deliver the project. We then got commissioned to build another such system into the Ramada Jarvis group which at the time was 40 sites operating on Opera. We then realized we had a product opportunity. We built what we thought was Version 1 in 2010/11 to a series of early adopters, most of whom who are still clients. In reality though, it was a series of prototypes which allowed us to learn about all aspects of hotel data. Our Version 2 release in 2014 allowed us to standardize the inputs & outputs for scale and bring on a lot more hotels.  We expanded our reach and in October 2019 we have published our Version 3 release, otherwise known as For-Sight Guest Engagement.
Personally, I have been involved with For-Sight from its inception, fulfilling all the roles you would expect from startup founder, albeit with the support of a larger business run by my senior partner Richard. That role has evolved as we have scaled but the most important aspect of that has been fronting the product internally and externally to the market. I have learnt over the years to never lose sight of that.
What do you do in your job on a day-to-day basis? What do you like most about your work?
My role as CEO is the leader and keeper of For-Sight's vision. I lead to the strategy across all aspects of the product, having had the privilege of building and working with what is now a great team. My job is to give them the playing field, the resources and let them get on with it. I am not a micro-manager and I believe I am best placed to look for and have the conversations in the market to move us forward. I enjoy those conversations and am always learning. I also enjoy the cool technology out there, the problem-solving aspect of what we do and get great satisfaction on delivering for our clients.
How has the hospitality industry changed and evolved, especially in terms of hotel technology and the solution provider landscape, since you began your career?
Our first client came on board around the arrival of the iPhone and thus before the OTAs grew in prominence, so we have watched those OTAs consolidate and grow into the behemoths they are today.  I can't see anyone threaten their dominance in the acquisition space unless Google, Amazon or Apple decided to enter the space properly. In that time, we have also seen the PMS market evolve and move from on-premise to mainly Cloud based solutions (some arguably not true Cloud though they are mainly hosted online and more accessible than they used to). Other vendors have emerged to take advantage of need in aspects of the hotel tech space, and I have watched the journeys of Siteminder, Mews, OTA Insights and others with interest.
Regarding our own space, we did not see any competition in the UK market until around 2013-14 which a few mainly US based companies entered the arena. Indeed, I first met our current Head of Business Development, Nigel Allport, when he was representing one of them at a trade show.  We were pitching a concept to early adopters until the hotel CRM part of the stack became a popular topic. Competition is a sign of a market opportunity and I have always respected it. It makes us all better, hopefully delivering more choice and better solutions for the end users. I just find it interesting that most of the competition is American and continually ask why there aren't more European companies doing this at scale.
What, in your view, are the biggest obstacles and challenges hotel operators are likely to face over the next few years, especially in terms of technology?
The fragmented stack in hotels and lack of interoperability/open APIs is a big challenge. That is slowly changing with some vendors moving faster than others. The sheer number of vendors in the space provides a confusing picture too. Accepting that each vendor is able to do their bit well, we are seeing the emergence of alliances and roll-ups with investors targeting groups of integrated technology rather than trying to build a 'one size fits all' solution. Anyone who says they can do the latter in this industry either has astonishingly deep pockets or is being economical with the truth.
Distribution models are also continually evolving with the threat of the home sharing model is ever-present.  Guests, particularly the younger ones, will also keep changing the way they communicate across platforms and devices. There will be a continual need to adapt and integrate new technologies into the guest journey. Data protection and GDPR – in our experience some clients interpreted the roles too strictly and lost some revenue opportunities whereas others in the market got the balance right and were able to continue in a strong fashion. I believe that GDPR laws will continue to evolve and hotels need to understand how to interpret these to benefit their business rather than detract from it.
On a wider note, over-tourism and the ecological impact on travelling will need to be proactively dealt with by the industry, both from a business but also community point of view.  We are all part of the same world.
Do you think hotel operators are prepared for the challenges that lie ahead? If not, what do they need to do to better prepare themselves – and, hopefully, ensure their ongoing success?
Put data first. Understand where it comes from, what value it has in your business and exploit it to the fullest extent. The right view of the data should also be passed to all levels of the business and particularly to any guest facing point. How much better will your front desk service if they have a clear and simple dashboard to help them capture the right data or the give the right guest the cool upgrade?
To date, hotels are often restricted by previous choices in technology, either technically, commercially or both. It can be difficult to move data around and get a clean view of the critical data points. Once they are aware of that, they can plan to start mitigating that. The best clients we have tend to employ a champion who understand the tech, the business goals and all inputs/outputs. This could be at just a marketing level but also through the whole business.
Guests will arrive with their own hardware and want to be communicated with their way, not the hotel's.  Be prepared to put in a high-speed Internet line and have screens they can put content on to. Be prepared to communicate via the guest's preferred channel and manage those data-driven communications centrally and at scale.
When it comes to renewal time for your major systems, make sure they have APIs to develop to and existing integrations with key vendors in the space.
What, in your view, are the biggest opportunities that are now available to hotel operators due to recent advances in technology? How can they best take advantage of these opportunities?
Intelligent automation of the guest journey. The ability to personalize the guest experience both online and offline to enable a really cool experience for the guest and revenue maximization by the hotels.    The data is available, and we are now seeing platforms (including For-Sight of course) that can take advantage of that. Data analytics is still at an early stage in the hotel industry, but the tools now exist for hotels to exploit their datasets. No longer do you need a huge license for a decent analytics tool or engage with a specialist agency to build it for you. Provided you can access the data, it is much easier to plug that data in.
Integrations – the difficulty in doing these up until now has been a barrier to entry for innovative start-ups in the space. With open APIs from PMS' like Mews and Apaleo, and middleware APIs companies like Impala, Hapi and Siteminder with their Exchange product, I am expecting more start-ups to emerge, scale up faster and disrupt the incumbents. I recognize that we need to ride this wave too at For-Sight.
In your experience, are most hotel operators making the right decisions in terms of their technology infrastructure? Are their properties generally achieving their potential in terms of revenue performance as well as the quality of the guest experience, or is there a lot of room for improvement?
I think they strive to make the best decision at the time based on the information available. However, that information can often be limited in terms of what is available. They often rely on word of mouth, recommendations and whichever sales guy has been in touch at the right time. It's a feature of the hotel industry that the larger and fast scaling vendors often have substantial direct sales resource building relationships in the market. It's often necessary but is an expensive way to sell and ultimately the hotels themselves end up paying.
The buyers also have to deal with a wide range of vendors for each aspect of the hotel function and often just don't have the bandwidth to do a thorough enough job. The vendor selection can also be reduced by websites like Hotel Tech Report and Hotelhero which have emerged to give the buyers a more balanced view over time. They are still early stage and likely subject to unintentional bias (those who collect lots of reviews vs those that don't) however that should settle down as the market matures.  I'm certainly admiring what they are doing.
As far as technology is concerned, where should hotel operators be focusing their time, energy and IT resources? What technology-enabled business initiative(s) are likely to provide the biggest payoffs?
Where possible automate, then automate and then automate some more. Put the relevant and business critical data at the fingertips of your customer facing staff. Empower them to make decisions on that and put easy methods in place to make sure you have visibility of that. This could be on the guest experience side but also to help make the internal hotel workings more efficient. Of course, I would say use tech to concentrate on the guest experience. Get that right, it will retain more direct business and also give the hotel the chance to maximize upsell and cross-sell revenue.
Look at what others are doing in the space. CitizenM is an obvious example of a hotel group that continually innovates and delivers a great technology experience for the guest.
Any other major achievements over the past year we neglected to mention? Anything new and noteworthy in terms of strategic partnerships, customer wins, expansion, etc.?
We have always embraced the platform model, providing fantastic and unrivalled email functionality through our partners at Dotdigital. Now we are also working with Facebook, Google and the major review platforms to integrate their data into the guest experience from For-Sight.
On the client front we are now working with the likes of Hallmark Hotels in the UK for all 26 properties and the wonderful Galgorm resort in County Antrim. On a personal level I've been delighted to have picked up the contract from the Old Inn Crawfordsburn. It's two miles from my parents' house and our Bangor Office. Many a good Christmas Eve was spent in there when home from university. Regarding partnerships we announced our relationship with Hotel Perfect, Impala, Siteminder and our close friends & neighbours in Edinburgh, Criton.
What will be the primary focus areas for For-Sight over the next year, particularly in terms of enhanced platform capabilities and/or entirely new solutions?
We will have some very exciting announcements in the coming months. More integrations, more partnerships, including a very significant one in the guest sentiment space shortly, more clients wins and substantial further investment in our product resulting in more hires. Edinburgh as a city has some fantastic academic expertise and we are looking forward to tapping into that with projects involving Criton and Edinburgh University.
We will continue to enhance the platform, particularly on the data visualization side, with our analysts feeding in more reports with each release. Our goal is to deliver an automated experience for hotels akin to what consumers expect from Amazon and Netflix. A long way to go and lots of data points to join up but we are very excited on where we are going.
Any other thoughts about the hotel industry, particularly with respect to technology innovation and emerging trends? Is there anything about where the industry is today that surprises you?
I continually get surprised by the hotel industry not moving as fast as I think it should. Maybe one day it will but anyone who invests in technology in the space is in the game, long term.