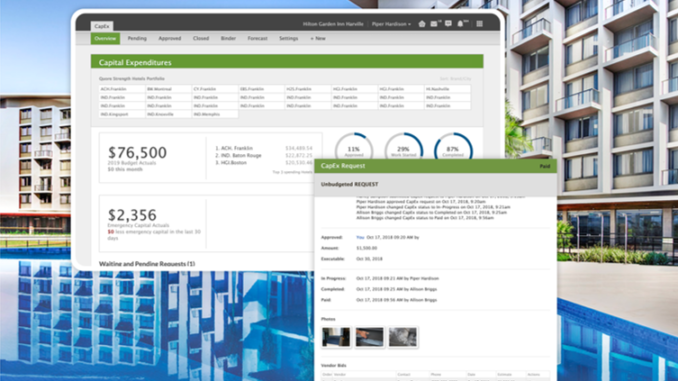 Budget season is over, and hotel owners/operators are breathing sighs of relief now that they're through with the arduous weeks — maybe even months— of prepping annual budgets and taking care of a backlog of capital requests.
Quore, an award-winning provider of workforce communication and engineering/housekeeping management technologies, has a tool that is helping multi-property management companies make better financial decisions by staying on top of all property-level capital requests. The CapEx app customizes and automates the flow of approved expenses for increased efficiency. The tool – tied to the hotel inventory within Quore – also makes it easy to track warranty information on inventory assets, giving management an accurate budgetary forecast on any items that might need replacing over time.
"Our customers told us they need a way to track budget items across all expense types for improved financial performance," said Richard Bradbury, Quore VP of Strategy and Alliances. "They want an easier way to look at their budget and expenses, access historical reporting and analyze trends and share up-to-date information on what is happening at their hotels. So, Quore developed the CapEx app to tackle each of those functions. It's a comprehensive solution that is helping hoteliers make smarter business decisions and save time and money."
Within the Quore CapEx app hoteliers can:
Segment CapEx requests by type (emergency or budgeted)
Forecast using Future Request
Manage the customizable approval flow by type, title and final approver
Streamline capital requests within the approval flow by ensuring that only designated employees can approve pre-specified amounts
Tie CapEx requests to inventory items already within Quore
Include bids for work required from external vendors
"Driving real-time staff communication and visibility while also facilitating finance, business operations and management can be accomplished affordably and easily within Quore," Bradbury said. "Before the 2020 budget season comes to an end, hoteliers should take a deep look at their technology investments to make sure they are getting the most bang for their buck. Don't settle for a workforce communication system with limited functionality. Quore is the most robust solution on the market, and we are routinely adding features to meet customer demand."
Does your company have news it would like to share with our readers? If so, we invite you to review our editorial guidelines and submit your press release for publishing consideration.