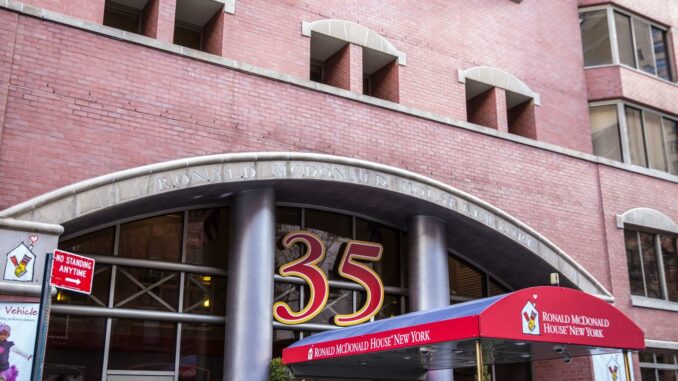 Global hospitality and hotel technology solution provider Avvio Inc. has announced a five-year partnership to support Ronald McDonald House New York (RMH-NY), highlighting the importance of innovation in revolutionising the charity sector.
The deal, which is the first of its kind, provides the charity with an artificial intelligence powered (AI) booking platform and guest journey expertise all complimentary. This will help support over 59,000 families of children suffering from cancer with temporary housing, transportation, meals and programmatic services.
The partnership deal will enable families, hospital staff, and care providers of this vital service, the ability to reserve and book rooms at the House when they need it at the touch of a button.
According to a recent report from Future Charity, 57% of charity employees feel that new technology not being embraced is one of the biggest hindrances to the sector's development, but with this partnership, RMH-NY can connect with additional payment providers through their digital booking system to assist with diversifying the organization's fundraising activities and expand their donation payment methods.
Commenting on the deal, Ruth Browne, President and CEO of Ronald McDonald House New York, said: "Ronald McDonald House New York is both excited and honored to be working with such esteemed organizations.
"We look forward to the advancements that these partnerships will bring to help better serve our families for years to come. As we strive to provide a seamless circle of support for the families we serve, partnerships like these are critical for us to accomplish our mission."
The charity, which will also be Avvio Inc's North American designated charity of choice, is located at East 73rd Street in Manhattan. In close proximity to 16 partnering hospitals, the House features 95 guest rooms, which includes six post-transplant suites.
The partnership has been spearheaded by Avvio Inc.'s U.S. president and advisory board member of Ronald McDonald House New York, Rich Tuckwell-Skuda, who has also introduced guest acquisition platform SiteMinder as part of the deal.
Commenting on the deal, Rich said: "We're very proud to be working with such an important and worthwhile organisation, which has for so long been part of New York City's community and is personally very close to my heart. At a time when families are dealing with so much emotional stress, the last thing they need is to have to spend time arranging places to stay and working out how to book space, particularly when many people are travelling from all over the world. This is where we come in, our booking platform is a perfect fit for families to enable them to focus on the care of their loved ones."
Does your company have news it would like to share with our readers? If so, we invite you to review our editorial guidelines and submit your press release for publishing consideration.