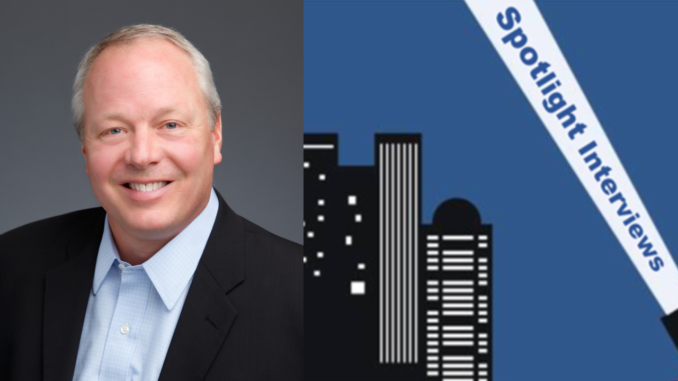 Mike Kosla is Vice President of Hospitality, LG Business Solutions USA. He has been with LG North America for 25 years and has headed up LG's lodging business since 2012. Previously, he served as a sales director for LG and a regional hospitality account manager at Zenith before IT merged with LG. "I've seen this company grow its sales in the lodging market by a factor of ten over the last two decades," says Kosla. "I'm proud that LG has been the market share leader in hospitality for all but two financial quarters since 2011 and that we are a preferred or preferred exclusive vendor at every major hotel chain in the U.S."
Congrats on the launch of LGs latest 4K Ultra HD TVs designed specifically for the hospitality market (NanoCell). What led to the decision to roll out a product line specifically geared to hospitality buyers?
LG was one of the first manufacturers to introduce 4K Ultra HD hotel TVs, and we have led the market in installed 4K units specifically built for this segment over the past three years. Industry-wide, the majority of TVs sold on the consumer market are now 4K UHD models, so consumers expect the same or better experience in hotels. As the TV leader in the hospitality space, we responded to market needs by developing displays that live up to the expectations of hoteliers and their guests. The LG NanoCell line is our latest advancement in this arena, delivering significant picture quality improvements in an affordable package.
How are these 4K Ultra HD TVs different from ones meant for, say, the bar and restaurant market or even for consumer household use?
LG commercial grade hospitality TVs have significant differences in firmware and hardware. LG's industry-leading content management and interface software is also only available on commercial-grade displays. Our Pro:Idiom Digital Rights Management software is the industry standard, for all commercial display manufacturers, to deliver HD programming that cannot be pirated or copied.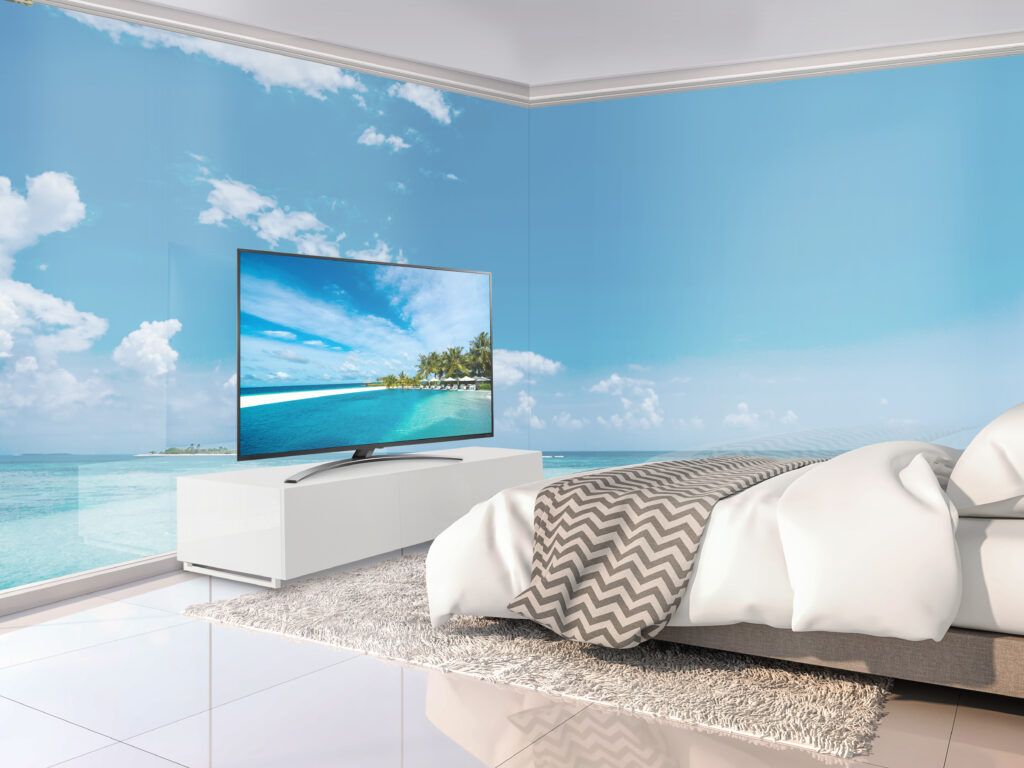 Our Pro:Centric guest user interface, only available on LG commercial displays and set-top boxes, is now deployed in roughly two million U.S. hotel rooms, providing a customizable and easy-to-use interface for guests. As the most widely-adopted interface in the industry, Pro:Centric-capable displays offer the ability to customize a welcome message, display the hotel name and display content to promote hotel amenities.
And LG hospitality TVs have a different industrial design than our consumer TVs. Commercial-grade displays, including our new NanoCell hospitality line, are designed with a single-pole swivel stand to allow for hotel room placement flexibility (compared with consumer TVs that often have pigeon feet at the corners and require a large base or piece of furniture). Hospitality displays also have a lock to help prevent theft.
Tell us about NanoCell display technology. What is it and how does it improve video and audio performance?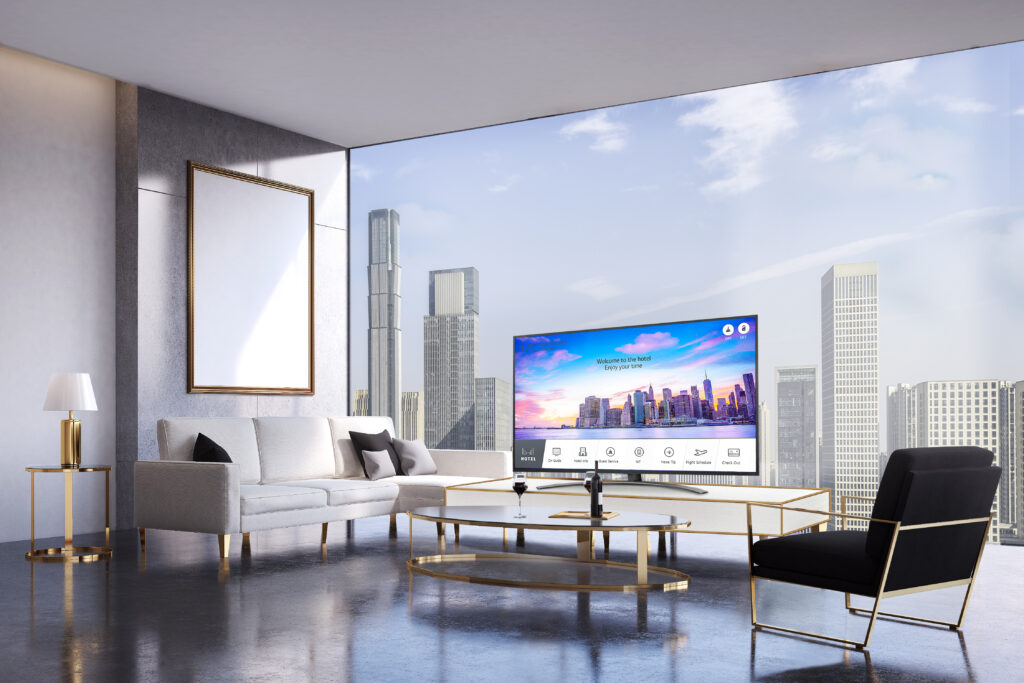 LG's proprietary NanoCell technology uses nano particles (roughly one nanometer in size) to absorb surplus wavelengths of light, enhancing the purity of colors on the screen while expanding the color gamut and ensuring consistent color performance from any angle. To match the stunning visuals with excellent audio performance, each model utilizes DTS Virtual:X, a new audio optimization technology that analyzes incoming signals in real time and adjusts output to provide the perception of surround sound from a two-channel system.
The portfolio of 4K UHD hotel TVs consists of models that come in different sizes, obviously, but are there any other big differences between them?
LG has one of the broadest portfolios of technologies designed specifically for the hospitality market – both for in-room applications and for public display areas. We can meet the needs of budget conscious properties as well as high-end premium properties. We can even help with retrofits, when a property might not be ready for a full upgrade of new TVs, but they want the enhanced guest experience that LG's Pro:Centric technology can offer. All they need is our Pro:Centric Smart set top box (STB-5500).
What's on the horizon for LG in terms of technology innovations, particularly when it comes to new or enhanced products that might benefit hoteliers and guests?
Without giving away too much, LG is here to listen to the needs of the market, and we don't create products in a vacuum just for the sake of having new products or technologies. We listen to customer needs and then develop products to meet them, so our innovations solve problems and deliver functions that impact hotels and guests immediately. As consumers begin to expect or be familiar with emerging technologies such as voice control or mobile device integration, hoteliers will help us decide how to best serve their clientele.
What do you do in your job on a day-to-day basis? What do you like most about your work?
We spend a lot of time working directly with hotel brands, hotel ownership and management companies to determine what needs are unmet. Brands make high level decisions such as what manufacturer to partner with, but the owners and managers have to implement and operate the units, so their input is critical to our combined success. We spend a lot of time ensuring that the people on site are fully aware of our displays' capabilities and helping them choose the right models and sizes. In that way we are very much educators for the industry, putting our experience to work so hotels can deliver the best guest experience possible.
What, in your view, is the next big thing in TVs and/or in-room guest entertainment technology?
I think the number one improvement coming soon will be the availability of more true 4K UHD content. Currently, content producers, cable providers and other content sources still often use 1080P when creating or delivering video. Another trend will likely be to integrate a bring-your-own approach to content, where guests can pair their mobile devices with an in-room display to play video from their own streaming accounts. Lastly, as consumers become more comfortable with automation technologies in their homes, the adoption of full RMS (Room Management Systems) will offer enhanced control of lighting, music, TV and/or climate controls, beginning at top-end establishments and likely trickling down to more and more hotels.
Is there anything about where the hotel industry is today when it comes to technology that surprises you?
The drive for bigger and bigger TVs, by some hotels, even smaller ones, has come as a result of price-per-square-inch consistently trending down. As TVs got bigger and bigger, I didn't expect to see 70-inch displays in otherwise non-luxury lodging establishments. On the flip side, I've been shocked by how slow some brands and hoteliers have been to adopt certain technologies, while competitors and consumers continue to raise the bar.