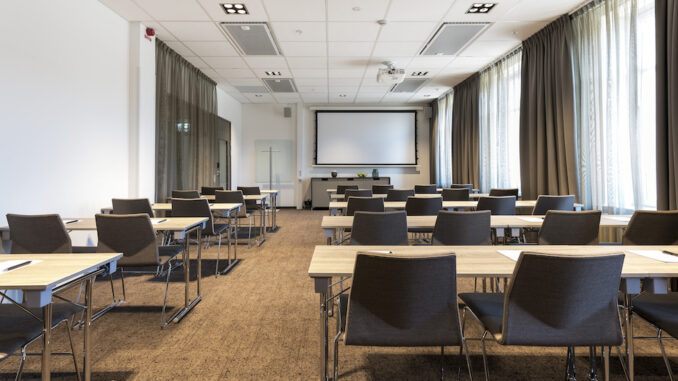 Nordic Choice Hotels and hotel and meeting venues technology solution provider MeetingPackage has unveiled a revolutionary new way for Nordic Choice Hotels' customers to book meeting rooms online through its direct website. Both parties share a common goal: making online meeting bookings as easy as booking hotel rooms.
Until recently, booking meeting rooms has been a frustrating and time-consuming process as meeting planners need to enquire with venues through email, phone or RFP correspondence to determine meeting space availability and pricing. Meetings & Events is now the latest segment in the Hospitality industry to embrace digitalization.
"Even though the hospitality industry is in the vanguard of innovation in many areas when it comes to digitalising sales channels, Meetings & Events has stubbornly remained a largely manual and offline segment. It has been a privilege to be selected to work with Nordic Choice Hotels to change this offline sales process to an online format. We both share the same belief that it's high time to digitize Meetings & Events sales and offer a better customer experience to clients and increase sales efficiency while decreasing costs," said Joonas Ahola, the Founder and CEO of MeetingPackage.
"Nordic Choice Hotels is the first major European hotel chain to adopt an online sales strategy for their Meetings & Events services and we're excited to launch this service with such an established and customer centric brand as Nordic Choice. We will continue to work together in pursuit of our mutual values, embracing innovation and working hard to satisfy customer expectations," said Ahola.

"All parties involved in arranging or booking meetings or conferences know how complicated the process is today. The difficulty in getting a complete picture of the booking, seeing prices, availability and being able to compare products has become a perpetual frustration. The arrival of online booking for conference and meeting rooms, together with the easy addition of overnight hotel rooms and additional services, has led to the creation of an easier workload for organisers, planners and travellers," said Lisa Farrar, CDO of Nordic Choice Hotels.
"The eight hotel venues in Stockholm where we have launched our solution together with MeetingPackage have already submitted extremely positive feedback and the plan is to launch this service at our hotels across all Nordic countries," said Farrar.
Ahola believes that the time is now for the hotel industry to finally get on board with the online booking of meeting rooms and event spaces. It is estimated that more than $110 billion is spent each year globally on small meetings of under one hundred delegates.
MeetingPackage is working with hotel organizations globally to help them focus on addressing customer expectations, both corporate and leisure, around how they want to search, book and manage their meeting space requirements.
MeetingPackage is a Finnish SaaS technology company established in 2014. Our objective is to improve the Meetings & Events booking process for both meetings planners and event venues including hotels, conference centres and serviced offices. The company integrates with venues' existing PMS, S&C and back-office solutions while delivering products to all customer facing channels. Products include Global Distribution, an online Booking Engine and a Meetings & Events specific Channel Manager.
The software features twelve different language versions and is used by thousands of hotel customers globally and over 500 distribution partners. The company has offices in Finland, Germany, United Kingdom, Italy, Spain, Czech Republic, and the United States.
Does your company have news it would like to share with our readers? If so, we invite you to review our editorial guidelines and submit your press release for publishing consideration.