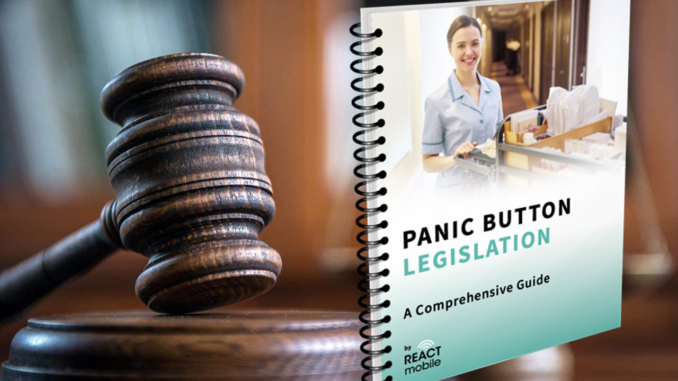 Hospitality safety technology provider React Mobile has release their must-read legislative report, Panic Button Legislation: A Comprehensive Guide, which examines how hoteliers can gain a better understanding of the current status and requirements, deadlines and fines of hospitality safety legislations.
Since September 6, 2018, U.S. hotel leaders have pledged their commitment to new and improved safety standards for their employees. With over 20,000 U.S. hotels and resorts in the process of meeting new mandates, React Mobile developed the document as a tool to help hotels meet ordinance deadlines and achieve compliant status, categorized by city and state. The widespread use of ESDs and improved safety training is intended to ensure hotel staff feel safe and supported within their roles.
The hospitality industry has notoriously high turnover rates across hotel staff, mainly due to working conditions. The remote and autonomous nature of hotel work can leave employees vulnerable to violence and assault, which is why new measures could not come at a better time. The critical information covered in Panic Button Legislation: A Comprehensive Guide includes ordinance dates, details and preconditions from specific states and cities, new minimum wage demands, the consequences and costs of violations (anywhere from $500-10,000), and most importantly, the dates of compliance.
Robb Monkman, Founder and CEO of React Mobile explains, "We are driven to support hotels all over the world in their commitment to maintain a safe work environment for their employees. Hotels nationwide have made significant progress over the past year in deploying employee safety devices, with next-gen panic buttons already provided in several markets, including New York, Washington, Chicago, Seattle, Santa Monica, and Miami Beach, with rapid expansion planned in the new year. We implore hoteliers to remain vigilant in their understanding of the requirements specific to their state to avoid penalties, including fees over $10,000 for subsequent violations. Our comprehensive review of the new laws is the first step in verifying your hotel is following regulations, and your staff are protected."
React Mobile has been providing enterprise-class safety solutions for the better part of a decade. Their cloud-enabled ESD technology is reliable, cost-effective, easy to use, and requires little to no training. For instance, their Stand-Alone LTE panic button works outdoors and indoors with Bluetooth beacons and GPS to provide precise location information about an employee's whereabouts without the need of a smart device. Worldwide support capabilities, 24/7 accessibility, and impressive implementation infrastructure are what make React Mobile the most trusted solution for hoteliers worldwide.
To download your complimentary copy of "Panic Button Legislation: A Comprehensive Guide," click here.
Does your company have news it would like to share with our readers? If so, we invite you to review our editorial guidelines and submit your press release for publishing consideration.