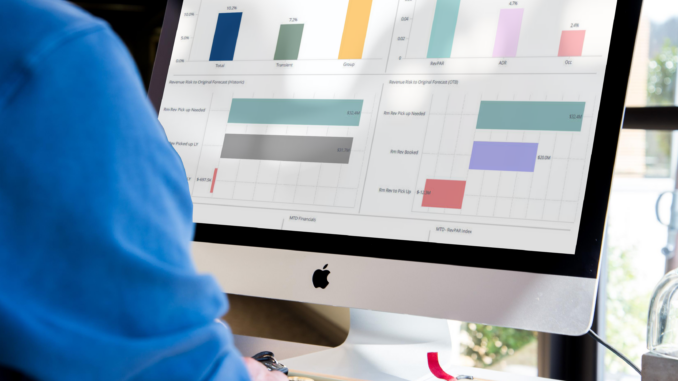 Hotel business intelligence and data integration software provider ProfitSword has launched ProfitAbility, an advanced dashboarding and reporting platform that uses the latest in artificial intelligence to autonomously identify and report anomalies within data reflecting business performance.
Compatible with ProfitSword's full suite of data management solutions, ProfitAbility is able to learn from data patterns and provide alerts to staff when performance information appears to go beyond normal ranges. ProfitAbility is also mobile accessible and can provide an array of data display options to meet any preference or need.
"We wanted to change the way that we analyze performance data and ProfitAbility ensures that we are able to achieve this goal in a way that maximizes efficiency and business growth," says Isaac Hicks, Senior Vice President of Business Analytics & Operational Excellence at Pyramid Hotel Group. "Instead of having to review countless Excel spreadsheets, ProfitAbility provides a visual means of consuming information, allowing us to instantly identify and focus on any performance issues that require immediate attention."
All of ProfitSword applications are powered by a customizable single database solution capable of accommodating each customer's needs with real time access to information. By fully integrating ProfitAbility into this solution, ProfitSword adds a vital new layer in how businesses can strategically leverage their performance data in a timely manner. Once implemented, the solution can immediately begin to learn on its own via the continuous refreshing of information retrieved in real time from a hotel's performance data generating systems.
By constantly analyzing key performance indicators (KPIs) such as reservations and sales, ProfitAbility can automatically determine if new data received falls within previous norms. If information appears below or above average, the platform will then instantly generate an alert so that any necessary action can be immediately taken, eliminating the need to review reports and saving vital time as a result. ProfitAbility provides businesses with the ability to create their own dashboards and set their own KPI parameters for alerts so that they can stay informed on any deviations that matter most to the success of their business.
"Today's businesses are fast-paced environments where drastic changes can occur suddenly, leading to all too common scenarios where vital performance data was overlooked during a critical time period when properly informed efforts could have made a tremendous difference," says John Crutchfield, Chief Operating Officer at ProfitSword.
"While humans are limited in their ability to monitor every segment of data at all times, solutions with machine-learning abilities such as ProfitAbility are now able to step in and instantly determine what requires immediate attention. ProfitAbility ultimately does not just present users with data, it provides them with crucial insight into exactly what that data means and is able to display it in a way that suits the preferences of each individual."
Accessible via the ProfitSage application alongside other company solutions such as ProfitPlan and ProfitPace, ProfitAbility is also mobile compatible and can send alerts and reports through a downloadable app in addition to email. When examining data, users have an array of presentation options at their disposal, including charts, graphs, tables and gauges to name several examples.
Does your company have news it would like to share with our readers? If so, we invite you to review our editorial guidelines and submit your press release for publishing consideration.