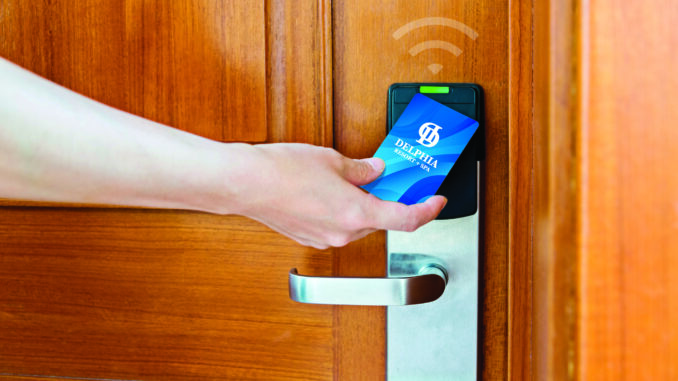 PLI Card Marketing Solutions, a global provider of key cards and hospitality marketing programs, has introduced Re.Solve TFTM – a plastic-free solution for RFID guest room key cards made from FSC©-certified paper layers.
Re.Solve TFTM is intended to address market demand for durable, high-quality RFID key cards that are made from sustainable materials and do not contribute to the global supply of plastic waste. Re.Solve TFTM key cards from PLI contain genuine NXP MIFARE® technology and are compatible with most hotel lock systems.
"Our customers have been asking for a high-quality plastic-free RFID key card solution," shared Thomas Garland, President & CEO at PLI Card Marketing Solutions. "We knew that many of the major brands we support have robust programs intended to reduce plastic waste. At the same time some of the oceanfront or highly eco-conscious independent properties have their own initiatives to reduce environmental impact and keep our oceans clean. Re.Solve TFTM delivers a high-performing, durable, and water resistant solution that meets our clients' need for sustainability."
According to Mike Esposito, PLI's VP Supply Chain, "Capacity is not a limitation. With solid forecasts from our clients, we will be able to inventory and manage their supply chain, providing them with the same high level of service that they have relied on from PLI for their plastic key cards."
Re.Solve TFTM is not the first construction PLI evaluated. According to Robert Kotseos, PLI Hospitality Manager, Re.Solve TFTM is the first 100% plastic-free solution that delivers on every front. "The surface is smooth and provides beautiful printability for colorful key card designs. The construction stands up to heavy guest use, common with multi-night stays and vacation resort experiences. And the intention is to keep it affordable. Brands moving ahead with Re.Solve TFTM will enjoy competitive pricing and premium service, just as they've come to expect from PLI."​
PLI is a leading global provider of key card, gift, loyalty and membership card marketing solutions, including card production, personalization, fulfillment, direct mail, creative and print services.
Does your company have news it would like to share with our readers? If so, we invite you to review our editorial guidelines and submit your press release for publishing consideration.