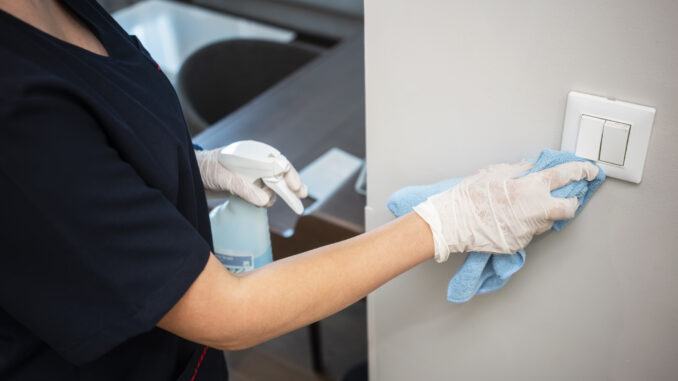 Physicians and nurses expect to contend with infectious diseases as part of their every day work, but hotel workers do not. The COVID-19 pandemic is shining a spotlight on this stressful aspect of the workplace environment, impacts that are strikingly similar for both the healthcare and hospitality industries.
Protecting staff members and the patients in their care is paramount for hospitals, and the use of personal protective equipment (now known ubiquitously as PPE) is an expectation both by employees and patients.  One would predict the same expectations from hotel employees and their guests.  If only PPE guaranteed safety: it unfortunately does not.
The healthcare literature is replete with articles detailing just how frequently trained medical professionals contaminate themselves despite wearing masks, gloves, and gowns.  It turns out that donning (putting on) and doffing (removing) PPE is a time-consuming skill that must be performed vigilantly and consistently if it's to be effective.  In a recent study at a major U.S. medical center, 39% of their staff made errors when doffing PPE – and the errors led to an increased incidence of self-contamination.  Self-contamination poses obvious health concerns, and not just for the employee so contaminated: that employee has now become an unwitting vector for infection.  Anyone in the workplace or at home who comes into contact with areas contaminated by that employee is put at risk.
Hotel Staff Shouldn't Risk Contamination for Communication
Without effective communications, hotel operations suffer, and guest experience will be suboptimal. And yet, in the midst of the COVID-19 pandemic, even the simple act of communicating using conventional tools (like shared telephones) can put hotel employees at risk. Historically, hospitals have borrowed guest-care strategies from hotels in an effort to improve their customer service.  Now, the hospitality industry is faced with having to reverse that paradigm and adopt procedures based upon the way hospitals do business.  The complexity of this approach is obvious: how can the industry meet expectations of their employees and clientele, and implement appropriate infection prevention safeguards yet maintain the service orientation and style that defines an optimal guest experience?
If a member of the housekeeping team is wearing personal protective equipment while cleaning a guest room, and needs to communicate with others, what options are available?  PPE should be removed prior to leaving the room but removing the PPE risks self-contamination and is wasteful, particularly if it is only due to a temporary need to communicate.
Using standard communication equipment requires cleansing and decontamination between rooms and poses environmental risks during that process.  The less your staff needs to temporarily remove PPE, the safer they are and the more efficient your operations will be.  This is where Vocera communications technologies can provide you with an ideal solution: our wearable hands-free badges.
Communication technology is an integral component of PPE

Worn under PPE, the discrete Vocera Badge or the new Vocera Smartbadge give hospitality staff access to a clear, secure, hands-free communication channel that ensures their safety and well-being, and keeps all team members in contact no matter the need or emergency.  Using simple voice commands, staff members can contact each other by name ("Call Robert Hernandez"), role ("Call housekeeping supervisor"), location ("Call restaurant") or group ("Broadcast to administration"), eliminating the need to remove PPE or touch a device.  As an additional plus, each badge can be used for immediate notification and location in an emergency or duress situation.
Optimizing Throughput and Capacity
Effective communication is essential for optimizing the guest's journey as well as your hotel's efficiency.  Hotel staff must be able to communicate with each other and their guests easily and safely in order to provide the best possible service.  Just because employees have donned protective gear shouldn't mean they've been abandoned: staff should never be isolated from the support they gain from communicating with other team members.
As an example:
When a hotel's communication and operational systems are integrated, processes can be automated reducing the risk of communication delays or errors, shortening the time it takes for your team to respond. Automatic messages sent when certain triggers occur mean each employee can spend more time doing what they do best and let Vocera take over the communication chores.  Staff members do not need to constantly monitor the service optimization systems for status updates. When the property management system updates the service optimization system (such as HotSOS or ALICE) and a ticket has been opened that a guest has checked out and the room needs cleaning, a notification can be sent directly to the right team member in real time. Guest service is expedited, operational efficiency is improved, and employees have less to remember, alleviating cognitive burden. Deploying notifications intelligently reduces the toil and stress on your staff.
In the months and years ahead, it will be critical to keep hotel staff and guests safe and in touch with each other. By taking advantage of system integrations and hands-free devices, hotels can improve their communication efforts today.
To that end, Vocera is here to take care of you as you continue to take care of your employees and guests. Please click here for more information.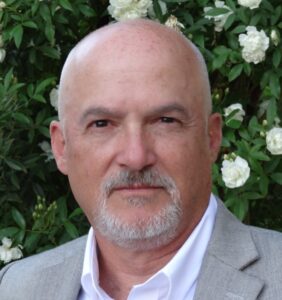 Benjamin Kanter, MD, FCCP, joined Vocera as Chief Medical Information Officer (CMIO) in January 2017. Prior to joining Vocera, Dr. Kanter worked as an industry consultant and thought leader with innovative healthcare IT companies, including Extension Healthcare, where he was most recently the CMIO. He previously served as Chief Medical Officer of Sotera® Wireless from September 2014 to June 2016. Prior to his role at Sotera, Dr. Kanter was the CMIO at Palomar Health in San Diego, where in 2013 he worked with Extension Healthcare to create a reverse look-up smartphone app that allows physicians to search for patients and immediately identify and contact their assigned nurse. Dr. Kanter spent seven years on the executive management team at Palomar Health. He also chaired the departments of medicine at both Palomar Medical Center and Pomerado Hospital, founded and directed Palomar's Sleep Disorders Laboratory, and was Chief of Staff at Pomerado Hospital.
Are you an industry thought leader with a point of view on hotel technology that you would like to share with our readers? If so, we invite you to review our editorial guidelines and submit your article for publishing consideration.