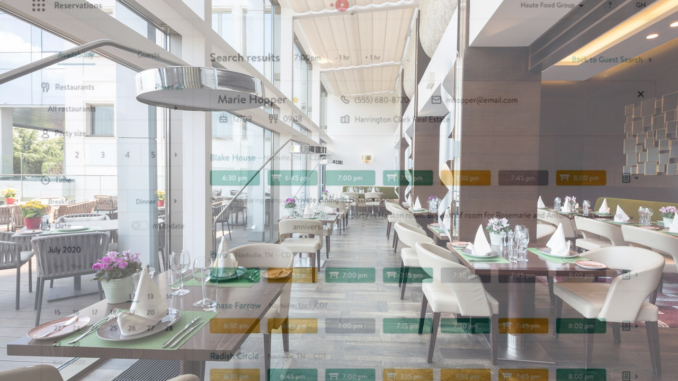 In the midst of the summer of Covid, most patrons relish the chance to comfortably eat outside on a restaurant patio, all adequately physically distanced from other customers. Barring a few staunch objectors, others who would prefer to be seated indoors can empathize with the present state of affairs and bite the bullet.
But what happens when the cooler autumn months roll in and people demands to eat indoors? Lest we propagate an ongoing winter culture into 2021 and beyond of everyone cooking at home– and with even more restaurant businesses going bust – eateries must do their best to promote safe indoor dining spaces while also maintaining some semblance of profitability.
What we're seeing in European countries to address this problem while also curtailing the chances of a second wave is a sweeping ban on walk-in diners, rather than leaving this to the discretion of the individual proprietor. All indoor covers must be reserved in advance, not only to ensure proper social distancing between all groups and to limit traffic flow through crowded corridors, but also to better facilitate contact tracing via making all customers sign in prior to seating. Given that the system is largely working, it stands a good chance at being replicated in other territories.
In this reservations-only restaurant culture, though, how do hotels forewarn incoming guests so that they aren't left out in the cold and hungry? Just imagine a scary possibility where an uninformed vacationing couple wanders out for a romantic night on the town and is rejected by restaurant after restaurant due to this policy.
This is a notable issue for hoteliers because of emotional transference. That is, a guest left in a miserable mood by a series of failed attempts at finding a table to eat out at will ultimately cast a darker eye back onto their host property. When a guest is irked or famished in this way, they will tend to be more irritable in a general sense and highly sensitive to any perceived errors on the hotel's part. Thus, knowing that this halo effect can potentially lead to bad online reviews and lower guest satisfaction, it is in fact every property's responsibility to help all guests navigate this reservations-only dilemma.
The answer is through proper communications, both before and during a guest's stay, which can only be effectively facilitated through automated software prompts. Even though you may want to encourage visitors to dine in-house – at your own restaurant or by utilizing room service – exploring the neighborhood is all but inevitable, and thus so you have a duty of care to help those in search of great food in your area.
This starts with the website, keeping it up to date with the latest COVID-19 dining rules, including mandatory reservations, restaurant capacities, PPE requirements and so on. But you should also make a point to inform all hotel guests that your team knows the best places to eat nearby and that they are willing to help make bookings, either in-person at the front desk or via a guest messaging app. Any assistance you provide here will undoubtedly earn you points in guest satisfaction.
At this point, it's all but impossible to discuss restaurant bookings without mentioning the third-party reservations platforms, foremost among them being OpenTable. No doubt all F&B directors have already taken the necessary steps to control seating arrangements and pacing to help increase physical distancing. As time slots will be increasingly valuable in an era of fewer available tables, you will have to go further to ensure profitability once patio seating becomes unpleasant.
Even though it affects staffing levels, consider playing around with the reservation cutoff point so that you can still fill any open spots in the hours or minutes preceding a chosen meal time via the online booking engine and without having to resort to walk-ins. Next, aside from also posting a notice on your business page about not accepting walk-ins, you may also want to institute and advise patrons on a compulsory deposit policy to reduce no shows.
Unfortunately, not all of us are diligent readers, nor are all of your hotel customers going to even see your notifications on the website or table reservation engine prior to booking a room as many will be fed to you via the OTAs or other third parties. As such, you need to explicitly state and repeat any such mission critical restaurant policies through your prearrival communications. Again, guest messaging apps are instrumental in completing this task without bogging down your team, while all templated emails sent out via the PMS can be updated to include the necessary text string.
Thinking contextually, not all of us are regimented planners, especially when it comes to leisure guests on a whimsical holiday. Some will leave lunch and dinner to the last minute, regardless of how many times you caution them. This uncertainty over a guest's ability to get restaurant reservations can therefore work to your advantage by having your team act as a trusted middleman for recommendations and as a privileged source for those outlets where spots are still available.
There are opportunities therein for technology to shine – and I emphasize digital over in-person as this also conforms to many guests' preference for contactless communications. If you have a guest messaging app with a virtual concierge component, navigating the reservations-only climate on a customer's behalf is an excellent use case for a post-pandemic service that is also highly sought-after. Moreover, there are numerous plugins you can investigate that will curate your website's or your branded app's dining-related content.
Another option to explore is partnerships. Specifically, maintaining a number of standing reservations for your hotel guests and perhaps a discount or value-added promotion in exchange for sending a certain number of patrons their way. And once the details of the relationship are hashed out, this should all be made bookable online, of course.
Whichever route you pursue, this is yet another example of how technology can help you through the various topsy-turvy aspects of the next normal so that guest service is never compromised. Particularly as we are all trying to avoid negative reviews, it's crucial that you alert guests to this specific travel issue, letting them see you as attentive providers who saved them from potential disaster.
One of the world's most published writers in hospitality, Larry Mogelonsky is the principal of Hotel Mogel Consulting Limited, a Toronto-based consulting practice. His experience encompasses hotel properties around the world, both branded and independent, and ranging from luxury and boutique to select-service. Larry is also on several boards for companies focused on hotel technology. His work includes five books, "Are You an Ostrich or a Llama?" (2012), "Llamas Rule" (2013), "Hotel Llama" (2015), "The Llama is Inn" (2017) and "The Hotel Mogel" (2018). You can reach Larry at [email protected] to discuss hotel business challenges or to book speaking.
This article may not be reproduced without the expressed permission of the author.
Are you an industry thought leader with a point of view on hotel technology that you would like to share with our readers? If so, we invite you to review our editorial guidelines and submit your article for publishing consideration.