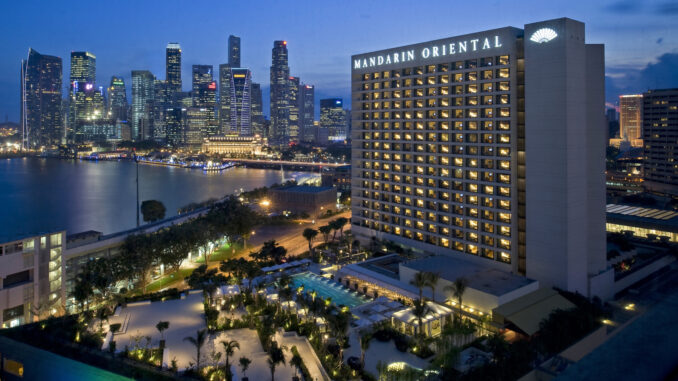 Infor, a provider of business cloud software specialized by industry, including hospitality, and Glowing, Inc., a provider of hospitality digital messaging and engagement, have completed a successfully deployment with Mandarin Oriental Hotel Group.
The project encompassed a real-time, two-way integration between Infor HMS, a leading hotel property management system built for the cloud with the flexibility, security, efficiency, and mobile capabilities, and Glowing's Digital Engagement Cloud, at Mandarin Oriental in NA, EMEA, LATAM and APAC.
"In line with Mandarin Oriental's long term strategy and vision, Glowing.io and Infor were recently implemented throughout the MOHG portfolio.
The platform allows our colleagues to communicate and access guest preferences in real-time, enabling them to deliver a bespoke experience for each and every guest to enhance their stay." says Nicole P. Gazal, Group Rooms and Quality Parallel Operating Committee
"We are pleased to partner with Infor," says Jasen Lew, CEO of Glowing. "We have numerous joint customers, and with this two-way integration, we can offer those hotels the integration that will drive demand and increase conversions, keep the operational impact low, improve the guest experience, and drive revenue."
Infor HMS is a specialized, multi-departmental property management platform for the hospitality industry that integrates front-office and on-property technology to better manage room availability, dynamic pricing, and guest profiles to boost profitability and maintain a competitive edge. Through this digital transformation, hotels will be able to better track guest preferences, simplify reservations, and provide consistent quality and services. Infor HMS unifies multiple hotel functions into a single application, allowing hotels to consolidate information on the performance of multiple properties, create customized reports and ultimately make better forecasts and business decisions.
The real-time two-way integration between Glowing products and HMS will allow hotels using Infor HMS to contact the guests via WhatsApp Business and/or SMS and stay connected throughout the guest visit. The hotel can also broadcast messages to guests checking-in/checking-out on a specific date or based on their in-house status. The hotel can further automate these broadcasts to be more personalized and based on the guest journey triggers.
Along with delivering a high-quality guest experience, the system also helps drive revenue by connecting different departments with the guest and enabling them to take guest orders and upsell any relevant options. Glowing has observed more than 25% of all conversations on its "Infor-integrated properties" to be revenue related.
The hotel can also configure automated notifications such as confirmations, reminders, and folio, which helps in a seamless and connected experience. This integration also enables new initiatives such as "Contactless Checkins", where Glowing delivers express checkins instructions to all the guests on the day of their checkin. Such integrations are incredibly powerful in the existing climate when the hotels bring new measures for COVID-19 prevention.
Does your company have news it would like to share with our readers? If so, we invite you to review our editorial guidelines and submit your press release for publishing consideration.