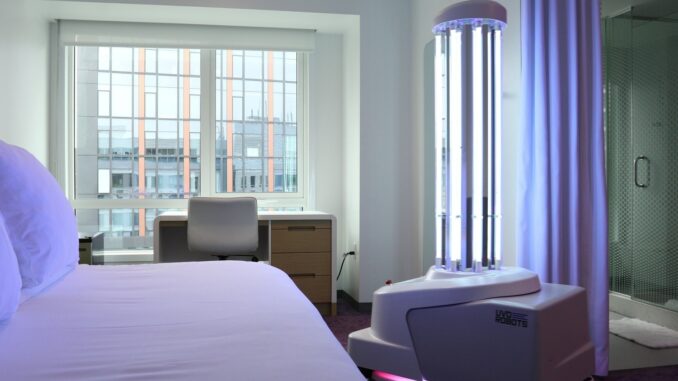 Located in Boston's Seaport District and inspired by first-class airline travel, YOTEL Boston features 326 smartly designed cabins and a technology-driven guest experience, including self-check-ins with airline-style kiosks and select room service and amenity deliveries via YO2D2, the hotel's friendly resident robot.
Having recently reopened its doors this summer, YOTEL Boston has welcomed Vi-YO-Let to the team in partnership with UVD Robots.
An extension of YOTEL's operation #SmartStay safety measures, the robot will offer an even deeper level of disinfection throughout high-touch public spaces and select cabins. YOTEL Boston is the first hotel in the United States to implement the UVD Robot technology, which is currently the only disinfection system clinically proven to disinfect effectively while "on the move." Vi-YO-Let will fit in perfectly with our team here at YOTEL Boston and the lo-touch customer journey we have already created for guests.
The highly mobile, fully autonomous robot platform with an integrated UVC light disinfection system has been developed for hospitals worldwide and works to disinfect not only surfaces, but the air as well, providing a fully comprehensive infection prevention solution. These efforts further YOTEL's commitment to the safety and well-being of our crew and guests, including the ongoing sanitization and disinfection SmartStay protocols established for all cabin types, public spaces, Deck 12, and Komyuniti.
Beginning this week, select cabins will be cleaned by Vi-YO-Let when selected cabins are vacant while all high-touch public spaces will be cleaned upon closing. Vi-YO-Let can be selected as a cabin add-on for an additional $30 USD per stay when booking on YOTEL.com. Guests must book Vi-YO-Let in advance of their stay to be able to take advantage of this feature in-cabin.​
"Right now it's critical for the hospitality industry to not only enhance how we protect travelers but also provide them with reassurance that we're taking every possible step from check-in to check-out," said Trish Berry, General Manager, YOTEL Boston.
Does your company have news it would like to share with our readers? If so, we invite you to review our editorial guidelines and submit your press release for publishing consideration.