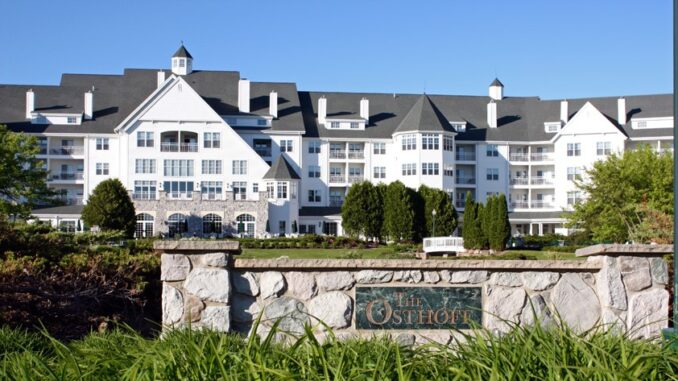 The 238-room Osthoff Resort, an AAA Four-Diamond stunning year-round resort, spa and event destination in Elkhart Lake, Wisconsin, has selected Maestro PMS during the industry pause for its guest-focused mobile services and integrated operations.
"It was the resort's goal to bring all its property departments and their third-party systems together on one data platform for personal guest service at every touchpoint. Maestro PMS will do this perfectly," said Adam Hartenberger, Reservations Sales Manager for The Osthoff Resort.
"It was the resort's goal to bring all its property departments and their third-party systems together on one data platform for personal guest service at every touchpoint. Maestro PMS will do this perfectly," said Adam Hartenberger, Reservations Sales Manager for The Osthoff Resort.
"Our property is operated in silos for guest rooms, spa, retail, events, and guest activities. Now with Maestro we will be able to combine data and services from all our third-party systems in one Maestro Single-Image database for effortless communication and more personal guest service," Hartenberger said. "Maestro brought many important factors to our decision. The first was its strength in integrated data collection and analysis. Maestro's Analytics Business Intelligence system will combine all the data from our multiple operation locations for robust analysis to support more profitable 'management by the numbers.' Maestro also allows us to self-host our system on property with a hybrid deployment of Windows, Web and Mobile applications. This will give us the flexibility of accessing the system with standard Windows terminals, mobile devices, or web-based terminals and keep our data on property. The Maestro integrated solution provides a single guest itinerary that includes all aspects of the guest experience on property including front desk and condo owner operations, spa and activities and loyalty management.
"Another advantage of Maestro is its ability to communicate with our many third-party vendor systems," he said. "It easily integrates with our other tech partners across our unique resort. Maestro simplifies interface deployment thanks to its Genomi open API that supports deeper capabilities for communication with other systems."
The Maestro Property Management System delivers flexible and scalable deployment options with an identical full-featured web browser or windows solution available which is hosted in the cloud or on premise to offer the best of both worlds.  Maestro's hotel management software applications and services centralize operations and provide personalized and touchless mobile guest service tools to enhance the guest experience while also supporting a more secure stay.  In addition to implementing Maestro's flexible PMS platform and multiple modules, the resort will also use Maestro's Condo Owner Management to offer owners secure online access to their statements, reservation activity, and to book their own units.
Mobile operations were also essential to Osthoff Resorts system decision. "Maestro's mobile pre-check-in, express mobile check-out and digital signature capture will streamline our front office processes and eliminate several unnecessary points of physical guest contact," Hartenberger said. "Plus, we can use Maestro web on tablets to check-in guests remotely in different parts of the property for greater guest convenience. This mobile flexibility and the automated built in guest email communications will enable us to achieve our goal of going nearly paperless. Even our housekeeping staff will use tablets for instant communication to get guests to their rooms faster with less paper."
Maestro's mobile housekeeping also supports a soft-check-in feature allowing guests to be checked into their reservation if the room is not yet ready. It will set a priority clean alert for housekeeping, allow the guest to enjoy on property amenities and post charges to their folio, as well as update both the guest and the front desk when the room is ready. The Osthoff Resort will also take advantage of the Maestro prepayment portal for online guest self payments as well as the integrated online guest survey system. This offers them both a post check-in and check-out survey while integrating the results directly into the guest profile, allowing for pro-active guest management.
The Osthoff Resort is a year-round operation, but its staff fluctuates to host its many large events that include its award-wining Christmas Market, and Jazz on the Vine concert series. This makes system ease-of-use and online training essential. "Maestro offers instant Live Chat Support & Training directly from any application screen," Hartenberger said. "Also, eLearning modules within the system make it much easier to onboard new staff during our large events. Ease-of-use is important because our team is the front line of guest service and they need to be proficient with our systems. Altogether, Maestro was the best choice for our complex operation."
"The Osthoff Resort is a great example of how independent resorts can leverage this time to evaluate their systems and take advantage of the latest innovations from trusted solutions providers in preparation for the new and even more digital guest experience," said Warren Dehan, Maestro PMS President. "With the ever-changing needs the industry dictates, offering support to an exhaustive list of third-party tech partners will also help enhance the digital guest journey and internal operations. Maestro is pleased to be part of The Osthoff Resort's 21st century solutions upgrade."
Does your company have news it would like to share with our readers? If so, we invite you to review our editorial guidelines and submit your press release for publishing consideration.