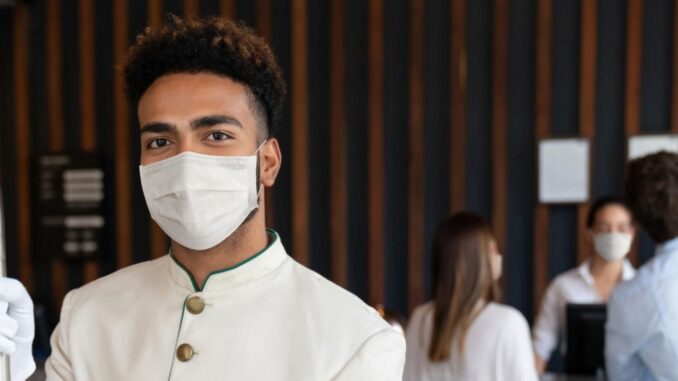 COVID-19 is fundamentally changing the way hoteliers are operating their businesses. Physical distancing requirements, increased compliance demands, and razor-sharp attention to managing costs are accelerating the adoption of technology in the next normal. While the way to recovery is likely long and sinuous, a property's technology stack can help alleviate some of the pain points. As part of its ongoing COVID-19 Webinar Series, Beekeeper, the No. 1 employee communication platform for hospitality, will address "Technology Must Haves in The Next Normal," to be held on September 22nd at 10:00 a.m. PST.
To register for the online event, click here.
"It's a challenging time to be a hotel operator, with many workers wearing multiple hats and learning new ways to perform tasks that were once routine," said Andrada Paraschiv, Beekeeper head of hospitality. "Thankfully, technology is shortening the learning curve for employees and it's helping those operating with limited resources to do a lot more with a lot less. By digitalizing today's hotel workforce, hoteliers can get the right operating procedures to the right workers at the right time to guarantee the right result while simultaneously freeing up time for supervisors who can then spend more time elevating the guest experience.
"At a minimum, hoteliers need tools that facilitate transparent communication between management and staff to boost employee engagement and morale; they need digital checklists that make the lives of housekeepers, supervisors and managers easier on many levels to free up time, offer visibility into the cleaning status of state-regulated common areas, provide an audit trail of tasks assigned/completed, and deliver a quick return on owner investment; and they need skills-based online sales training and coaching to drive an improved employee experience," she said. "This will lead to an exceptional guest experience supported by staff who are more engaged with the hotel and each other and who ultimately perform their jobs to the best of their abilities. When we take care of our employees, they will take care of our guests."
The "Technology Must Haves in The Next Normal" webinar will feature hospitality technology leaders from Lua (a robust housekeeping and task workflow management system) and SalesBoost (a revolutionary skill-based learning platform) who will join Beekeeper in discussing some of the tools every hotelier needs on the road to recovery and beyond. This interactive session will feature live Q&A and it will provide answers to questions such as "How can technology help engage and empower my employees?" and " Which solutions are best for driving compliance and efficiencies that are needed in the next normal?"

Talking Technology
Operations have changed. The importance of communication has not. Today more than ever effective communication is critical to reaching all employees in real time, communicating new processes and safety regulations, while keeping them engaged. Beekeeper's Paraschiv, former executive director of communications and strategy of FRHI Hotels & Resorts (Fairmont, Raffles and Swissôtel), will lead the technology discussion assisted by Tyler Afflixio, Beekeeper senior account executive; Hugh O'Flanagan, Lua CEO; and Gretta Brooks, SalesBoost CEO and Founder.
Afflixio will discuss the importance of having a single, digital point of contact for a hotel's frontline workforce in these unprecedented times and why placing all communications and tools in one hub will enable teams to improve business agility, productivity, and safety. He will demonstrate how an easy-to-use and highly-adopted mobile platform can be leveraged to share important information to all employees instantly in their language of choice and measure who has seen the information;  how quickly employees can be trained on frequently changing procedures by posting videos, sending quizzes and reminders; how everyone can simply comply with physical distancing requirements by digitizing information flows, forms, checklists and documents. Afflixio will also explain how this communication  platform can boost associate morale and motivate teams through instant recognition and success celebration, as well as ensure that everyone is safe during crises.
O'Flanagan will introduce Lua, a workflow tool built to help housekeeping teams perform better through on-demand information and guidance. In Lua, housekeeping or cleaning managers can assign rooms and public areas across teams, inspect before check-in, log comments and maintenance issues, and unlock data to improve operations. Participants will learn how their cleaning team members can easily sign-in and access checklists and custom cleaning workflows through single sign on within the Beekeeper app. O'Flanagan will explain how Lua delivers the best possible guest experience by ensuring that every worker is connected and on track.
Brooks will discuss the importance of accessing SalesBoost's training platform via the Beekeeper app. She will explain why robust training is essential at any time — but especially amidst the next normal, when employees come back to work in completely changed operating environments. Participants will discover how to enhance the outcomes of their customer interactions and why it's important to develop leadership, personal development, marketing initiatives, and sales initiatives today to be better prepared for any situation tomorrow.
During the Webinar, Beekeeper will reveal a new "HR Compliance Training" program from SalesBoost that can serve as an onboarding requirement for new hotel hires and also provide an important continuing education tool for managers who need ongoing training on how to properly interview and onboard candidates. With furloughed employees returning to work, employment compliance is more important than ever before.  For further details on this offer be sure to register for the webinar.
To register for the online event, click here.
Does your company have news it would like to share with our readers? If so, we invite you to review our editorial guidelines and submit your press release for publishing consideration.