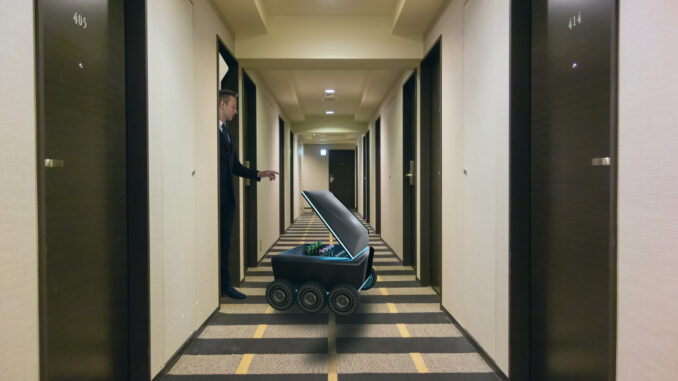 Right now, there are so many advances taking place in the realm of technology that it's hard to keep up. Specific to owners and senior executives, asking 'what if' is always fun for how these developments can help evolve the hotel in the pursuit of greater occupancy and growing ADR.
Importantly, though, hotels must consider how they are inevitably going to set aside capex for this progress, both as a defensive play to stay apace with guest expectations and as a means of enhancing brand awareness through buzzworthy early adoption. The hospitality industry has traditionally been a laggard when it comes to technology, but with all the shifts compelled by COVID-19 perhaps it's finally time that we become a vanguard for progress.
The list below is not one of things that will definitely happen. Rather, it's hypothetical, and only designed to get you thinking about what trends a decade from now will be hot topics in for hotels.
Electric vehicles galore with ample charging stations in every parking lot and even such offshoots like electric golf carts, along with a general stigma of those 'oil luddite' hotels that lack the necessary EV accessories
Autonomous vehicles as the next step after EVs, whereby brands can more cheaply facilitate shuttle services for guests such as transportation from the airport to the hotel and sightseeing tours based upon a preprogrammed route with designated stopping points
Superefficient internal recycling systems using a series of integrated, IoT technologies to monitor water usage, temperature controls and lighting as well as other potential enhancements like solar panels feeding into the grid or onsite processing of plastics, food waste and sewage through a combination of fungal and insect-based bioconversion
Voice automation in guestrooms and dining establishments that not only makes smart recommendations but also integrate into BOH inventory systems to manage orders and kitchen processes more effectively
Newer, smarter metasearch travel channels requiring a rethink of your distribution strategy like, for instance, Amazon which may decide to leverage its multitude of data to make bespoke booking recommendations or Netflix suggesting whole preplanned trips based off of one's past streaming activity
Payment support for cryptocurrencies, perhaps also encompassing your brand's own inventory management blockchain to verify the source of all goods onsite or unique digital art pieces as authenticated by non-fungible tokens
AI-based exercise or sports training programs which take the SaaS model of companies like Peloton one step further by offering personal performance feedback based on sensory motion analysis for everything from a basic plank position to a golf swing
Augmented reality or, in some cases, virtual reality training and entertainment rooms that can add as a versatile repurposing of windowless spaces
DNA-based wellness including personalized nutrition, exercise or therapy regimens as enabled by CRISPR gene editing technologies
Drone delivery of drinks and snacks to the pool, to a beachside cabana, up to your suite's terrace on the ninth floor or practically anywhere on property where the aviation authority will permit these flying robots
Robot room service and housekeepers, with the former already a possibility for basic, contactless delivery or pickup of items while the latter is likely still very far off in the future
Autonomous agriculture to cost-effectively maintain an onsite herb garden, vertical heirloom vegetable farm or fruit orchard using a combination of AI-driven management systems and drone or robot workers
Modular turnkey construction of freestanding cabins, villas or whole hotels, as aided or manufactured wholly by industrial 3D printers and potentially using upcycled plastic waste products as the core building materials
Lab-made meats as an ethical, and increasingly cheaper, alternative to the real thing, again facilitated by the use of 3D printers in the kitchen
In fact, some brands may decide to turn their gift shops into interactive design studios where mini 3D printers are utilized to give guests personalized mementos for their time onsite
An all-in-one, consolidated hotel management system that amalgamates the PMS, CRM, CRS, RMS, booking engine, payment gateway and other software used by individual departments under one platform while cutting SaaS costs in the process
Space hotels as promised by the likes of SpaceX, Virgin Galactic, Blue Origins and Orbital Assembly or, at the very least, easier access to short trips around the Earth
The hope is that this list inspires you to think long-term about the future of the hotel industry and ways that you can use technology to differentiate your brand and augment the guest experience. While not all of this will become reality by 2030, it would nevertheless make for an invigorating team discussion.
Related: First Hotel in Space Plans to Open in 2027 for An Out of This World Guest Experience
Larry and Adam Mogelonsky represent one of the world's most published writing teams in hospitality, with over a decade's worth of material online. As the partners of Hotel Mogel Consulting Limited, a Toronto-based consulting practice, Larry focuses on asset management, sales and operations while Adam specializes in hotel technology and marketing. Their experience encompasses properties around the world, both branded and independent, and ranging from luxury and boutique to select-service. Their work includes six books "Are You an Ostrich or a Llama?" (2012), "Llamas Rule" (2013), "Hotel Llama" (2015), "The Llama is Inn" (2017), "The Hotel Mogel" (2018) and "More Hotel Mogel" (2020). You can reach Larry at [email protected] or Adam at [email protected] to discuss hotel business challenges or to book speaking engagements.
This article may not be reproduced without the expressed permission of the authors.
Are you an industry thought leader with a point of view on hotel technology that you would like to share with our readers? If so, we invite you to review our editorial guidelines and submit your article for publishing consideration.