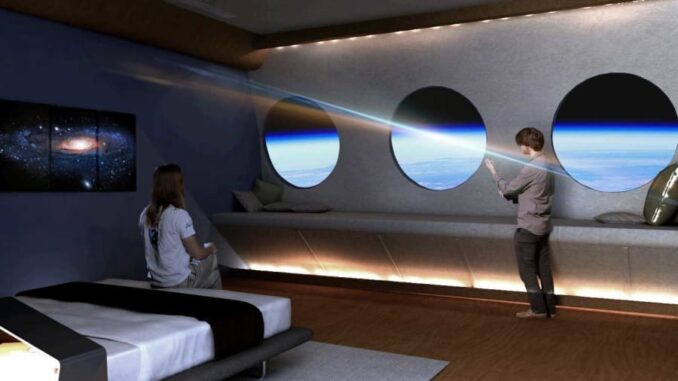 No longer the stuff of science fiction, the first hotel in outer space may soon open its doors for business. Orbital Assembly Corporation has unveiled new details about its plans for a commercial space station, dubbed Voyager Station, which is projected to be fully operational as early as 2027.
The space station will reportedly operate with artificial gravity and contain an ultra-modern hotel. Luxurious accommodations will have a maximum capacity of 280 guests. Amenities will include a gourmet restaurant, bar, gymnasium, and entertainment center. Villas will be available for purchase as vacation homes.
A manufacturing firm centered on the colonization of space, Orbital Assembly Corporation discussed Voyager Station during a recent video press junket. The "First Assembly" virtual event, which was presented on Jan. 29, provided an update for interested investors, marketing partners and future travelers who may be interested in one day booking a guest room aboard the rotating hotel.
Two years ago, as reported here, Aerospace company Gateway Foundation announced plans to open the world's first commercial space hotel by 2025. The space station was to permanently orbit the Earth, with the capacity to accommodate 100 tourists per week. The space station was originally to be called The Von Braun Station, after the German and American aerospace engineer Wernher von Braun. Gateway Foundation members chose the name because the station is based on von Braun's designs of 60 years ago. The name proved controversial, given von Braun's involvement in the Nazi rocket development program early in his career, and was replaced with Voyager Station.
The digitally-rendered design images showed a space station that resembles a rotating wheel comprised of 24 modules, a few of which were to be designated for hotel functions and private residences. The hotel, featuring restaurants, cocktail bars, a movie theater and gyms as well as recreational facilities for "low-gravity basketball," trampolining and rock climbing, was to have a modern design, not surprisingly, that make using of lightweight natural materials like metal alloys and carbon composites that substitute for stone and wood.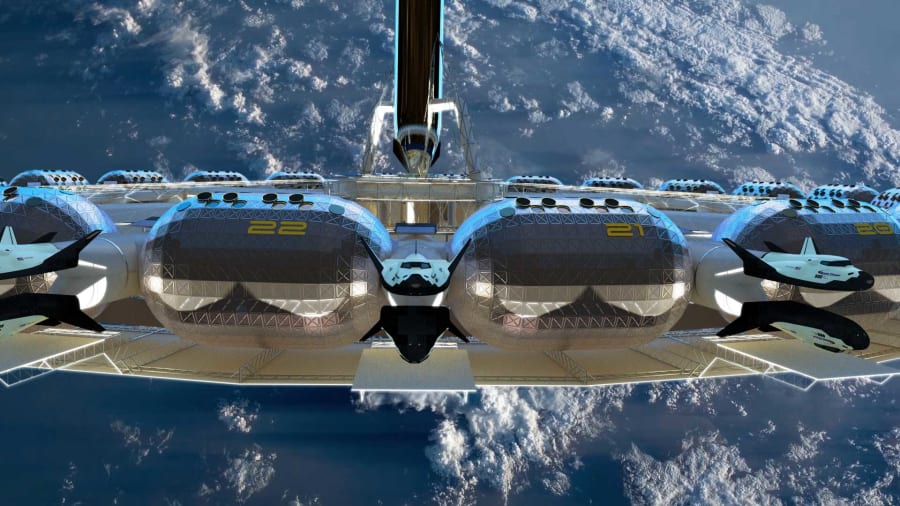 According to the blueprints, the new Voyager Station will consist of more than 11,600 m2 (125,000 sf) of habitable space in modules and access tubes; 200m in overall diameter (ISS is 73m long and 109m wide). It will have an estimated mass of 2,418 metric tons (ISS: 419 tons); and an estimation volume of 51,104 m3 (ISS pressurized volume: 915 m3).
And then there's the financial aspect. Space tourism is not expected to be cheap. Virgin Galactic plans to launch passengers into sub-orbital space at a cost of $250,000 per person. Orion Span's Aurora Station says its planned space hotel, with a capacity of 12, will cost $9.5 million, including room service. For its part, Voyager Station is already taking reservations; only $5 million for a three-and-a-half-day stay. There's no word yet on off-season pricing discounts.
Some critics have voiced skepticism about the world's first space hotel being built within the projected time frame, which is highly ambitious by any measure (NASA hopes to send a few humans to the moon by 2024). Only time will tell.