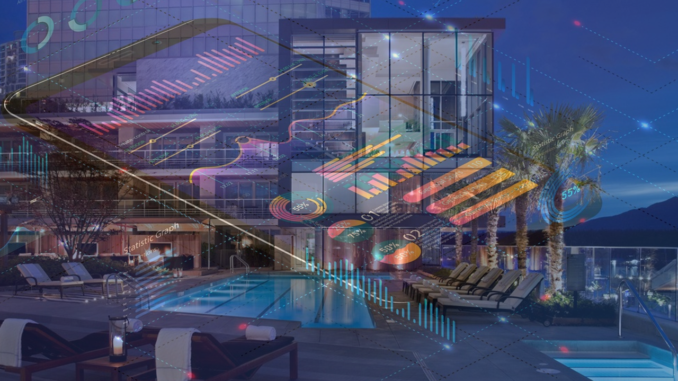 Hoteliers live and breathe guest experience. That's what we're classically trained in, but most of that is absorbed as a soft skill or codified in an SOP paper manual. For the past couple years since the pandemic compelled our industry to automate processes, though, data science has now converged to offer us strong business intelligence tools to digitalize all these moments to propel profits and brand advocacy forward. But in order to build the dream, we have to stop thinking only in terms of topline revenues.
We've all attended the weekly pickup meetings where we scrutinize the key stats of occupancy, RevPAR and ADR benchmarked against a predefined comp set, in tandem with production from discounts, incentives and active promotions. We're not advocating that this practice be abandoned; rather it should be upgraded, with major market forces and demand curves also factored into these standups in a streamlined, digestible manner.
In essence, you should imbue enough digitized and quantifiable measurements into your operations that your hotel becomes a data company. From there, you can test hunches or sick a machine learning algorithm on your data set to find the interstitial relationships between all the real goals like revenues, reviews and return visits so that you can discern whether you are actually improving. These are tasks we are excited to tackle on behalf of hotel clients because there's so much that can be recorded nowadays to help drive operational success, however that's defined.
Restaurant Soft Metrics
A hypothetical restaurant offers a simplified example of this before we circle back to the multifaceted operations at a given hotel. For a dining outlet, easy metrics may include gross revenue per day broken down by food and alcohol, average revenue by timeslot or average revenue per cover. You may even want to get more granular and go dish-by-dish or drink-by-drink, as well as total covers by time by day, average turn time, percent of covers that ordered dessert and so on. All these can be observed if you have good management software
But what would softer observations tell you about meal satisfaction like the average tip amount left, or how many dishes went unfinished? You likely already know that someone who didn't tip and didn't clean their plate was likely dissatisfied and won't be coming back willingly any time soon. It's not a certainty, of course, but smoothed out over hundreds or thousands of similar covers will give you a more accurate picture of what's impeding loyalty and all the benefits that come along with having a strong customer base. These might be hard to record, though, and you may only get qualitative answers from your supervisors.
Other questions may require a big data set to infer more complex answers like if there's a relationship between certain food orders and alcohol spend. For instance, if you find that two or three dishes consistently result in minimal beverage spend then what's your case for keeping them on the menu? Do tables of four spend more per person than tables of two? This can suggest configuration changes.
The question is why. What indicators from these soft metrics can you use to incrementally improve guest satisfaction and revenues?
Hotel Reviews as a Soft Metric
In a search to measure what really matters and what can influence hotel revenues, sentiment analysis tools become instrumental because with a lean team you don't have the time to ask about then accurately act upon anecdotal inferences like the lack of tips or unfinished meals as indicators for dining satisfaction. While integrations take time to complete, there are nevertheless lots of preexisting 'soft data' points for you to scrutinize, which we define as any recordable events that may influence bookings and overall satisfaction but aren't necessarily direct inputs to either.
The clearest of these data sets are your online reviews. Besides addressing those one-star TripAdvisor reviews, are there any popular keywords that can be used to augment your marketing materials. Aggregated mentions may even inform what will increase look-to-book ratios, how to build meaningful packages or promotions and where to earmark future capex to drive long-term asset value.
Are you using in-stay surveys for error recovery? What measurements will signal to you that you have indeed recovered, besides not seeing a negative online review pop up? As an idea, you could test a loyalty subscription prompt after a negative in-stay survey then measure the relationship between who signed up and additional onsite revenue capture. This would require some more integrations into your PMS or whichever system is housing your guest profile data, but luckily the technology exists to do this.
Your Hotel is a Data Company
Going a step further requires you to think of your business not as a hotel brand but as a data company first. How are you using your paid search, website analytics and booking engine analytics to get a better sense of the customer purchase pathway in terms of any points of friction or where people are looking for peak versus off-peak. Are you able to set up either the front-end website or the booking engine with A/B testing to more precisely determine what works best for driving on-the-spot conversions? Can you deploy an AI to perform up-to-the-minute yield management so that you can improve your abilities to maximize rates relative to market?
By thinking in terms of getting data on everything, you can then see why technology advancements like attribute-based selling (ABS), guest messaging chatbots, AI-driven phone IVRs and in-room voice controls are important.
For ABS, if you were to reconfigure each room category's text-based features into a database, then you could see which of these amenities are motivating sales. This can lead to a reordering of those features or new room classifications.
Likewise, with chatbots or anything voice-related, you are in essentially digitizing guest requests that would typically be handled by a live agent, via direct message on social media or within an email exchange. Getting more data on what people are asking and when will help to reduce inquiry abandonment and drive conversions.
There's a ton that can be done, so for now just think about what data you are recording as well as where that data is being stored. Beyond augmenting the service that current guests receive and derive more revenues from customers who find you, big data will ultimately help with forward-looking travel intent and efficiently discerning lookalike audiences to optimize tight marketing budgets.
In short, there's a lot more than just measuring revenue that can contribute to a better bottom line. It's an exciting time for hotel technology and we're looking forward to helping properties realize tremendous success with it all.
Larry and Adam Mogelonsky represent one of the world's most published writing teams in hospitality, with over a decade's worth of material online. As the partners of Hotel Mogel Consulting Limited, a Toronto-based consulting practice, Larry focuses on asset management, sales and operations while Adam specializes in hotel technology and marketing. Their experience encompasses properties around the world, both branded and independent, and ranging from luxury and boutique to select-service. Their work includes six books "Are You an Ostrich or a Llama?" (2012), "Llamas Rule" (2013), "Hotel Llama" (2015), "The Llama is Inn" (2017), "The Hotel Mogel" (2018) and "More Hotel Mogel" (2020). You can reach Larry at [email protected] or Adam at [email protected] to discuss hotel business challenges or to book speaking engagements.
This article may not be reproduced without the expressed permission of the authors.
Are you an industry thought leader with a point of view on hotel technology that you would like to share with our readers? If so, we invite you to review our editorial guidelines and submit your article for publishing consideration.