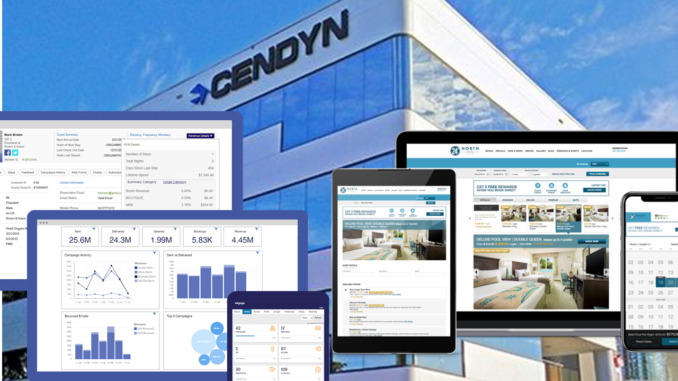 Hotel technology solution providers Cendyn, an innovator in CRM, sales, and revenue strategy for the hospitality industry, and Pegasus, a provider of hotel booking, revenue and distribution solutions as well as digital marketing services, have have closed their previously announced merger agreement, according to a press statement. The two companies merged under the Cendyn brand, with Tim Sullivan continuing to lead Cendyn as CEO and President of the newly combined company.
The new entity aims to provide hoteliers with a platform to maximize their direct-booking channel and enhance the guest experience across touchpoints.
This merger follows the 2019 merger of Cendyn and Rainmaker, a provider of hotel revenue management solutions. With the acquisition, Cendyn became a leading solution provider in the hotel revenue management space, along with heavy hitters like Infor, IDeaS and Duetto, providing next-generation, AI-powered solutions designed to optimize room rates and maximize guest's spend across the entire property. The merger of Cendyn and NextGuest, a New York and Munich-based hotel CRM and digital marketing solution provider, was completed last February.
In 2019, Pegasus merged with Travel Tripper, bringing the two companies' industry-leading solutions into one platform and enhancing service and support across its global customer base. With more than 30 years of experience in global distribution, Pegasus reportedly serves hotels across 120 countries from eight offices worldwide in New York, Scottsdale, Las Vegas, London, Paris, Frankfurt, Tokyo, and Hyderabad. The financial details of the merger were not disclosed.
At the heart of this merger lies Cendyn's Customer Data Platform, Starling, and Pegasus's CRS, which, combined, provides hoteliers access to a true system of record for profiles and rates for every guest. Leveraging the alignment of these key data points puts hoteliers at the forefront of personalization to enhance the direct-booking experience. According to a press statement, the merger aims to provide hoteliers with a platform to maximize the direct-booking channel, enhancing their direct-booking channel and enhance the guest experience "across every touchpoint."
In November, Cendyn unveiled its next-generation loyalty solution, dubbed eLoyalty. Purpose-built for hotels, the solution supports multiple program types, including number of stays, number of nights, member recognition, birthdays, and "surprise and delight moments." eLoyalty is designed to provide hoteliers with a scalable loyalty solution that is fully configurable regardless of the type of hotel or brand.
Cendyn is best known for its Hospitality Cloud, which offers a complete set of software services for the industry, aligning marketing, sales, and revenue teams to optimize their strategies and drive performance and loyalty across their business units. With office headquarters in Boca Raton, Florida, and offices around the globe in Germany, Singapore, Thailand, and Japan, Cendyn reportedly serves customers in 143 countries. In 2019, Cendyn secured an investment from private equity firm Accel-KKR, which holds a controlling interest in the company, to help expand its marketing and sales solutions and grow its customer base.
"As the hospitality industry recovers from the effects of the pandemic, the combination of Cendyn and Pegasus will help hoteliers achieve their critical digital transformation and automation objectives to keep up with ever-evolving consumer expectations and contain costs," said Sullivan.