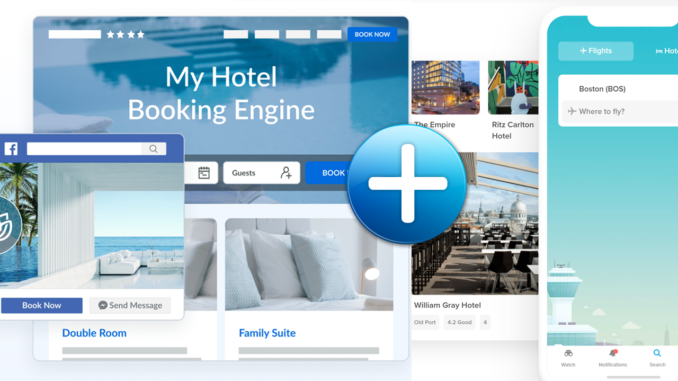 Open hotel commerce platform SiteMinder has partnered with Hopper, the most downloaded travel booking app in North America, to bring together the benefits of online commerce and travel fintech at a scale never before seen for hotels. The partnership will see SiteMinder's more than 33,000 hotels in 150 countries gain a newfound ability to reach modern travelers, by directly accessing Hopper's 70 million users, 70 percent of whom classify as Generation Z and millennials.
Hopper's appeal among younger travel consumers has been driven by the company's unique use of data to help its users secure the best deals. The mobile-first travel app uses approximately one trillion price points per month, over eight years of historical data and trillions of archived prices to create several 'travel fintech' products that improve the customer journey. This wealth of data allows Hopper to offer its users algorithm-based tips on when to book a room versus when to wait, as well as the opportunity to 'freeze' a room rate for a small deposit – two features in demand by what SiteMinder has identified as today's 'dynamic traveler' who is driven by fresh experiences and the need to be more in control of their stay. To enable the latter feature, Hopper guarantees its users the 'frozen' rate and pays the difference if the rate goes up, and offers alternatives if the room becomes unavailable.
Additionally, where online travel agencies commonly use search engines and metasearch to acquire users, Hopper optimizes its reach among younger travelers by almost exclusively using social media, especially newer platforms such as TikTok, Snapchat and Instagram.
Hopper's appeal among younger travel consumers has seen the company grow its revenues by over 300% year-on-year. Today's partnership with SiteMinder forms Hopper's first since its recent fundraise of US$175 million.
"This partnership brings together two aligned visions for the opening up of every hotel's access to the world of online commerce and the transformation of travel through technology," said James Bishop, Senior Director of Global Ecosystem at SiteMinder. "We know through our research that today's traveler is more tech-savvy than ever before and demands greater flexibility. Through Hopper's innovative technology, we are pleased to be able to bring more of today's dynamic travelers to the doorstep of hotels."
"Our customers are young, app-first and brand agnostic, but they will become the corporate travelers of tomorrow which gives our hotel partners a great opportunity to establish brand loyalty now," said David Lewis, Head of Hotel Supply at Hopper. "In addition to our app business, we're now seeing significant sales volume from our Hopper Cloud partnerships – a B2B initiative where other travel brands can seamlessly integrate and distribute Hopper's fintech and travel agency content. Through these partnerships, Hopper is reaching new demographics such as older consumers with more discretionary spending. As we internationalize through 2022, partnering with a global leader like SiteMinder is a great asset."
Does your company have news it would like to share with our readers? If so, we invite you to review our editorial guidelines and submit your press release for publishing consideration.