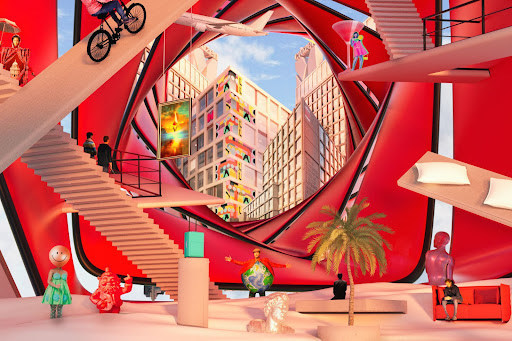 Launched in 2008 at a real airport in the real city of Amsterdam, luxury hotel brand citizenM, which has since expanded to a portfolio of 24 properties in 16 cities, has reportedly made its initial foray into the virtual world, known as the metaverse. It has done so by acquiring a virtual piece of real estate in a decentralized gaming world called The Sandbox.
The Sandbox (a subsidiary of Animoca Brands) is described as a metaverse where users can create and monetize their own distinct worlds and game experiences on LANDs, which are non-fungible tokens (NFTs) that represent virtual real estate in The Sandbox. According to a press statement, citizenM will "bring art to the forefront by showcasing and selling future NFT collections that will be commissioned with growing talent in the digital art space." Once the LAND is purchased, citizenM aims to finance the build of a hotel in the virtual world through the sale of an exclusive collection of NFTs with real-world rewards (utilities) attached.
Each of the 2000 NFTs will reportedly be priced equally, however purchasers will at random be assigned one of three levels: 1500 "regular" citizens, 450 "special" citizens and 50 "legendary" citizens. The utilities will take the form of discounts, free drinks and more with the specifics of the rewards being determined by the level of NFT assigned to the purchaser. The rewards will be redeemable at any of citizenM's growing portfolio of hotels in the real world.
"We are thrilled to be the first hospitality company to build in the Metaverse," Robin Chadha, CMO of citizenM, shares. "As a brand that has always pushed the boundaries and challenged traditional models, this new venture in The Sandbox fits not only with our brand strategy but also the commitment we have to the creative community and to our guests both online and in the real world. We're excited to further explore opportunities in the Metaverse in the years to come."
Once the virtual hotel — a place "for avatars visiting The Sandbox to Work, Sleep & Play" — is built, citizenM will collaborate with an additional roster of digital artists to create and sell NFTs that can be purchased in the digital space.
Eventually, the brand plans to use these profits, as well as the incorporation of a decentralized autonomous organization (DAO), to fully finance a physical, real-life property where token holders will vote on the location. In line with the brand's ethos, citizenM aims to ultimately build a hotel for the people, by the people.
While citizenM may be the first hotel group to purchase LAND in The Sandbox, other brands have also dipped their toes in the metaverse. In December, for example, Marriott Bonvoy, Marriott International's travel program, teamed up with up-and-coming digital artists to create three Non-Fungible Tokens (NFTs). In February, R Collection Hotels, the hotel group of the Rocchi family, became part of a sale of NFTs when it went online on the OpenSea platform.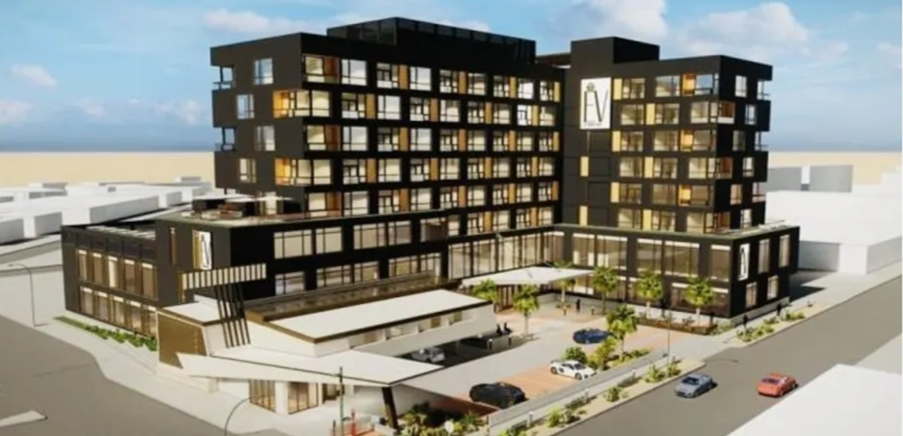 Another example is EV Hotel, which claims to be the world's first hotel brand to come to the metaverse. According to the company, EV Hotel has "world-class amenities in and out of the metaverse. First and foremost, a one-of-a-kind crypto trade floor, where guests can watch the CDX trading floor in real time. This floor provides a physical trading facility for both crypto enthusiasts. EV Hotel hosts an NFT Lobby both in person and in the metaverse, displaying NFTs available for purchase….  Live entertainment that takes place in EV Hotel, will also take place online. EV Hotel's dedication to the metaverse means that guests can experience the same functionality, even if they can't physically come to the hotel."
And then there's the case of hotels that have no real-world presence and exist only in the metaverse. An example is Bit Hotel, which n February, announced that it is selling hotel rooms as NFTs on its own metaverse platform. Bit Hotel is billed as an online social NFT game, which utilizes "Bit Hotel Coin" as its in-game currency. Players compete to collect NFT land (rooms), items and characters to earn income or display them to their friends. It is a web3 re-boot of the popular flash game from the MSN era called Habbo Hotel.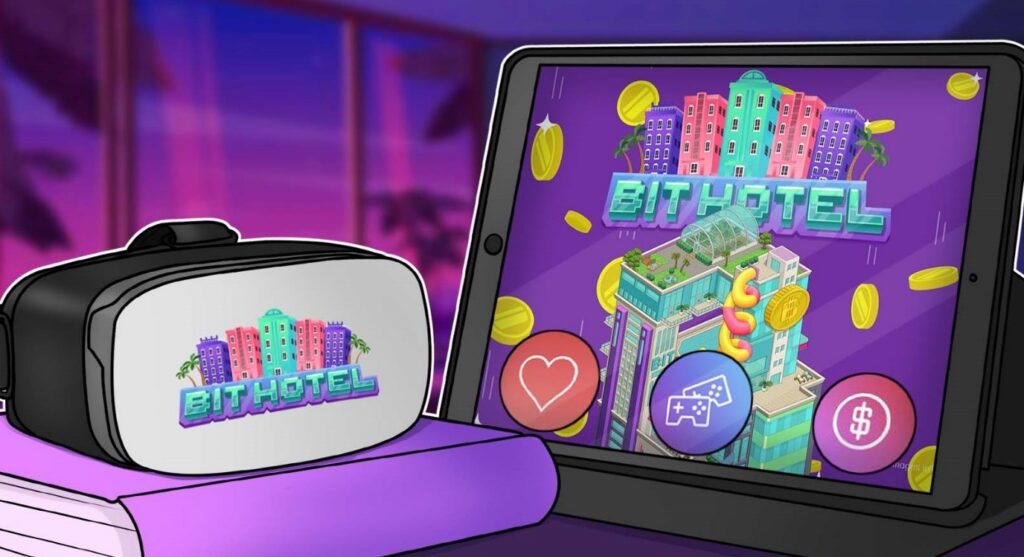 According to the company, each room and common room in Bit Hotel functions as a chat room where users can hang out, chat (voice and text) or trade with other players. Players can also battle in mini-games to earn token rewards and redeem them for in-game assets. Similar to normal games one can earn this in-game currency by playing, however how Bit Hotel differentiates itself is that one can actually "cash out" these in-game earnings.
"The metaverse is controversial and easy to shrug off by traditionalists as just another online craze," wrote hospitality technology experts and futurists Larry and Adam Mogelonsky, partners of Hotel Mogel Consulting Limited, in a recent series of articles about the metaverse in Hotel Technology News.  "We see it as a way to augment experiences in the real world and to enhance brand advocacy." Clearly, a growing number of hotel brands and others  are increasingly coming to agree with their perspective.