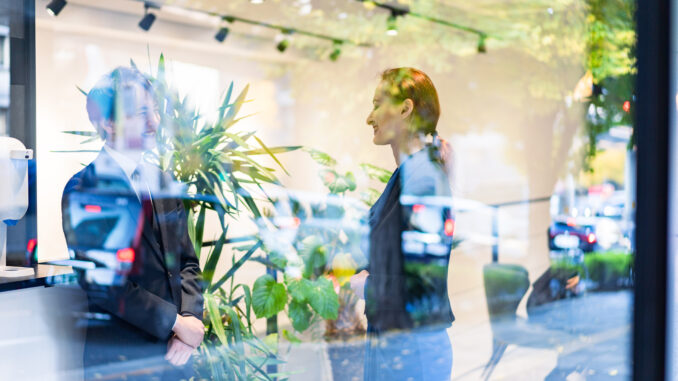 The labor shortages affecting hospitality aren't likely to go away any time soon. But this need not be an impossible challenge to overcome with the right technology tools at your disposal. For that, there's no better place to start looking than the core of any hotel stack.
Specifically, the PMS can help to build better bridges amongst various siloed operations to simultaneously complete basic tasks for heightened team productivity and develop strategies for holistic growth. Sitting above the PMS is the advent of the operations management system (OMS) to handle everything once a guest comes on premises, but for now let's focus on the foundation.
Trends from Beyond the Hotel Industry
We say holistic because the labor crisis is part of a much larger issue. Namely, the rise of remote work has made it far easier for workers to compare hospitality jobs with those in other sectors. As one example we talk about regularly on conference calls with clients: why would a person bother commuting to your hotel, putting on all that PPE and standing on their feet for eight hours straight when they can earn the same wage while acting as an Amazon customer service rep and never leaving the house?
Such remote incentives are also straining management positions and not just the frontline. Hence, the need for automation and accelerating team productivity are ever-present. In this sense, the PMS is the core software for a hotel and thus the first place to look for improvements this calendar year. Deepening your relationship with the PMS, building more integrations, onboarding more modules and getting additional team training are all excellent ways to get ahead this year as well as ramp up service.
Next is to look at the post-pandemic world from the customer's perspective. With everything moving online and becoming increasingly convenient, guests now expect this speed of service and flexibility. Epitomized by the perseverance of fully refundable rates and zero-fee cancellations long after their pandemic-born justification, this trend of flexibility and on-demand ordering affects ancillary revenue streams and upsell opportunities.
One other attribute of this behavior is that many guests now prefer to book dining, spa appointments, golf rounds or other activities from the convenience of their phones or computers. The benefits from moving these processes online should be readily apparent by now – easier access means less labor per transaction and more total spend.
This last point is part of our overall thesis for the next decade as hotels move away from using RevPAR as the key barometer for success, instead shifting towards the maximization of revenue per guest across all operations and not just rooms. This total revenue per available room (TRevPAR) not only increases guest satisfaction – the more one uses a product, the more they like it – but it buffers occupancy gaps and builds incremental returns even when labor shortages won't allow for punctuated jumps.
Digitalizing Holistic Revenues
A crucial word that isn't yet buzzy in our industry but should be is 'digitalization'. Whereas 'digitization' signifies the transfer of physical objects – be they photos or paper records – into an electronic format, digitalization has more to do with process and automating various functions so that your team's time isn't burdened by all this minutia.
The 'holistic' interpretation of digitalization would denote technologies that help hotel managers evaluate which guest profiles spend more while onsite – that is, feeding more data inputs into any form of business intelligence platform to make better TRevPAR decisions instead of going cell by cell through a bunch of disconnected Excel spreadsheets.
Remember that for many properties it's no longer about only driving heads in beds but about which guest profiles are spending more across all revenue siloes. Think business guests who may only be in and out versus leisure couples who book fancy dinners with hefty alcohol purchases in addition to massages (if you have a spa) and perhaps something from the gift shop (again, if you have).
In this sense, a holistic and omni-connected PMS processes all this data so that you can weigh these disparate segments and optimize the topline. Only by digitalizing, integrating, automating and bridging those data gaps can a property free up managers' time and downstream labor for other tasks, such as having a sharper focus on personalizing the onsite experience and further boosting TRevPAR through cross-selling.
The PMS and Productivity
Start by taking, for example, a spa that is having trouble maintaining practitioners and optimizing revenue per treatment. That is, in a dynamically yielded manner, if you know that your busiest time each week for the spa is midday on Saturdays and Sundays, then you would want to fill those times with your highest-margin-per-unit-time offerings while also taking into consideration the practitioners' needs for steady work.
Several booking engines with rich PMS connections now have the ability to prompt customers to choose a spa appointment immediately after they've chosen their guestrooms and without navigating to a separate website or tab. This alone saves a spa coordinator, spa manager or guest service agent the hassle of contacting the guest manually to schedule a treatment. Even better, it saves the guest from having to call the hotel, go through the IVR and be put on hold while waiting for a receptionist to book them in.
There will be some guests who still prefer to call in and ask about various services before making a booking, but increasingly people are opting for the convenience of an online self-serve methodology. Importantly, prompting guests directly within the booking engine to reserve additional amenities is a simple nudge that gets more prearrival appointments on the books (without costing more of the team's time), letting managers make more data-driven decisions about how to forecast staffing requirements for their various revenue outlets.
Through digitalization, properties can know as far in advance as possible about upcoming high-demand periods to thus ensure that they have the "bandwidth" in terms of available spa practitioners or restaurant servers to maximize every revenue opportunity. Back to our spa example, when merging all the data into an analysis of those high-margin treatments, a hotelier might then also make the decision to reserve the busiest times each week for only the most profitable services, opening up inventory on the online reservation portal accordingly and excluding other options.
Managers nowadays also don't have time to cross-reference a myriad of systems, so bringing all these data points under one roof naturally allows for better, TRevPAR-oriented decision making. For young hires especially, learning a multitude of software under strenuous or rushed working conditions can be quite intimidating, meaning that a holistic PMS can act as a talent retention tool.
Hopefully, this is enough of a rationale for why you need to rethink your PMS for the year ahead and even into 2023. Just as your business needs and customer demands evolve, so, too, are the top software suppliers working to keep up with this progression. As a final note, with the pandemic ending, it's now time to consider attending your PMS vendor's user conference, as a motivation tool as well as a way to learn about the technology so that you can apply those lessons to your own hotel's ongoing success.
Larry and Adam Mogelonsky represent one of the world's most published writing teams in hospitality, with over a decade's worth of material online. As the partners of Hotel Mogel Consulting Limited, a Toronto-based consulting practice, Larry focuses on asset management, sales and operations while Adam specializes in hotel technology and marketing. Their experience encompasses properties around the world, both branded and independent, and ranging from luxury and boutique to select-service. Their work includes six books "Are You an Ostrich or a Llama?" (2012), "Llamas Rule" (2013), "Hotel Llama" (2015), "The Llama is Inn" (2017), "The Hotel Mogel" (2018) and "More Hotel Mogel" (2020). You can reach Larry at [email protected] or Adam at [email protected] to discuss hotel business challenges or to book speaking engagements.
This article may not be reproduced without the expressed permission of the authors.
Are you an industry thought leader with a point of view on hotel technology that you would like to share with our readers? If so, we invite you to review our editorial guidelines and submit your article for publishing consideration.