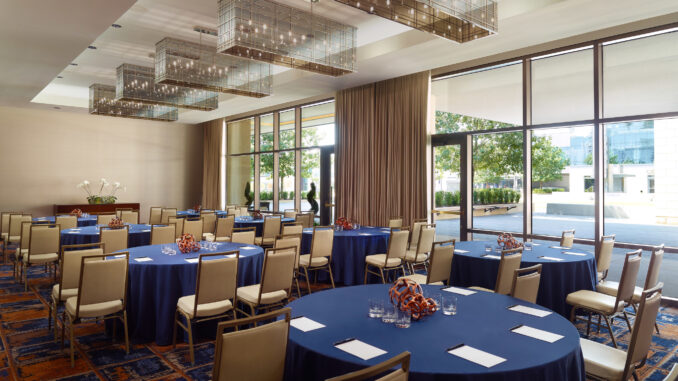 Omni Hotels & Resorts has become the first-ever hotelier to offer instant booking for both group rooms and meeting space on GroupSync™. GroupSync is Groups360's proprietary online booking marketplace, with instant booking capabilities that enable anyone organizing a meeting or event to book both group guest rooms and event spaces online. This functionality is now available at the Omni Frisco Hotel (Frisco, TX), and soon across Omni's more than 50 properties in the U.S., Canada and Mexico.
GroupSync now provides on-demand booking for event organizers to arrange group guest rooms and meeting space with ease.
GroupSync solutions deliver greater efficiency for travel organizers and hoteliers alike. Using the GroupSync Marketplace, travel organizers have access to enhanced global search capabilities, hotel group inventory and rates, and a choice of purchasing methods that include both instant booking and a simplified RFP process through the platform.
"We take great pride in being leaders and innovators in the meetings and events industry, so we were eager to explore the opportunity to adopt paradigm-shifting technology destined to change the way hotels have been booking groups," said Peter Palli, chief commercial officer for Omni Hotels & Resorts. "This technology provides an on-demand booking option for planners who seek to book a small room block and meeting space with ease and confidence. Our goal is to always provide an unforgettable experience, and our partnership with Groups360 allows us to continue to focus on what matters most to our customers as we further elevate our brand's offerings for this vital business demographic."
"Omni is the first brand to offer instant booking for group guest rooms and event spaces in a single online transaction through the GroupSync platform. Now, meeting planners and other event organizers can access real-time availability and group rates to book guest rooms, meeting space or both, food and beverage, and audio-visual equipment," said Kemp Gallineau, CEO for Groups360. "Omni's innovation will significantly benefit its staff and their customers by automating group bookings, allowing more time to focus on those things that create a great experience."
Meeting planners and event organizers can visit groups360.com to access the GroupSync platform at no cost.
Does your company have news it would like to share with our readers? If so, we invite you to review our editorial guidelines and submit your press release for publishing consideration.