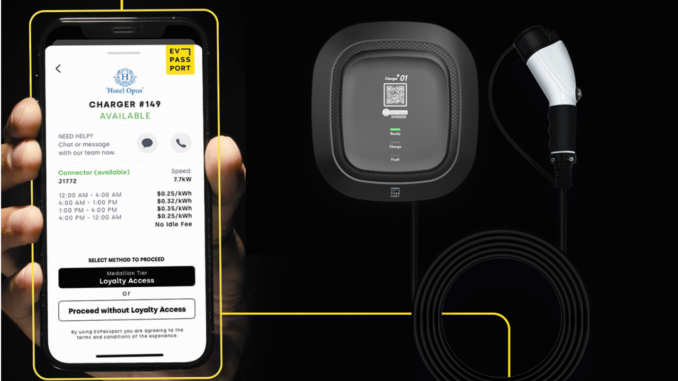 EVPassport, the innovative EV charging hardware and software "Connected Infrastructure" platform, has release the EVPassport Hotel Cloud, the first and only EV charging software platform with the power to drive hotel guest engagement, satisfaction and loyalty while prioritizing the business needs of the hotel property.
EVPassport Hotel Cloud breaks new ground as to how hotel properties can integrate EV charging into the guest's digital journey. "What if plugging into an EV charger at your hotel would automatically do things like check the guest into their room, sync extra loyalty points on their account, trigger a discount code for the spa, or calculate carbon offset, all on their own smartphone while charging their EV?" said Hooman Shahidi, co-founder and president of EVPassport. "That's precisely what Hotel Cloud has the ability to do. Equally exciting is the fact that this technology – because it's updated through the Cloud – is future-proof against new applications and technologies that will emerge. This will ensure that hotels remain on the cutting-edge of tech."
In an industry that at times has lagged in adopting new technologies, EVPassport hopes that hotels will quickly embrace the personalized guest service potential of Hotel Cloud's Connected Infrastructure concept. "The hotel industry as a whole needs to continue – and accelerate – the technology adoption trend we have demonstrated in the last couple of years," said Andrea Foster, SVP, Development of Marcus Hotels & Resorts and EVPassport advisory board member. "This is our opportunity. Hoteliers who integrate EVPassport Hotel Cloud will not only enjoy a competitive advantage as the EV market continues to grow, but this software will provide capabilities and insights that will propel the industry into the future."
EVPassport Hotel Cloud was created for the tech-minded hotelier as they transition from first generation EV chargers into building future-minded EV charging hubs that can handle rapidly increasing demand while adding profound value to the guest's digital experience. Additional EVPassport features for hoteliers and their EV driving guests include:
Most "discoverable" – EV driving guests find your hotel on all EV charging location maps and apps.

On-demand ability to set charging prices, manage access, and get all the details on energy usage, earnings history, and carbon offset.

Exclusive "scan and charge" QR code technology is the simplest and fastest way for EV drivers to charge (no fobs, apps or cards are required).

Fastest ROI, with low cost of entry and most lucrative revenue sharing opportunity in the industry.

Elegant, customized wrapping of the hotel's brand (name, logo, colors) on each charger and hotel branding on the software's smartphone's microsite.

Most durable and reliable hardware backed by committed customer service.
EVPassport is the technological evolution of EV charging software and hardware for forward-thinking companies around the world who place high value on the satisfaction of their customers. Their API-driven, cloud-based software provides endless integration possibilities and is the only truly open, interoperable EV charging platform. Businesses rely on EVPassport's custom branded hardware to provide drivers with the easiest charging experience possible, requiring no apps, fobs or cards, just a simple QR code scan. And EVPassport's lowest cost of entry and lucrative revenue share model delivers the fastest ROI in the market. EVPassport recently acquired 100% carbon neutral status and was selected as a "World Changing Idea for 2022" by Fast Company.
Are you an industry thought leader with a point of view on hotel technology that you would like to share with our readers? If so, we invite you to review our editorial guidelines and submit your article for publishing consideration.