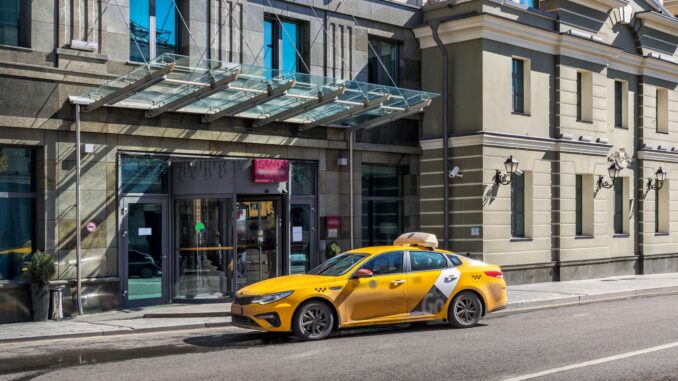 As a hotel manager, you naturally aim to make an excellent first impression on your guests from the moment they arrive. But having a positive first impression is not enough. You would like to keep it up until the moment your guests leave. The clock is ticking! At such times, your hotel's front desk operations are vital. Efficiency is the keyword. Your receptionists must be efficient in performing multiple tasks, sometimes at the same time. Venue Butler can make a guest's experience truly remarkable. "How?" you might ask. Let's get into the details.
1. First impressions are the most lasting
Poor front desk staff efficiency can reduce the positive first impression you worked hard to create and disrupt the guests' experience throughout their stay. Think about this: Every guest staying at your property will have to engage with front-of-house staff at some point, face-to-face, on the phone, or even online. The receptionists are the ones who must confront the difficulties brought up by the guests and provide them with solutions.
Multi-tasking is a must-have skill for front desk staff. Easier said than done, right? To expect them to perform multiple tasks and take care of your guests efficiently, as a hotelier, you should provide your front desk staff with everything they need. This includes providing them with the latest tools, and Venue Butler is the perfect tool to start with! Venue Butler's taxi booking device allows your front desk staff to book taxis for your guests with one click of a button. The device seamlessly enhances your guest's experience, enabling the concierge and reception to focus on other, more essential tasks.
Imagine this: a receptionist or concierge is running around checking in a newly arriving guest, picking up the phone to make a new reservation, and making a room key for another guest. The last thing they want to be doing is picking up the phone to the taxi company or going outside to hail a cab for their guests. That's where our free taxi booking device comes in. One click of a button and the taxi is already on its way to their hotel. A moment later the concierge can see the driver's name and arrival on-screen and tell the guest that their taxi will be there in precisely 5 minutes.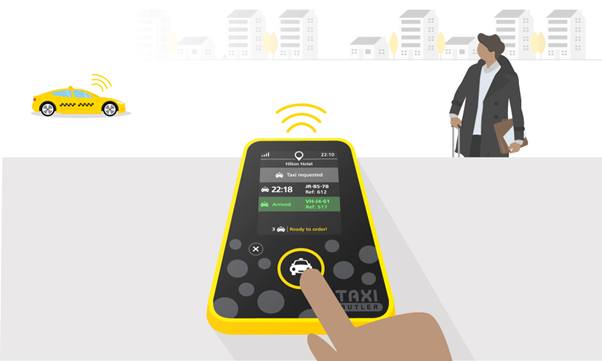 2. Time is of the essence
Travelers are impatient. As a hotelier, you know that a customer's time is important time. According to the 2022 Travel Digital Experience Benchmark Report by Contentsquare, today's traveler wants quick answers and expects immediate results. This phenomenon is valid even before the guest arrives at your hotel. For example, if their experience on your website is too slow, they will likely get frustrated and check another hotel's website. The likelihood of a user bouncing increases by 32% between the first one to three seconds.
Viewers who receive fast online services and feel satisfied are most likely to become your guests. This also means they will expect the same quick responses and immediate action from your hotel's front desk staff.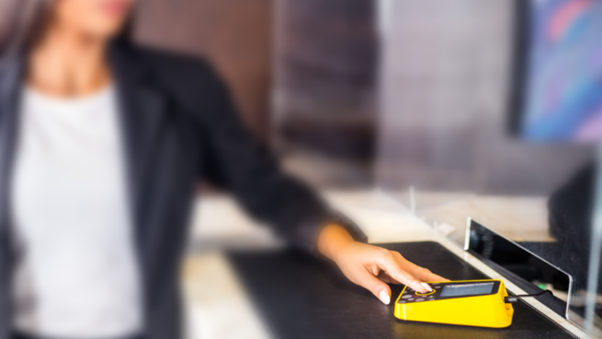 3. Enjoy the excellence in the hospitality industry proven by experience
With over 15 million successful rides globally, this taxi booking device has improved the hospitality industry's guest experience by making taxi booking easier for both guests and receptionists. Thanks to Venue Butler, receptionists can work much more efficiently and provide their guests with taxis on time. It means that the staff can focus on what matters; an excellent guest experience!
"Venue Butler is so convenient! Our guests LOVE it for how easy to use and efficient it is. Our doormen no longer have to walk to a corner to catch a cab for guests or call car services. Long gone are the days where you have to stand in a corner to wave a cab down in the cold, rain or snow. The service is amazing," says Catherine Severino, Complex Sales Manager at Hilton Midtown Cluster in New York City.
"What a great idea the Venue Butler is! Thank you so much for letting us use this method. Massive help for us, especially on the weekends," says the front desk team of Doubletree Hilton Hotel and Spa.
4. A win-win strategy: Efficient staff, happy guests at zero cost
The most frequently asked question about Venue Butler is about the cost of it. It is free! The one-click, smart taxi booking device provided is 100% free charge for all venues with unlimited usage. There are no hidden costs, fees or catches.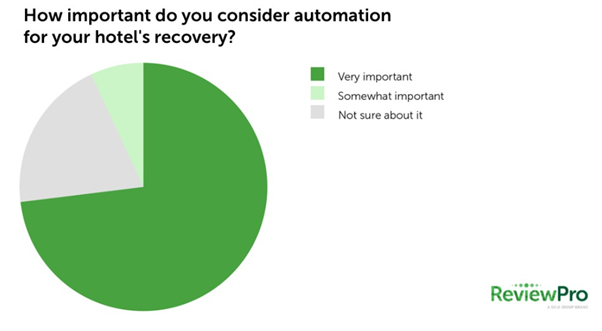 Considering all these points, Venue Butler proves to be a powerful tool to increase your hotel's front desk efficiency. Automation in the hotel industry aims to eliminate the number of routine tasks hotel staff perform while improving the guest experience. The automation offered by Venue Butler will decrease errors and free up more time for your front desk staff to focus on your guests.
Especially after the COVID-19 pandemic, the interest in automation in the hospitality industry, particularly in hotels, has been growing . At least three out of four hoteliers included in Review Pro's research consider automation to be the critical factor in the recovery of the hospitality industry.
As travelers' preferences keep evolving, numerous hotels attempt to take up the challenge and provide quality accommodations aligned with the best guest experience catering to their needs. Hoteliers are pivoting away from conventional methods and adopting a creative approach to improve the guest experience.
Thomas Kruyne is Managing Director at Venue Butler. Headquartered in Amsterdam, the Netherlands, with a global team spread worldwide, Venue Butler equips venues like hotels, bars and restaurants with simple but effective taxi booking tools to help them provide the perfect and safe taxi experience for their guests. The simple one-click device is already supporting thousands of venues to book taxi rides for their guests across the globe. Ultimately, Venue Butler's vision is to connect people to themselves and others and to be as ONE. It's the foundation of everything they do. Thomas has been with Butler United (mother company of Venue Butler) since June 2015, initially appointed as the Sales Manager for Amsterdam at the head office in the Netherlands. As the Managing Director, he is responsible for supporting the connection between people and themselves, leading the daily operations and leading the company to exponential growth. He is also accountable for revenue and sales, P&L, strategic decisions, and partnerships. Thomas holds an MBA degree in Marketing from the Vrije University of Amsterdam.
Are you an industry thought leader with a point of view on hotel technology that you would like to share with our readers? If so, we invite you to review our editorial guidelines and submit your article for publishing consideration.