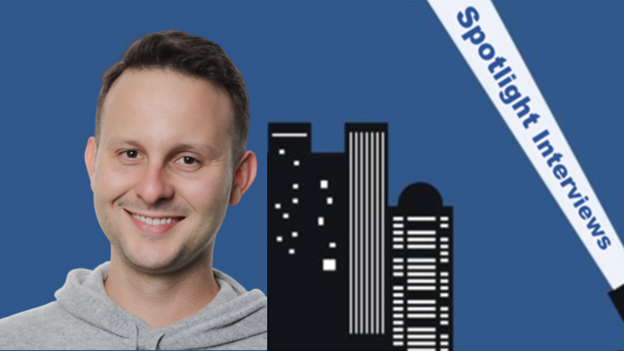 Stas Tushinskiy is CEO and Founder at Instreamatic, a Voice Marketing Platform company that helps brands engage consumers in the art of human conversations. Their solutions include ads that talk back and voice feedback (including Speaky). Recently, the company launched Instreamatic Market Instinct, a groundbreaking solution that helps hospitality brands understand how to improve their performance.
Prior to Instreamatic, Stas built a leading digital audio advertising sales house in Europe, working closely with Tier 1 brands like Porsche, Starbucks, and McDonalds, as well as global ad agencies including OMD and Mindshare. He lives in Silicon Valley, where Instreamatic is based. Prior to Instreamatic, he pioneered digital audio ads market in Russian-speaking countries and built Unisound, a leading digital audio ads sales house and headed business development of a leading mobile music streaming service in Eastern Europe.
In this interview, Stas shares his perspective on how hotels can leverage AU-enabled interactions and voice feedback to enhance the guest experiences while also generating actionable insights that can to increase customer satisfaction, user ratings and, ultimately, revenue. 

Instreamatic's technology and solutions aren't solely built for hotels, but you continue to target hospitality businesses with both existing and newer products. Can you give an overview of Instreamatic's history with—and current connection to—our industry?
We first began working with hotel brands across the United States and Europe via some of our earlier solutions, which were focused on capturing guests' individual experiences via voice interactions and voice feedback. Our solutions are deployed across industries—as you mention—but hospitality is a particularly challenging industry to really understand the customer to an extent that can and will drive competitive advantages.
We want to take the guesswork (and the cost) out of knowing what guests want from their stay. The better that hospitality businesses can listen to—and understand—their customer, the more successful they will be. That's why we've recently added Instreamatic Market Instinct as a rather unique solution for hospitality brands to ensure they always can have their finger on the pulse of what guests want, and what is driving them to (or away) from being a customer.

Digging in a bit more to Instreamatic Market Instinct, what does the solution replace for hotels?
Instreamatic Market Instinct helps hospitality brands understand how to improve their performance, customer satisfaction, and revenue. The always-on, AI-powered solution automates these actionable insights by continually collecting market intelligence, analyzing correlations in what people are saying about a hospitality business and its competitors, and empowering managers to make informed decisions.
For example, Instreamatic Market Instinct may find that 48% of satisfied customers cite the quality of a hotel's service, while 54% of a competing hotel's customers leave high ratings for its breakfast menu. The insight is that by providing a breakfast menu on par with that competitor, the hotel has a large opportunity to increase customer satisfaction, user ratings, and ultimately revenue.
There is a ton of noise out there that is valuable to hotels. Finding it all is time-consuming, but understanding (and acting on) that information is on another level of difficulty. Brands can try a one-time market research project to understand guest behavior and competitive differentiators, but sentiment is always changing and these projects are prohibitively expensive from doing often (if at all).
Instreamatic Market Instinct continually brings in all hotel review (and related) information to give management timely and accurate data. The solution can analyze reviews from disparate source to automatically find the correlations and patterns required for hospitality brands to confidently make more informed business decisions. Importantly, the solution can also add competitive analysis to uncover competitive disposition.

AI has played a role in Instreamatic's other solutions—is that the case with Instreamatic Market Instinct? If so, how?
Definitely. Our core technology is Marketing AI, which fuels all of our solutions. With Instreamatic Market Instinct, we feed all free-form guest reviews and feedback (and data points) into our AI. Think social media, travel review sites, feedback surveys, chat transcripts with hotels' websites, etc.
Our AI engine pulls all of that relevant data together to find the correlations, trends, and predictions that can deliver actionable insights without needing to hire a data team or continually put budget toward more generalized market research reports. Additionally, our machine learning models continue to improve with data, so the longer Instreamatic Market Insight runs, the more value it brings to hospitality businesses.
Any thoughts about the hospitality industry as we finally emerge from the global pandemic? Is there anything about where the industry is today that surprises you?
I think one of the biggest is how a much more mobile workforce will have an ongoing effect on the hospitality industry. A new article in The New York Times looked at how airlines are "cashing in" as employees with ongoing location flexibility are able to book travel to take advantage of remote or hybrid work. Certainly, with a trend like that, hotels will also stand to benefit. There is still a lot of change in motion right now in the hospitality industry, and no better time to get a firm grasp on what guest want.

More broadly, how well do you think the hospitality industry has progressed on technology modernization as it relates to the guest experience?
There seems to still be a sizeable gap between hospitality businesses that embrace technology modernization and those that don't. It can be daunting to decide what technology to onboard, but getting it right can be night-and-day beneficial to the customer experience. Increasingly, those that delay transitions will start to escalating negative impacts from the decision. Customers are more tech-savvy than ever before, and they expect a growing level of preparedness from hospitality providers. You can feel the difference that a seamless technology experience can make to a hotel stay, and that experience translates into where you and I choose to spend our money.

What's your background working with hospitality brands?
Our first experiences working with hospitality brands came with hotels using our voice feedback product and our interactive voice advertising solution. As we have come to understand the hospitality industry better, we began to see how truly useful our Instreamatic Market Instinct solution can be for this industry—where a hotel brand can rapidly see what consumers think of not only their brand and experience but also their competitors. Taking these insights from the domain of data science teams and into the hands of marketing and management can be a game changer, with more actionable insights at a fraction of the cost.