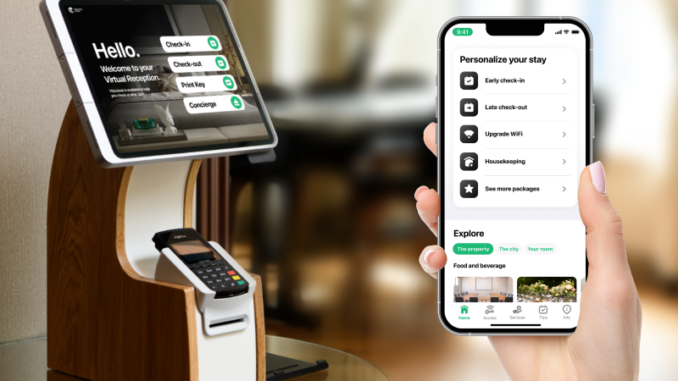 Virdee, which delivers digital check-in and virtual concierge services to the lodging industry, has announced an integration to Cloudbeds, an all-in-one lodging operations platform, that will provide hoteliers and hosts with an efficient end-to-end solution for providing contactless guest experiences. Virdee will be available as a new partner in Cloudbeds' Marketplace.
The Virdee Virtual Reception provides a fully contactless check-in experience, empowering 100% of hotel guests to check-in either via mobile device or kiosk, receive a digital or physical key and head straight to their guestroom without ever standing in line at the front desk. These contactless features complement Cloudbeds' suite of industry-leading operational tools, such as Property Management, Channel Management, Booking Engine and Payment solutions.
The partnership empowers hoteliers to manage their properties and the guest experience through well-integrated technology. User-friendly mobile applications from both Cloudbeds and Virdee automate tasks and free up staff to focus on providing more value to the guest throughout their stay—especially important amid today's labor challenges and scarce resources.
"The integration and partnership with Cloudbeds means Virdee is now available to a much wider number of lodging providers, from independent hotels to bed and breakfasts of all sizes," said Virdee Co-Founder Nadav Cornberg. "In turn, more travelers can expect better experiences along their guest journey, including personalized offers, an improved welcome experience and digital room access."
"Today's travelers are looking for seamless, digital experiences, and both Cloudbeds and Virdee are dedicated to improving the entire end-to-end interaction between guests and their hosts," said Sébastien Leitner, VP Partnerships at Cloudbeds. "This integration will allow us to continue creating more meaningful travel experiences for thousands of Cloudbeds customers throughout the globe, helping them grow revenue, streamline operations and enable memorable guest experiences."
Does your company have news it would like to share with our readers? If so, we invite you to review our editorial guidelines and submit your press release for publishing consideration.