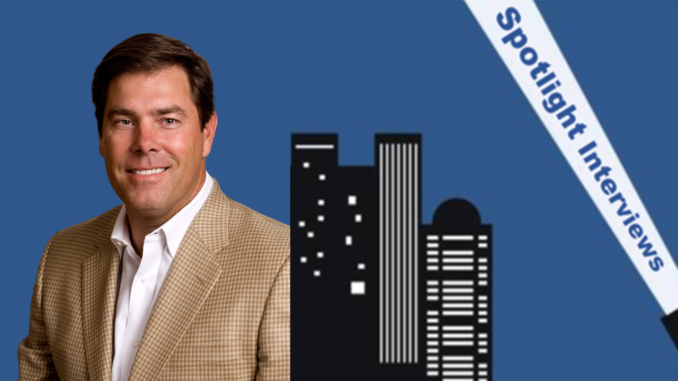 The integration of robots in hotels and resorts is already happening and has the potential to radically improve operational efficiency, reduce labor costs, and enhance the guest experience. One of the technology companies leading the charge is Relay Robotics, which is actively implementing these advancements in hotels worldwide. In fact, Relay's delivery robots are already deployed at major hotels such as Marriott, Hilton, Westin, Mandarin Oriental, Holiday Inn, and Radisson.
In this interview, Michael O'Donnell, who serves as Relay's Chairman and CEO, explains why hotel robots are quickly gaining traction, what, exactly, is involved in deploying these robots and getting employees up to speed ("it literally takes 10 minutes"), and how hotels can measure success with hotel robots. He also shares a bit about his own professional background ("I was initially interested in politics") as well as his perspective on the important role that robotics, along with other emerging technologies, are already playing in shaping hotel operations and "creating memorable guest experiences."

Tell us a bit about Relay Robotics, which was reportedly formed early last year with the completion of a $10 million Series A financing round and the acquisition Savioke, a developer of mobile delivery robots. How did the new company come about?
Relay Robotics was formed from the acquisition of leading robotics developer Savioke, including its development team, product line, and intellectual property. It was established at a time when the industries we serve—hospitality and healthcare—were facing extreme labor challenges, while at the same time, service robots had proven themselves to be a mainstream technology that could reliably and safely make deliveries throughout an entire property. Add to that our lead investor, MK Capital who specializes in disruptive B2B technology companies, saw the future potential in service robotics.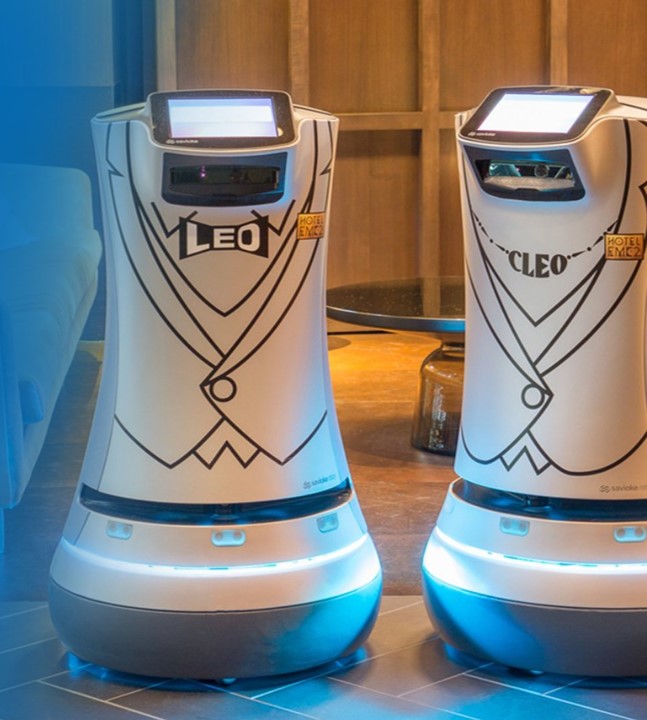 Who are Relay's customers and what geographic markets does the company currently serve? What are the main benefits of Relay's robots in the context of the hotel industry?
In hospitality, we work globally with all the major flags (Hilton, Hyatt, IHG, Marriott. Radisson, Wyndham, etc.) — and their respective brands (AC Hotel, Courtyards, Embassy Suites, Holiday Inn, Hyatt Place, Westin, etc.). Many of these hotels are experiencing staff shortages and our delivery robots have provided needed relief and become an integral member of their team. Plus, the guest response to receiving a delivery from a robot or mingling with one in the hotel lobby makes for a memorable guest experience.
What differentiates Relay from the other hospitality robotics companies on the market? What do you view as your company's biggest competitive strengths?
We pioneered delivery robots in hospitality and have several industry "firsts" like elevator integration, secure payloads, and rapid installation. Our customers tell us our sleek design, payload capacity, and collaborative process for naming the robots and designing custom graphics have been wildly popular with customers and staff. Also, the fact that our robots are designed and manufactured in the United States alleviates many data security concerns.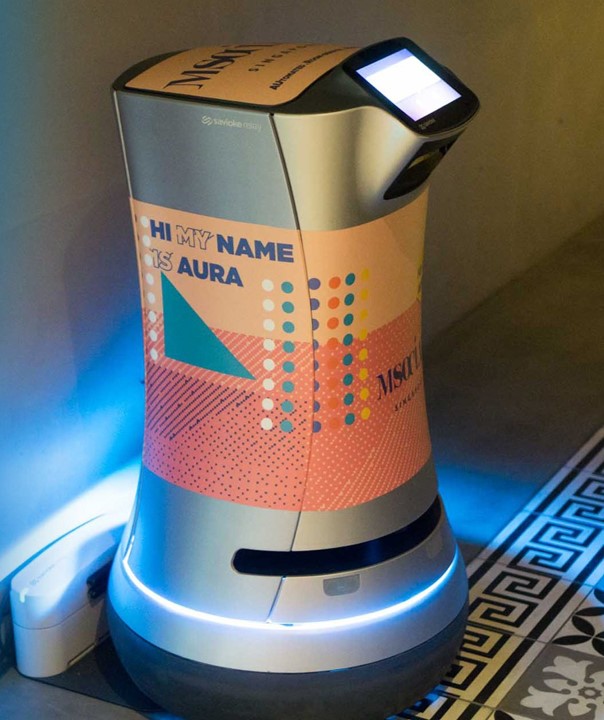 What categories of hotels or resorts are likely to benefit most from Relay's robotic solutions? Any recent success stories you can share?
Any hotel that routinely makes guest room deliveries — food and beverages, marketplace/pantry items, housekeeping requests including linens and toiletries, deliveries from local eateries via Uber Eats, DoorDash, or Grubhub — including select-service and full-service hotels. Numerous customers have offered testimonials for Relay robots such as The Westin Buffalo in New York.
From what you've seen, are hoteliers and their guests becoming increasingly receptive to the idea of robots? What role, if any, did the pandemic play in accelerating the adoption of robotic solutions?
Robots are gaining traction in hospitality from three factors. First, labor shortages that are continuing; second, the impact of COVID and growing customer demand for contact-free service — "Please send the robot instead of a human!"; and third, technology advances in robotics and AI that prove that robots are reliable and effective.
To what extent are hoteliers able to reduce operating costs, increase employee satisfaction, improve the guest experience, etc., by deploying Relay's robots?
The real strength of our robots is the combination of improved guest experiences and positive hotel reviews, along with hotel staff support.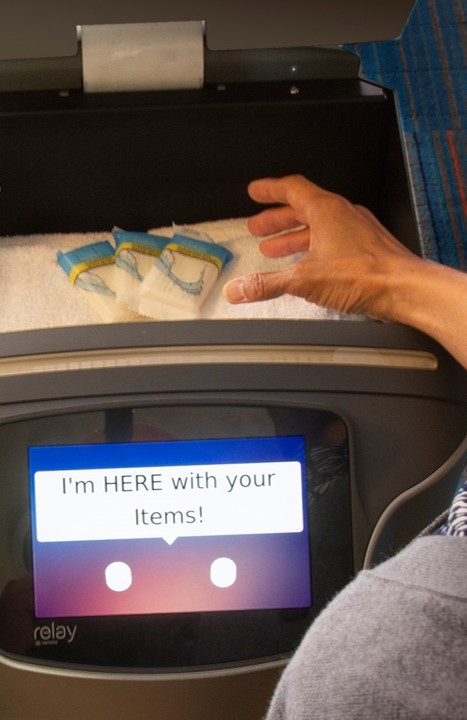 What are the right performance metrics hotels should be using to track and measure success when it comes to robots – and is there any data you can share related to ROI and financial outcomes?
The robots can impact a broad set of important metrics for the hotelier, including improving guest service & satisfaction, increasing revenue, improving marketing, and they do so at low cost. For example, many of our hotel partners have seen increased revenue from people ordering more room service and marketplace/pantry items because it's so easy to have things delivered by the robot — super-fast delivery, no getting dressed to meet someone at your room door, no tipping, and your kids think they're living in a Disney movie!
What are the biggest challenges hoteliers may face when it comes to deploying robotic solutions on their properties?
Our most successful customers are integrating robots into their standard operating procedures — for example introducing the robot to guests as they check in, having the robot deliver any requests for towels or marketplace items, etc.  And "mingling" in the lobby to promote the hotel brand.  Robot installation is very fast — just days. And staff training takes minutes. It's easy to integrate the robots into operations.
One would assume that implementation of a robotic solution requires a sizable capital investment. Can you give us a sense for what it costs to deploy robots on a hotel property? Savioke is known to have introduced a robots-as-a-service (RaaS) business model. Does Relay offer that option, as well?
Implementing a Relay robot doesn't require a capital-outlay at all. RaaS — robots-as-a-service — is the primary way we provide our robots. It's a monthly, all-inclusive program that includes the robot, all service and maintenance, and 24×7 hotline support. It is really a "no-brainer" when you realize you're getting a 24/7/365 worker that can make most of your room deliveries while delighting guests at the same time.
How much time and effort on the part of hotel management and employees is involved in implementing a robotic solution? How long does it take to get up to speed, and who is typically responsible for robot operations on a hotel property?
It literally takes 10 minutes for a person to learn to use the robot. We have a RapidInstall program that typically takes a week, of which most of that time is spent interfacing to the elevator system and mapping the property so the robot learns every possible delivery location. After that, you just open the robot's lid, place your items inside, close the lid, select the destination room number, and press "go!" The robot does the rest and then returns to its docking station to await the next delivery. It's very simple.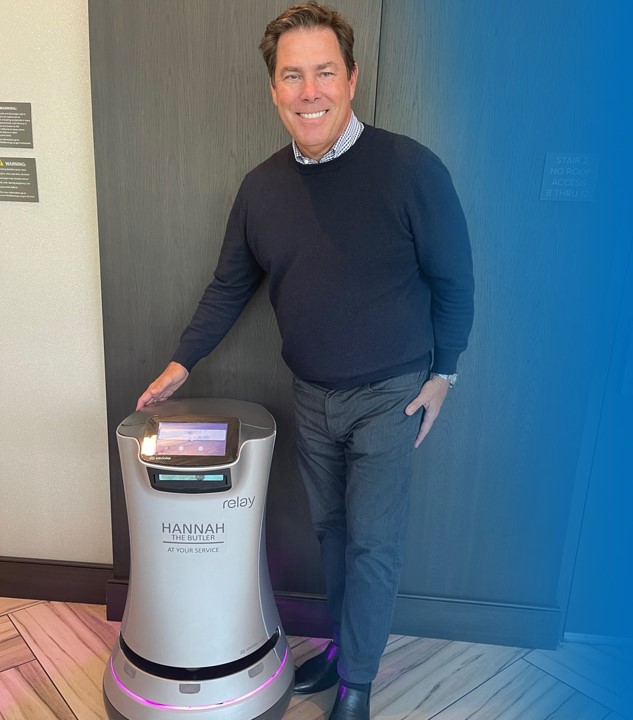 You've enjoyed a long track record of success in growing startups as well as large companies in a range of technology-related businesses, including AI/robotics, healthcare, media, entertainment and video games. You also completed an IPO and sold four VC-backed companies. Can you tell us a bit about your career trajectory and how it led to your current leadership role?
I was initially interested in politics and worked in Washington, DC briefly, but growing up in Silicon Valley, I was exposed to a number of exciting companies and talented entrepreneurs, and felt the pull to be a part of technology companies. I started out in Sales which is a great foundation for understanding the customer and what it takes to sell technology at scale. That ultimately led to my first executive management role, though I still consider myself a "salesman" at heart.
How did your wealth of business experience help you prepare for your current role? Any particular lessons learned at other companies that you've applied at Relay since joining Relay last May?
I joined a great team at Relay and believe my job is to provide the support they need, overall direction, and leverage my experience from building companies a number of times in order to accelerate our growth and profitability.
What do you do in your job on a day-to-day basis? What do you like most about your work?
I have a saying that my kids tease me about—if you want to soar with the eagles, you need to rise with the roosters. So, I need to get rolling early each day to communicate our value and purpose to our customers, partners, and yes, employees!
It's been really fun being part of the robotics industry revolution and seeing the excitement in the faces of our stake holders. I often go into a hotel and introduce myself to the staff — "Hi, I'm the robot guy!" — and it gets a smile every time. And, then to see our robot moving through the lobby and into the elevator autonomously is really gratifying and I feel proud to be part of Relay Robotics.
Hotel owners and staff really inspire me. They have been courageous enough to start and buy hotels and provide exemplary service to their guests even in the most challenging of times.
What will be the primary focus areas for Relay this year? Any new technology innovations on the horizon? Any specific growth objectives you can share?
With hotel travel accelerating following the pandemic, our focus for 2023 is to get our robots into the hands of as many hotels as possible and continue the momentum we established last year. We are now signing multi-hotel, multi-robot deals and reaching hotel ownership and management decision makers.
We will be announcing new products and accessories in 2023 that will have larger "payload" capacity and more guest interaction capabilities, leveraging our powerful software platform.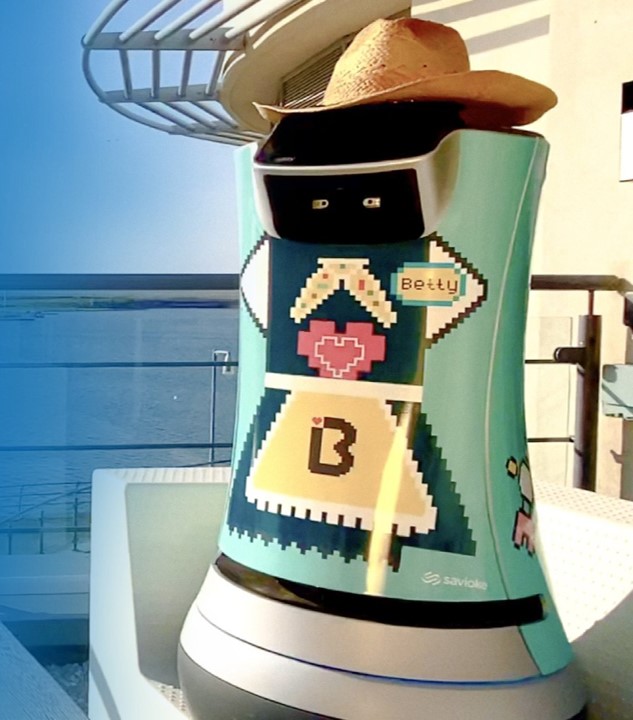 Any thoughts about the hospitality industry as we finally emerge from the global pandemic and the role robotics can play in the recovery process?
It was amazing to see how resilient the hotel industry was to the global pandemic and how they attracted more leisure travel to replace lost business travel, and even increased daily hotel rates. Now, with business travel returning, we're optimistic they can weather any economic maturations.
The hotel owners that were early adopters in robotics have shown their peers a path forward — to leverage technology to adjust to changing business pressures and consumer tastes. We're now seeing the next wave of hotel owners and management request information, demos, and quotes for our Relay robots.
Where do you think hotels will be a year from now in terms of utilizing the types of robotic solutions that your company provides? Can we expect to see exponential growth in this area?
Hotels have moved from thinking robots are a technology that needs to be evaluated and tested to a proven technology that they must have as part of their standard processes. In busy hotels, delivery robots are no longer a "nice to have" tool — they are a "must have" team member that contributes to the overall guest experience.
Hotel owners that may have purchased (or leased) just one robot for their portfolio of hotels, are now looking to expand robots into their other properties.
What other emerging technology solutions, aside from robotics, are you seeing in the hospitality industry that you think will make a big splash this year?
When I talk to hospitality executives, they tell me they are very focused on the complete guest journey, not only during their stay at the hotel, but before they arrive and long after they leave. I really see more and more hotels focusing on creating memorable guest experiences — everything from making a reservation to selecting a room to mobile check-in to ordering room service to scheduling other services and beyond.
From a technological perspective, the further entrenchment of tools that make travel easy – mobile check-in and room keys, guest communications via messaging, online room service ordering. Many of these ideas center around a contact-free guest experience. Our delivery robots have become part of this toolset.