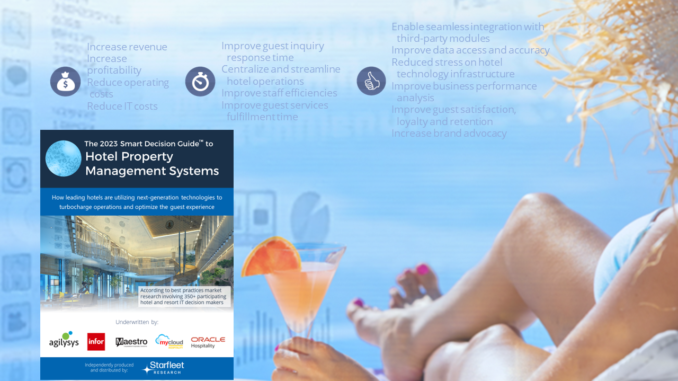 Starfleet Research, the leading provider of best practices IT research and recommendations for the hospitality industry, has released The 2023 Smart Decision Guide to Hotel Property Management Systems. This marks the seventh edition of the popular title, widely regarded as the industry's most authoritative and comprehensive resource for maximizing success with hotel property management systems and related technologies. The following is a brief excerpt:
Hotels are increasingly relying on next-generation property management systems to provide guests with a seamless and contactless experience while streamlining operations for staff. A PMS is the backbone of a hotel's technology infrastructure, providing integrated functionality for reservations, check-in, guest services, upselling, housekeeping, and even accounting, keycard and access control systems, kiosks, minibars, entertainment apps, and transportation shuttles. As the Internet of Things (IoT) becomes more prevalent in hotel rooms, a next-generation PMS is becoming even more critical for guest satisfaction and operational efficiency.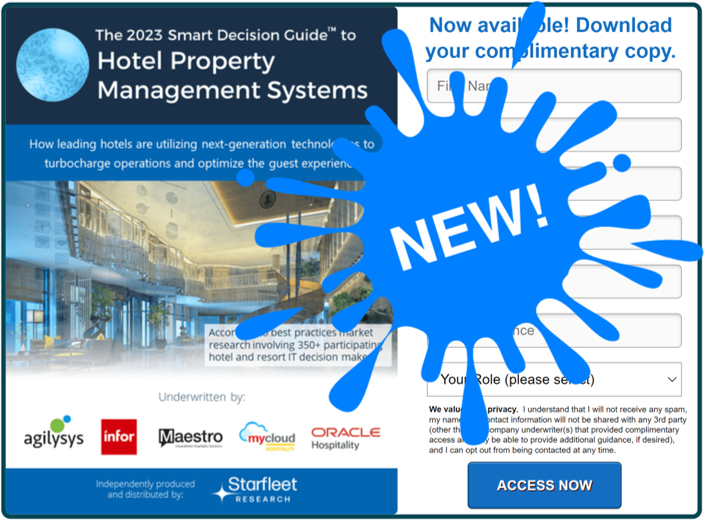 A next-generation PMS can provide significant benefits to hoteliers, including improved accessibility, flexibility, scalability, and continuous improvement of guest satisfaction. It responsible for managing core operational functions such as reservations, rates, guest bookings, housekeeping assignments, check-ins and outs, room assignments, guest folios, profile changes, billing requirements, and generating insights into guest preferences.
Because the PMS affects so many aspects of hotel operations as well as the guest experience, it is crucial to select a solution that meets the specific needs of the hotel. Leveraging the cloud allows hoteliers to ensure that their PMS is always up-to-date and accessible from anywhere in the world, providing agility and a competitive advantage.
A next-generation PMS reduces "friction" in guest interactions while meeting growing demands for convenience and personalization. Friction can be interpreted as any factor that impedes or hinders the smooth and seamless experience that guests expect. For example, long wait times, complicated check-in procedures, or difficulty in accessing desired services all create friction in guest interactions.
A next-generation PMS streamlines and simplifies various aspects of the guest journey. For instance, online check-in and check-out, mobile keys, and chatbots or virtual assistants all help to reduce wait times and eliminate the need for guests to interact with staff for routine tasks. Personalized recommendations and offers enabled by the PMS based on guest preferences and behavior can further enhance the quality of the guest experience while giving hoteliers the ability generate incremental revenue through targeted upselling offers.
Not only does a next-generation PMS provide superior management controls, but it also boosts hotel efficiency and reduces operating costs by cutting down on paper waste and improving energy efficiency. By automating mundane activities, it frees up staff time, which can be redirected towards guest service. This, in turn, can lead to higher satisfaction levels for guests and employees alike.
Additionally, guests benefit from more options such as increased access to mobile apps and self-service solutions, which can further enhance satisfaction and loyalty. Another advantage of a next-generation PMS is its integrated revenue and channel management modules, which can synchronize available inventory and rates.
According to research conducted for The 2023 Smart Decision Guide to Hotel Property Management Systems, 82 percent of hoteliers at small- and medium-sized properties, and 92 percent of those at large, full-service properties, said that upgrading their PMS within the past 3 years enabled them to improve revenue performance by a "significant" or "dramatic" measure.
The new Smart Decision Guide is underwritten by the following industry leaders: Agilysys, Infor, Maestro, mycloud Hospitality, and Oracle Hospitality. For a limited time, the 2023 edition is available for complimentary download courtesy of the underwriters.