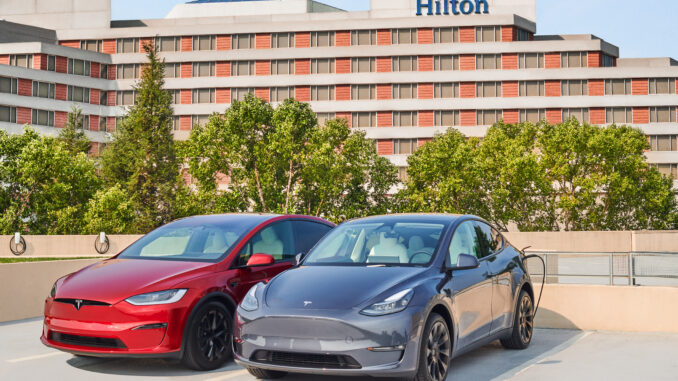 Hilton has announced plans to install at least six electric vehicle (EV) chargers at 2,000 of its North American hotel properties, purchasing the devices from Tesla. Once the installation is complete, Hilton will own more EV chargers than any other US-based hotel group. The move is aimed at alleviating 'range anxiety' for travelers, according to Hilton's chief brand officer, Matt Schuyler.
The chargers will be Tesla Universal Wall Connectors, designed to charge any North American electric vehicle, not just Tesla models. Hilton has been installing EV chargers since 2015, but these have only been compatible with specific vehicle models. The new chargers will be installed starting next year, with locations yet to be determined.
The chargers are expected to be used primarily by hotel guests overnight, but some properties may allow non-guests to use them if available. Charging prices will be set by Tesla and will be in line with other Tesla chargers in the area. Users will need to download the Tesla app to reserve, pay, and charge.
The move comes in response to the growing demand for EVs, with over 4 million sold in the US to date. Hilton's website has seen a significant increase in stays booked using the EV charger filter in its search tool. Currently, only about one in four hotels offers EV charging, according to a survey of 17,000 properties.
The issue of demand management is one that hotels will need to address, as some guests may choose a hotel based on the availability of an EV charger, only to find it already in use. The availability of EV chargers is still limited in traveler accommodations, with a 2020 survey by the American Hotel and Lodging Association finding that only 26.6% of over 17,000 hotels surveyed had EV charging stations on their properties.
However, this is changing rapidly, and Hilton's announcement of its expanded agreement with Tesla signals a significant shift. From early 2024, up to 20,000 Tesla Universal Wall Connectors are set to be installed at 2,000 hotels in the US, Canada, and Mexico, making Hilton's planned EV charging network the largest of any hospitality company.
Hilton's commitment to meeting the changing needs of its guests is evident in this move, as is its commitment to sustainability. The company's Travel with Purpose platform is aimed at creating a positive impact for both people and the planet, and this initiative is one of many that provide travelers who prioritize sustainability with more convenient options to help reduce the environmental impact of travel.
The demand for EV chargers is growing among travelers, as evidenced by the increase in searches for hotels with charging capability on Hilton's website. In 2023, the website's EV charging search attribute had the fastest volume of growth to date, jumping from fourth to second highest in converting searches to stays.
Hilton's geographic footprint of hotels alongside roadways and in key urban destinations across North America makes it uniquely suited to provide charging access at scale for travelers on long-haul trips. Hilton's commitment to installing EV chargers at its properties is a notable step towards meeting the changing needs of its guests and promoting sustainability in the hospitality industry. The move is expected to have a positive impact on the EV market and the wider push towards sustainable travel.