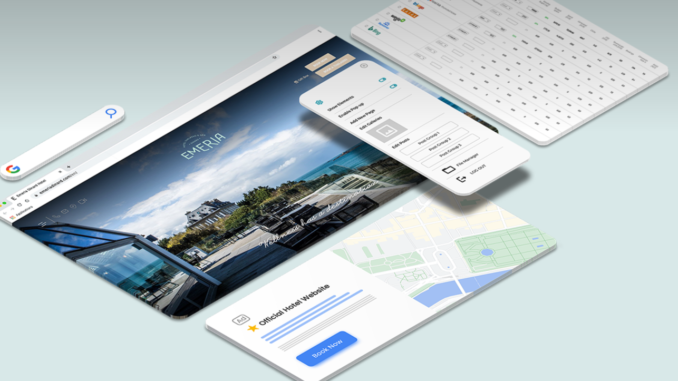 Cendyn, a leading provider of hotel technology solutions, has acquired WIHP, which specializes in hotel metasearch services and technology. Founded in 1999 and headquartered in Paris, with offices in Miami and Bangkok, WIHP designs, engineers, and supports advanced marketing tools for hotels and chains. Their offerings include metasearch management, website design and content management, and search engine advertising. WIHP's all-in-one digital marketing platform is specifically designed to help hotels improve their direct bookings.
The acquisition is expected to bolster Cendyn's role in the digital transformation of the hospitality industry. In addition to the acquisition, Cendyn has introduced CRM Analytics, a new feature for its eInsight CRM platform. This feature is designed to enable hoteliers to make data-driven decisions at scale, thereby increasing revenue, engagement, and direct channel share. CRM Analytics merges business intelligence capabilities with CRM data, providing essential business insights within seconds.
Cendyn's stated mission is to drive digital transformation in the hospitality industry by providing integrated technology platforms to hotels worldwide. These platforms align revenue, eCommerce, distribution, marketing, and sales teams with centralized data, applications, and analytics. Cendyn operates globally, serving thousands of customers across 143 countries.
In August 2022, Cendyn acquired digitalhotelier, a provider of integrated distribution, demand generation, design, development, and data intelligence solutions for hotels. The expanded distribution and eCommerce capabilities resulting from this acquisition are expected to help hoteliers meet the evolving expectations of guests as global travel recovers.
Cendyn and digitalhotelier share a vision of delivering data-driven demand generation and sophisticated technology-enabled solutions specifically designed for the hospitality industry. In January 2022, Cendyn and Pegasus, a provider of hotel booking, revenue, distribution, and digital marketing services, concluded their merger agreement. The merged entity operates under the Cendyn brand, with Tim Sullivan serving as CEO and President.
This merger is aimed at providing hoteliers with a platform to maximize their direct-booking channel and enhance the guest experience across touchpoints. This follows the 2019 merger of Cendyn and Rainmaker, a provider of hotel revenue management solutions. With this acquisition, Cendyn became a leading solution provider in the hotel revenue management space, offering next-generation, AI-powered solutions designed to optimize room rates and maximize guest's spend across the entire property.
In 2019, Pegasus merged with Travel Tripper, combining their industry-leading solutions into one platform and enhancing service and support across its global customer base. Pegasus, with over 30 years of experience in global distribution, serves hotels across 120 countries from eight offices worldwide.
Central to this merger is Cendyn's Customer Data Platform, Starling, and Pegasus's CRS. Together, they provide hoteliers access to a true system of record for profiles and rates for every guest. This alignment of key data points allows hoteliers to personalize the direct-booking experience.
In November, Cendyn unveiled eLoyalty, its next-generation loyalty solution. Designed for hotels, eLoyalty supports multiple program types, including number of stays, number of nights, member recognition, birthdays, and "surprise and delight moments." eLoyalty offers a scalable loyalty solution that is fully configurable regardless of the type of hotel or brand.
Cendyn is recognized for its Hospitality Cloud, a comprehensive set of software services for the industry, aligning marketing, sales, and revenue teams to optimize their strategies and drive performance and loyalty across their business units.
In July, Cendyn showcased its website design and technology services at the Hospitality Industry Technology Exposition and Conference (HITEC). The focus of the showcase was the integration of their websites with the RT4 system. This integration is expected to enhance the functionality and user experience of hotel websites. These websites are powered by the user-friendly Cendyn Content Management System (CMS), which ensures rapid download speeds and compliance with international web accessibility and privacy standards. The integration with the RT4 system enables real-time dynamic rates, including a convenient booking widget. This feature is expected to streamline the booking process for customers, making it easier for them to view and compare rates in real-time.
With headquarters in Boca Raton, Florida, and offices worldwide, Cendyn serves customers in 143 countries. In 2019, Cendyn secured an investment from private equity firm Accel-KKR, which holds a controlling interest in the company, to help expand its marketing and sales solutions and grow its customer base.