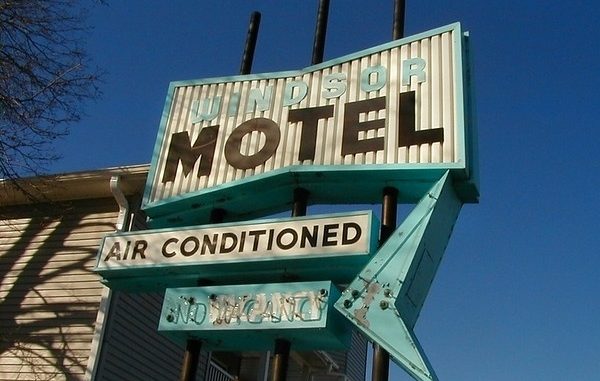 By Jeff Zabin, Managing Editor
If you're old enough, then you may remember a time when hotels would lure guests with two complimentary perks: color TV and air conditioning. Remnants of that bygone era can still occasionally be found in in the form of rusted neon signs that stand as stark reminders of the fact that guest expectations change rapidly and dramatically over time.
In the 1960s, hoteliers boasted that guest rooms would be kept cool on hot, balmy days and by equipping each room with a flickering screen capable of showing four channels of network programs in full, living color. Of course, both air conditioning and color TV (and, much later, free HBO and other cable channels) went from being competitive differentiators to tablestakes commodities in about the same amount of time that it took to flip the channel on the remote control.
The only thing that is constant is change, noted the ancient Greek scholar Heraclitus. That is especially true in the world of hospitality. The bar on guest expectations is always rising. An in-room amenity that in the past may have been something worth writing home about — "There's a coffee maker right in the room!" "The bathroom has a hairdryer!" — quickly recedes in the rearview mirror. Any "surprise and delight" factor is generally short-lived. Sometimes the actual amenity disappears. Such is the case of the Magic Fingers Vibrating Bed, a common feature in mid-priced hotels in the 1960s. Put a quarter in the slot and the bed vibrates for ten minutes.
Hoteliers must continuously scramble to stay ahead of the competition. They must always be on the lookout for the next big thing to further enhance the guest experience. Oftentimes, that next big thing is indeed a new technology. Consider WiFi, which made its initial forays into hotels and resorts nearly two decades ago. The speeds were slow and connectivity was unreliable. Back-of-house areas were de facto dead zones.
Fast forward to today, and guests at even the bottom end of low budget hotels and motels will naturally expect high-speed WiFi to be available everywhere they go on the property. Nobody even bothers to ask anymore if the service is available. WiFi has gone from being one of those things that, like air conditioning and color TV, could help a hotel stand out in the crowd to being a mere utility, no more compelling — or unexpected— than other utilities, like running water and electricity.
Of course, the growth of the internet has ushered in a plethora of new opportunities to enhance the guest experience — and, at the same time, raise guest expectations. First came in-room tablets loaded with all kinds of third-party apps that allow guests to control, among other things, the air conditioning and color TV. Now we're seeing the proliferation of applications that run on guests own devices as well as the advent of voice-controlled assistants that will allow guests to customize their in-room experience to their individual preferences.
Hilton, for example, recently unveiled its "Connected Room," a high-tech guestroom that enables guests to personalize and control practically every aspect of their stay from their own mobile devices and will be rolled out later this year to hotels across the United States. More than just controlling the temperature, lighting, TV and window coverings, guests will eventually be able to use voice commands to control their room or access their content, and to upload their own artwork and photos to automatically display in their room. Hilton has similar plans for a smart room, with all devices responding to voice activation.
As we reported in January, AccorHotels, which owns and operates nearly 4,000 hotels globally under such brands as Grand Mercure, Novotel, Swissôtel Hotels and Resorts, Sofitel, Raffles Hotels & Resorts and Fairmont Hotels and Resorts, has unveiled its own ambitious plans for a smart room. Lighting, music, curtains, the bed headboard, minibar, TV and other audiovisual equipment will connect through Google Home voice assistant and also be accessible via an in-room tablet. Among the futuristic features are an LED motion-sensing lighting system foot board motion sensor that will automatically turn on and off and electronic sleep aids and relaxation systems.
It is only a matter of time before even these smart rooms also become commoditized. For now, voice-activated TV and other device control and keyless room entry and aromatherapy devices that allow guests to wake up to the smell of coffee and a wardrobe with sliding shelves and rods and a height-adjustable bathroom sink and countless other innovations will add up cumulatively to positively affect guest satisfaction and brand advocacy as reflected in benchmark metrics like Net Promoter Score. But the bump in satisfaction may be short-lived and only incremental as far as improving the overall guest experience in the long run.
And that speaks to a fundamental truth. Today, enhancing the guest experience is not so much about introducing gee-whiz technologies and nice-to-have gadgets – the modern-day equivalents of the Magic Fingers Vibrating Bed. Rather, it is about delivering more personalized and relevant guest experiences, based on their individual wants, needs, situations and preferences. It is about making guests feel special, appreciated and comfortable. It is about recognizing and acknowledging their value. It is about anticipating, catering to and responding to their unique needs. More than anything, the ability to enhance the guest experience lies in the implementation of advanced data analytics, guest-centric processes and next-generation property management systems, guest response solutions, CRM software and various other core technologies.
Are you an industry thought leader with a point of view on hotel technology that you would like to share with our readers? If so, we invite you to review our editorial guidelines and submit your article for publishing consideration.