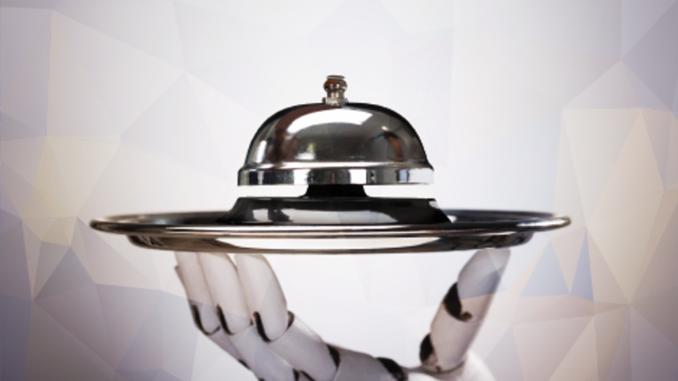 By Jeff Zabin, Managing Editor
Note: This article is adapted from the new Starfleet Research study How Artificial Intelligence Enhances the Guest Experience. It is currently available for complimentary access, courtesy of Oracle Hospitality.
Hotels and resorts have always sought to handle the ongoing deluge of guest requests in a time-sensitive and satisfactory manner. After all, their reputations largely depend on the degree to which they are able to consistently deliver a high level of customer service. Their capabilities in this area serve as key performance metrics for measuring success.
The challenge today lies in the fact that guest expectations have risen dramatically. Indeed, the very concept of the hotel guest experience has changed in recent years, reflecting demographic and technology changes.
We live in an economy of convenience. Increasingly, hotel guests have come to expect a seamless and frictionless experience throughout their stay with a property. Patience is a virtue, or so goes the proverbial phrase, but many guests have become impervious to this virtue. They have grown accustomed to the luxury of technology-enabled access to information and services in multiple aspects of their lives, from working, shopping and traveling to news and entertainment, and they expect that luxury to extend to their hotel experience.
They expect lightning-fast responses to their inquiries to the front desk, for example, whether those responses are produced by a human or by an advanced speech-enabled IVR service. The truth is that a large percentage of people today actually prefer to interact with a machine, given the choice.
In fact, according to recent surveys, 40 percent of American internet users today say that they would rather use digital customer services than speak to a human CSR on the phone. In a hotel setting, that preference may be even higher. Nearly all segments of hotel guests are now reasonably comfortable with using guest-facing technologies. Even guests who normally like to interact with hotel staff are often happy to augment those interactions with technology options.
Millennials, in particular, who now account for nearly 75 percent of all hotel guests, expect nothing less than state-of-the-art platforms, applications and interfaces. Spending an average of $4,000 per year on travel, they inhabit an always-on technology environment. Smartphones, tablets, laptops and voice-activated speakers are their constant companions throughout the course of their day. The guest service expectations of Millennials tend to be especially high in a hospitality environment, given the inherent promise of superior guest services that is the cornerstone of upscale hotels and resorts.
Generally speaking, they expect their inquiries to be addressed and service requests to be fulfilled almost immediately. Their level of satisfaction can plummet quickly if they have to wait longer than they deem to be acceptable to, for example, place an order with room service or book a reservation through the concierge or ask the front desk about a charge. It is also worth noting that guests have become accustomed to self-service options. They expect to be in control of hotel services, including not only being able to check in and check out, but also, for example, being able to set and monitor housekeeping status via a mobile app or in-room device.
Guests on the whole expect a hotel to be at their beck and call. They expect staff to lavish them with personal attention and pamper them with personalized services. This is particularly true with respect to upscale properties that pride themselves on their guest services.
The only question is whether the attention and services are facilitated "the old-fashioned way" — via uniformed staff with requisite smiles on their faces — or "the next-generation way" — that is, through technology enablement. While research suggests that the latter option is becoming increasingly preferred by an ever-growing percentage of the guest population as well as by a growing number of hotels, the truth of the matter is that this is not an either/or proposition. The reality of the situation is that in the future hotel services will likely be best facilitated by some combination of the two, both human and machine, working in harmony with one another, each doing what they do best.
Traditional staff roles are likely to remain in place, even if the scope of their responsibilities and areas of accountability change somewhat with further advances in AI-enabled devices, including voice-activated speaker systems and text-based personal assistants.
At the same time, these devices already offer hotels a plethora of new opportunities to meet and even exceed the wave of rising guest expectations. This starts with the fact that artificial intelligence makes it possible to reduce the latency between guest requests and hotel response time quite dramatically. One major hotel group reports an average response time of only 5 seconds with its AI-enabled guest communications system.
Artificial intelligence also improves guest service fulfillment time while decreasing problem resolution time by an average of one-third, according to research conducted for this study. That percentage will likely increase over time as artificial intelligence is used to tackle more complex guest experience management tasks and take on any number of additional responsibilities that directly influence customer satisfaction rates.
Artificial intelligence can further enhance the in-room guest experience, where expectations are also on the rise, by seamlessly integrating technology-enabled amenities into the overall guest experience. Utilizing individual guest preference data captured during previous hotel stays, artificial intelligence can automatically set up a guest room with a level of precision that would elude human efforts.
IoT devices can update the room with personalized music, temperature and lighting settings, anticipate the need for room service or specific information requests and predict which hotel or outside services and activities would likely be of interest to guests on an individual basis and be most likely to elicit a favorable response. It can customize these services and activities and calculate the optimal time to send invitations and notifications via email, direct messaging or a mobile app.
Even the best human concierge and guest services managers would be hard pressed to replicate that capability.
Are you an industry thought leader with a point of view on hotel technology that you would like to share with our readers? If so, we invite you to review our editorial guidelines and submit your article for publishing consideration.